How to Install a Bike Rack on a Hatchback
**Articles may contain links that I earn compensation for if clicked and you make a purchase. As an Amazon Associate, I earn from qualifying purchases. These earnings do not actually impact the price of the product or service.
Owning a hatchback doesn't mean you can't take your bike with you wherever you go. An opportunity to explore the great outdoors, work out, or take a leisurely ride shouldn't seem impossible.
Granted, you can't safely fit a bike in your hatchback's backseat, which is illegal in some states. The solution is to learn how to install a bike rack on a hatchback.
You can have a professional fit it for you, or you can treat this as a DIY project. It's not that hard, especially if you have the right equipment. This article teaches you how to install a bike rack on a hatchback in a few easy steps.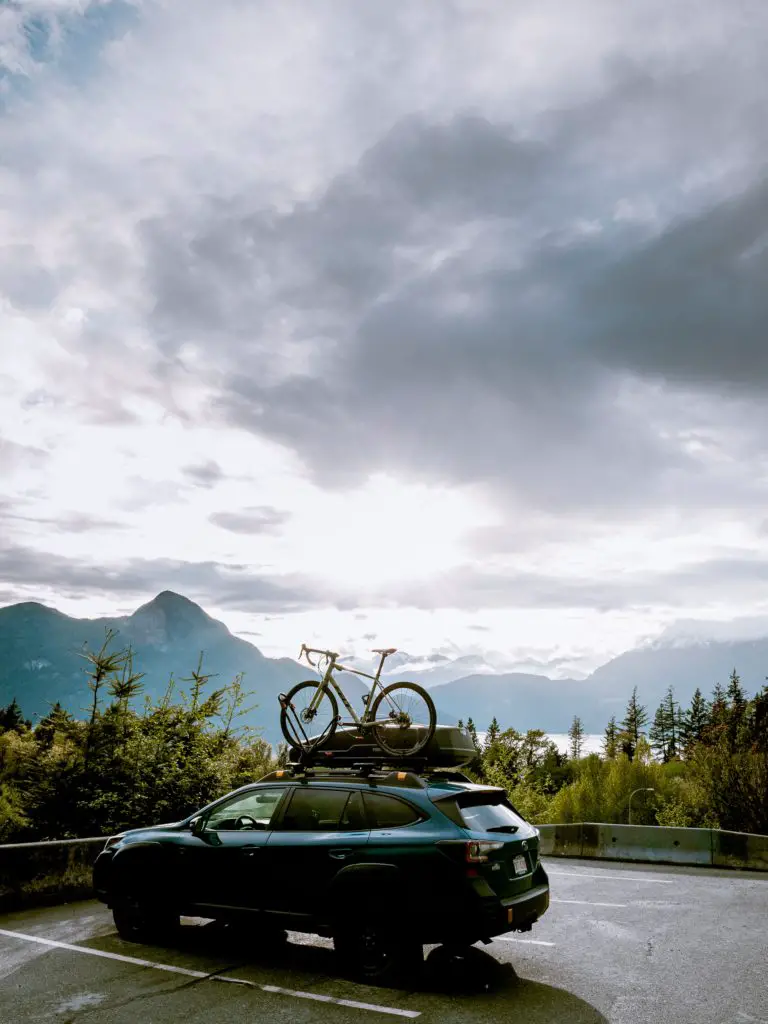 Types of Bike Racks for Your Hatchback
Before installing a bike rack, you need to get the right one for your hatchback. Presently, hatchbacks are compatible with three types. Here's a brief overview:
Roof-Mounted Racks
Roof-mounted racks have feet that attach to your hatchback's roof and crossbars for attaching the rack accessories. These racks allow for either mounting the bike whole or for removing the front wheel. 
Removing the front tire lets the bike sit lower, ideal for tall cars like SUVs. In addition, the load on the roof will be lighter.
In contrast, bike racks that allow for mounting the bike whole save you from constant removal and reattachment of the front wheel. Therefore, these are ideal for hatchback cars since the cars sit low. You'll also enjoy fewer bike repair and maintenance costs as the wheel remains intact, creating fewer risks for damage.
These racks attach to your hatchback car through its factory-installed roof rack attachment points. Alternatively, some have suction cups that allow for a secure yet less damaging attachment. 
Some require welding the attachment points onto the roof. Avoid such racks as much as possible to preserve the longevity and structural integrity of your hatchback car's roof.
This type of bike rack can serve other purposes like ferrying skis, cargo boxes, and other heavy loads that can't fit in the car. A low-profile rack with detachable bike rack holding accessories allows for such versatility without interfering with your hatchback car's looks.
Hitch-Mounted Racks
A hitch-mounted rack mounts on the rear of your hatchback car by extending out on the attachment points. One key advantage of this hitch bike rack is you won't have to lift your bike to the roof. However, you'll need to raise it to the height of a hatchback.
In addition, you won't risk hitting gas stations or drive-through outlet roofs. Furthermore, a hitch-mounted bike won't interfere with your hatchback car's aerodynamic qualities, thus saving you plenty of fuel.
There are several hitch-mounted rack types, the most common being a platform rack. Platform racks sit the lowest, are easier to operate, and add more stability to the setup than other bike racks.
Hitch racks have a basic design that includes two strong bars that hold both bike tires, eliminating wobbles or turns as your car moves. This straightforward design also makes no contact with the bike frame, thus preserving its paintwork.
Hanging rack type of hitch racks sit a bit higher than platform racks but remain versatile while being cheaper. Unfortunately, hanging racks attach to your bike at the frames.
Although they have rubber attachment points, swaying movements as the car moves leads to scuffing the paintwork.
Vertical hanging racks can hold a bike securely at the bike arms since they sit vertically, but the sheer height of the setup makes them impractical for hatchback cars.
Trunk-Mounted Racks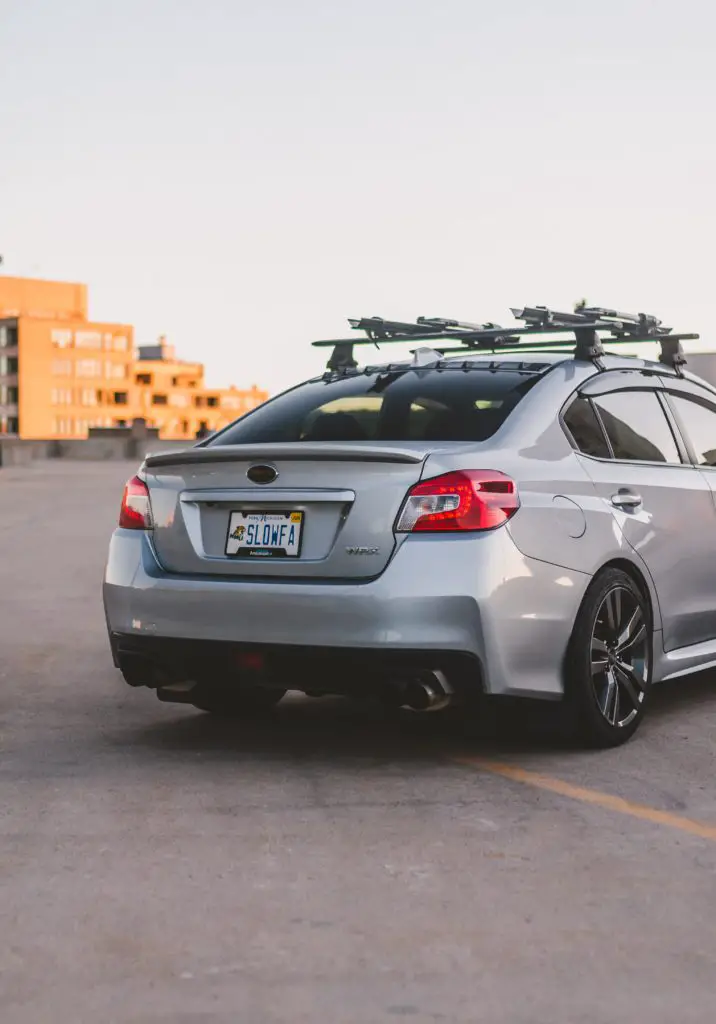 Trunk-mounted racks have weight supports, straps, anti-sway measures, padding, and other accessories to secure and protect the bike. A significant advantage of trunk racks is their compatibility with vehicles that don't have the right hitch receiver. Since trunk racks require some flat surface on your car's trunk section to attach, they are the most compatible for hatchbacks.
Fixed trunk-mounted racks don't have moving parts and can carry a specific number of bikes depending on the design. While cheap, you may need to buy other trunk racks if you're carrying more bikes than usual.
In contrast, adjustable trunk-mounted racks have alternating arms to accommodate fewer or more bikes, depending on your present needs. The downside of this trunk mount is its heavy weight and complexity as opposed to the fixed types.
Folding trunk mounts allow you to stow away the carrying arms when not used. This way, you can easily park close to a wall or other tight spaces and generally avoid instances where those arms get damaged. This trunk-mount has a downside where the folding section can easily break, and the racks can only carry a few bikes.
How to Install a Bike Rack on a Hatchback: Step by Step Guide
Let us focus on the trunk-mounted bicycle rack since it is the most versatile and suitable for your hatchback car:
Unfold the trunk into an arc shape. One end of the rack should reach the space close to the bumper, while the top section should reach the roofline.

Next, install the clips. Most bike racks ship with these clips separately, so you mustn't forget to install them to avoid scratching the hatchback's body.

You must pass the straps through the trunk door and fasten the rack. Ensure a tight fit, lest the bicycle rack and bikes fall off your car.

Test the strength of the rack's fit on your car. When you move the rack side to side, it should move with the vehicle. If it moves independently, you'll need to tighten the straps afresh.

Once secure, you should put the bikes on your rack. Pull the bike arms up enough to lock them in place. 

Once locked, place the bikes on the rack, careful that the arms don't scratch the bike frame paintwork. The best rack arms usually have rubber sheaths to prevent such scratching.

Next, apply the arm security straps to the top tube to secure the bike. Test the strap locking strength by moving the bike.
This install bike rack process for hitch racks differs from the trunk racks through the attachment point. If your hatchback car has it, you'll need to mount the hitch rack at the trailer hitch point.
For roof racks, you'll mount them at the rack attachment points on your car's roof or through suction cups on the rack support beams.
Conclusion
Bike racks allow you to transport your bicycle to your favorite locations and enjoy riding in the great outdoors. You only need to know the right install bike rack process on a hatchback car to access such fun. This article highlights a simple DIY process for your convenience.