How to Use a Rear Bike Rack
**Articles may contain links that I earn compensation for if clicked and you make a purchase. As an Amazon Associate, I earn from qualifying purchases. These earnings do not actually impact the price of the product or service.
Touring bikes will take you to and from work, among other locations easily when you must contend with everyday road traffic. Having a reliable bike and knowing how to use a rear bike rack to carry your everyday essentials is vital. Further to reducing commuting expenses, bikes with front and rear racks help save money while keeping you healthy.
 On the other hand, having a sturdy, functional bike with the best rear bike racks installed makes bike commuting an enjoyable chore. Consequently, it's essential to acquire a quality bike from your local bike shop that can handle sizable loads. Ideally, your bike should have a strong seat post central to the rear and front wheels as well as a sturdy aluminum frame to carry tall loads.
If you aim to use your bike to carry groceries, the rack should have significant storage, much like a bike trailer. Your rear bike rack can be custom-made to incorporate panniers that can hold extra items.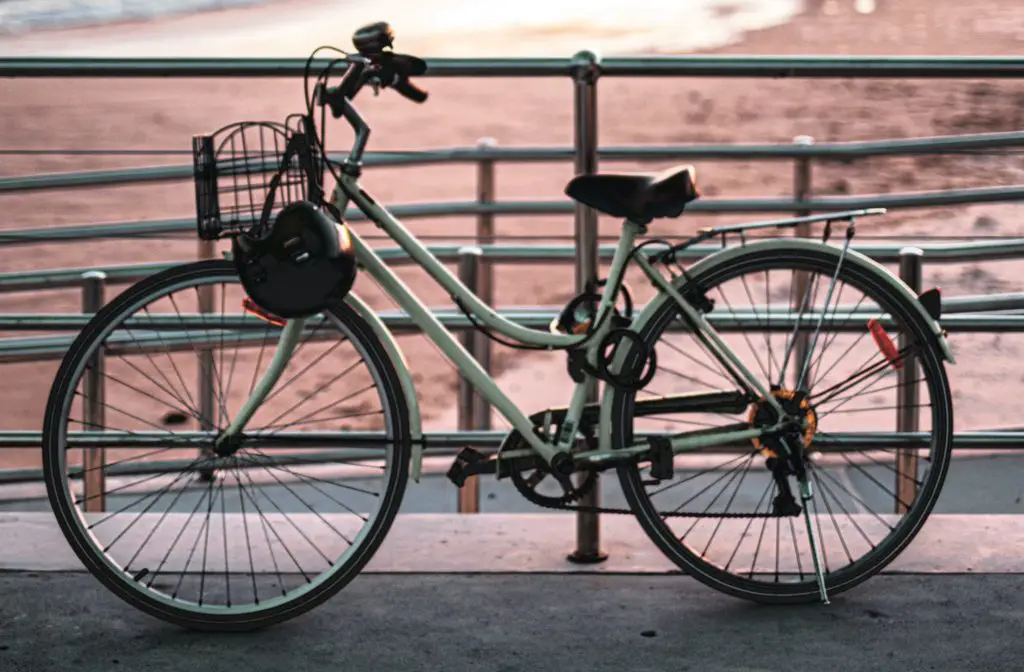 Factors to Consider Before Installing a Rear Bike Rack
Quality and Durability
You wouldn't want to use a rear bike rack that would collapse under the weight of a grocery bag. If you decide to buy a bike rack, you should consider buying one with solid front fork and stays. 
Most brands come with their own panniers, including braze on mounts. Unlike standard racks, quality brands come with adjustable arms and extra bike tool kit components.
Before installing a rear bike rack, inspect the rack trunk and bungee cords, and ensure the spring-loaded hooks align appropriately with the mounting points. A reasonable quality bike should carry not less than 25kg of luggage on the child seat and make bike commuting a breeze.
Weight
Riding a heavy-laden rear bike rack can cause instability, especially on a bumpy road. The overall weight of the metal parts comprising the rack trunk, bike seat, and mounts shouldn't inconvenience your riding experience. 
The best bike rack to use would be one made of aluminum. Aluminum is the best material because it's lightweight and strong.
Compatibility
Various bike racks in the market are of varying shapes and sizes, with some having permanent braze on mounts. You'd want to buy one whose mounting points are compatible with your bike. 
Don't be too concerned if you find the rack heavier than the bike's frame tubes. They create an equal balance and stable bike. 
Use a rear bike rack size that matches the weight of the bicycle's frame. Some bike brands come with detachable braze on mounts.
Cost
A high-quality bike is essential, particularly if you intend to install a rear bike rack for increased storage capacity. Road bikes would have less costly racks than high-end mountain bikes. As expected, you should assess the cost of the entire bike rack accessories before buying.
How to Mount the Rear Bike Rack
Follow the user's installation manual steps for faster and more accurate installation of your rear bike rack. Since racks for high-end bikes may not be compatible with regular road bikes, it is best to use the correct handbook for reference. 
If the instruction manual is not available, these should provide a rough guide to help you in installing your rear bike rack:
Place the eyelets near the rear hub for optimal balance and stability of the seat stay mounts

Unbolt the nuts atop the bike rack on the rear hub

Insert the eyelet bolts through the rear tire bike rack

Obtain the same size bolts, and metal C clips from the bike's trunk bag

Center the eyelet bolts in the hole at the rear dropout

Using an Allen key, attach the bike rack to the seat post 

Tighten the lower mounting bolt and the eyelet bolts

Ensure the bolt on the rack's opposite side is well aligned 

Tighten all the bolts and nuts attached to the adjacent braze on mounts
Innovative Ways on How to Use a Rear Bike Rack
With a sturdy rear rack, your bike becomes your vital workhorse with an additional advantage. You may utilize the additional space in many ways. 
Following are a few benefits associated with rear bike racks:
Crates and Baskets on Rear Bike Racks
Many of us go shopping regularly at the mall. However, having a sizable rack capacity bike rack, perhaps with its pannier bags attached, can be handy. 
Ideally, a sizable rear bike seat bag should accommodate rear baskets, child seats, and saddle bags. You're more comfortable riding your bike with the rear seat bag full compared to what you can load on the seatpost rack.
 Bikes with saddle bags and panniers on either side of the rear seat stay are more stable to ride. Bikers don't need to hold the luggage bag full of camping gear with one hand while on an urban trip. 
Attaching a wooden crate, plastic basket, saddle bag, metal crate, or plastic basket to a bike frame creates equal pressure on the tires and balances the frame while in motion. The best rear bike racks are those with two sliding arms that can fold flat when not in use. 
Panniers
Attaching pannier bags to your mountain bike or the ordinary commuter bike is the most efficient way to utilize your rear bike rack. With pannier bags on the rear rack, your bike can carry heavy loads without compromising your riding comfort.
Panniers have larger storage space and can accommodate items like laptops, water bottles, camping gear, etc. In other words, you don't need a bike trailer to ferry your luggage when you have these accessories installed.
Panniers can be secured safely using compression straps, metal clips, spring-loaded hooks, or bungee cords. Installing these accessories on your bike's front and rear frame lets you carry more grocery shopping in your seat bags in an organized manner.
If your backpack seems too heavy for your back, you can strap it on the front or rear racks. Attaching your backpack to the seat post rack is more convenient than carrying it on your back while on a bike touring. Without a bike trailer attached to the rear dropout eyelets, you can navigate around sharp turns easily.
Rack Trunk
Mounting a rack trunk onto your bike rack is a smart way of creating medium-sized storage space for your trunk bags. Note that standard pannier bags are more prominent than trunk bags but still have more load capacity than ordinary seat bags. With a rack trunk installed, you can go on your urban rides while carrying daily essentials, including bike tools.
Toddler Seat on Bike Rack
Carrying your toddler around can be tiresome. However, it can be fun moving around on your bike with your baby safely tucked in the child seat. It is an innovative way to ride with your baby safely and comfortably. 
To secure the child on the rear rack, use three-point safety straps. Adjust the backrest and the footwalls, including the safety guard.
Dog Carrier on Rear Rack
Fair weather rides with your pet lodged in a secure dog carrier are a fun way to enjoy urban rides. Mount the bike basket on the rear rack, and secure it firmly with straps. 
Place your fur baby inside and take off on an exciting bike tour. Always carry your repair patch kit while on your fair-weather ride escapades.
Saddle Packs
Besides the ability to handle heavy loads, you can utilize your road bike to carry small items in saddle packs. Saddle packs are better for carrying bike patch kits, spare tubes, and tire levers.
Takeaway Tips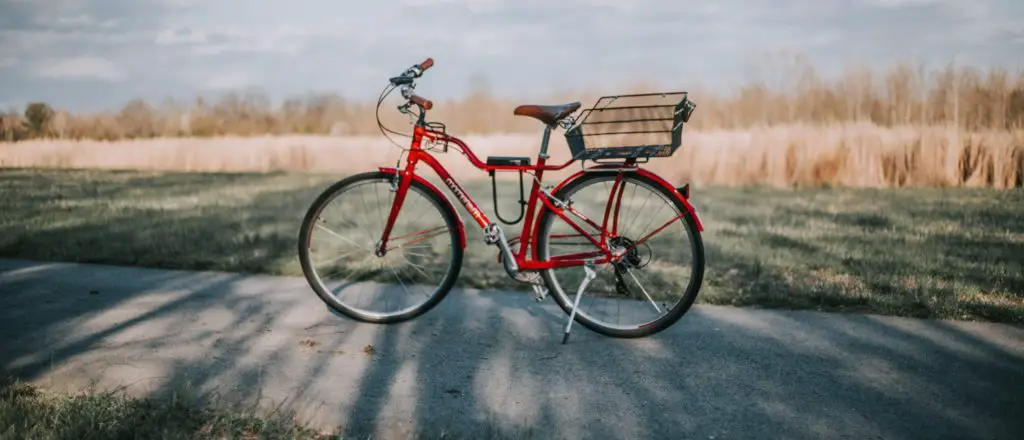 Now you know how valuable a rear bike rack is. You can add various accessories to customize it for carrying your camping gear conveniently. However, don't chance it with a poor-quality bike frame. 
Commuter bikes with quality tire levers, and inner tubes, including effective disc brakes, make for smoother, safer rides.
Securing your luggage is best done with bungee cords because they are versatile and wrap the basket neatly onto the rear rack. It then becomes easy to load your groceries and stuff conveniently. 
On the other hand, pannier backpacks attached to the rear bicycle seat provide increased luggage space. So you can easily transport various items from one location to another. 
You can tailor your rear wheel rack to incorporate reflectors and taillights. These add-ons are particularly essential when riding in the dark or in the middle of a fog.
FAQ
1. What's the purpose of a rear bike rack?
Bikes usually come with a back rack that holds luggage, and you can strap items on the rear racks in fair weather without covering them. On the other hand, pannier bags and rack trunks are good options to hold items on the child seat rack during bad weather.
 2. How do you carry things on a rear bike rack?
Most bike racks mount to the rear of your bike. Once installed, a bike rack will let you carry more items. 
You can strap more than one pannier to the rack as needed. Place your crate or basket on the rack, wrap it, and use sliding arms and compression straps to secure it.
3. Is a rear bike rack worth it?
A bike's front wheel can carry more weight as it is stronger than the rear wheel. However, loads on the front wheel will interfere with handling. Front-loaded bikes are good for quick errands, but the rear rack is the better option for a convenient way to carry stuff.
4. How do I use a bike rack?
There are several ways to use your bike rack. A common option is to attach the pannier bags to the rack mounts. Bags mounted on the rear wheels, or seat posts provide bicycle stability. 
To enable you to carry more items, you can install a child seat, saddle packs, baskets or crates onto the rack.
As a good basket carrier, bikes with rack mounts differ greatly depending on the brand. While some have permanently attached braze on mounts, others come with different attachments. The installation manual will illustrate how to mount different add-ons to your rack.
Conclusion
Biking using a mountain bike commuter or ordinary bicycle makes for an excellent pastime experience. However, accessorizing your bike with innovative add-ons will introduce more usability to your bike unlike using a seatpost mounted rack or standard rack.
 Apart from utilizing your bike for typical rides, it can conveniently serve to transport a few extra items. When choosing a rear bike rack for your bike, select the correct size that mounts well with your type of bike. Of course, it should be of good quality and less costly to you. 
Use similar selection criteria when choosing the appropriate saddle packs and spare tube.
Ensure to follow the instructions for adequately installing your rack, including the adjoining accessories. You need not be tech-savvy to mount a bike rack so long as you can follow the installation manual.