Are Trunk Bike Racks Safe? Find Out All About Them
**Articles may contain links that I earn compensation for if clicked and you make a purchase. As an Amazon Associate, I earn from qualifying purchases. These earnings do not actually impact the price of the product or service.
We all enjoy bike rides while we go out. After all, riding a bike outdoors is an incredible and adventurous experience. 
But, there is a burning question: how can you safely transport your bike outdoors? The obvious answer is to use a trunk bike rack but even that raises the question of whether or not trunk bike racks are safe.
For context, bike racks are useful frames you can attach to vehicles like trucks and cars. Depending on the design of the racks, you can mount several bikes in them. You should note that trunk mount racks replace a spare tire on your car, so carefully choose if you want one. 
To provide a quick summary to the question, trunk bikes are indeed safe. However, they must be installed and used properly for that answer to remain true. 
In this article, we'll walk you through all you need to know about trunk racks and their usage. Also, we'll discuss some techniques to mount bikes safely.
Who Needs a Trunk Bike Racks?
A trunk rack enables you to bring your bike wherever you go. In addition, you can carry gears like a toolbox, top tube, seat tube, seats, and spare tubes. Bike racks are the perfect companion if you need to travel a lot along with your cycling hobby. 
You might want trunk mount bike racks if you're a regular outdoor biker and love riding. Also, you can mount bikes like e-bikes, mountain bikes, heavier bikes, or any other regular bike with the right trunk bike rack. 
Mountain bike racks might come with a set of cable lock, u-lock, foam pads, or velcro straps to secure your bike. But, it entirely depends on the vendor.
Having said all that, you need to exercise caution while using trunk mount bike racks. Most trunk racks use support bars to load bikes but it's still up to you to fasten your bike properly so it doesn't fall off or move excessively and damage your car's paint or rear lights during the trip.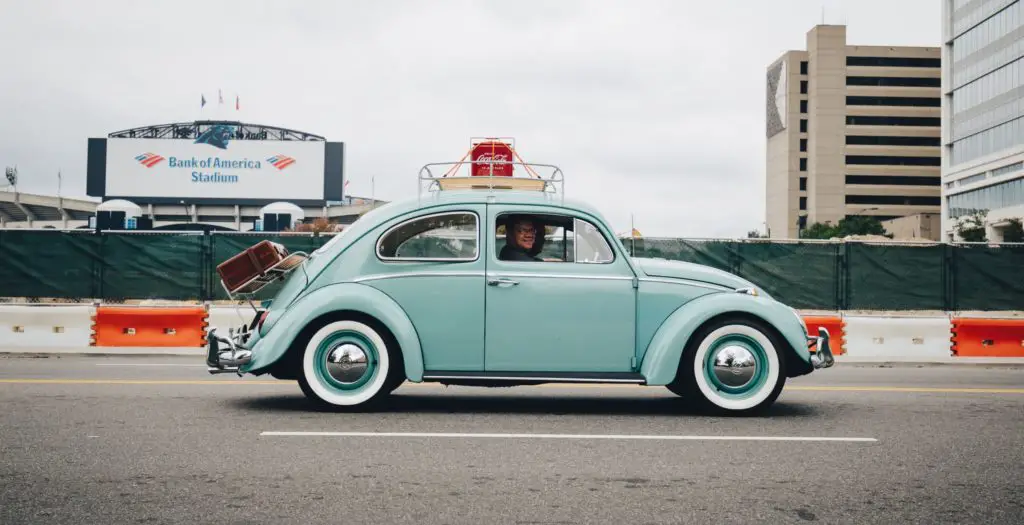 Types of Bike Racks
1. Trunk-Mount Bike Racks
The trunk rack attaches to the car's trunk and is secured by adjustable straps. Also, they are the most popular bike racks and the cheapest you can find, and you can easily remove and mount them to another vehicle. 
In addition, they are highly portable bikes that rest and fit in tight spaces. However, they have a lower weight limit, and you can carry up to two bikes in these trunk-mounted bike racks. 
2. Roof Bike Racks
Roof racks are attached to your vehicle roofs and provide a solid connection to secure your bike. Also, you can carry up to six bikes on your roof rack. 
Roof bike racks are convenient, as you won't require car scratch protectors or foam padding to prevent scratching into your vehicle. In addition, the roof bike rack won't cover your license plate if you have any traffic safety concerns.
3. Hitch Bike Racks
The hitch rack is another popular bike rack that can carry up to five bikes. They have a strong design in comparison to other bike racks. In addition, they feature a foldable design and easy installation. 
They popularly come in two designs: platform models and hanging racks. Summarily, the platform hitch is expensive but convenient. On the other hand, racks that have a hanging hitch have excellent carrying capacity with a compact design.
Pros and Cons of Trunk Bike Racks
Pros
Budget-friendly bike racks

Easy to install even without professional assistance

Portable and lightweight 

Can carry up to three road bikes depending upon the model 

Perfect for occasional use 

Same model can be used on multiple vehicles

Can easily fit in small storage spaces

Can handle heavier bikes

No need to worry about bike parking spaces and bikes rest

Provides extra security to your bikes
Cons 
High chances of scratching your car

Difficult while driving over low bridges
Frequently Asked Questions (FQA's)
1. Do Bike Racks Fit All Types of Bikes?
In general, bike racks are designed to be well-suited for the average bike footprint. However, you might possess a bike with a small footprint (kid's bike) or a heavy-duty bike. 
In such cases, you might want to research if your bike rack can be adjusted to accommodate special bikes. In addition, companies provide special racks for specific bikes like heavy-duty bikes. 
2. Are Hitch Bike Racks Safe?
Hitch bike racks are safer than most bike racks, as it allows you to mount the bikes behind your car. This does not disturb the car's aerodynamics, making it more stable. 
Also, they are one of the safest means of transporting your heavy bikes. In addition, they are compatible with several vehicles. 
3. Do Trunk Bike Racks Damage Your Car?
There is a significant chance that trunk racks can damage your car. You might get severe scratches and other damage to your car's painting if not properly installed. One solution is using protectors to avoid scratching. 
Also, extended use of the rack applies pressure on the rear end of your car and might crack the paint. You can easily counter these issues using proper mounting mechanisms and the bike's positioning. 
4. What Are Trunk Bike Racks Made Of?
Most bike racks are made from stainless steel for endurance and strength. However, some high-end racks can be made of carbon fiber and titanium, but that will be very expensive for general use. 
Bike rack manufacturers design and test them for optimal performance. Also, the tubes of the bike racks are coated for extra protection. In the case of mounting, the bike racks consist of foam pads and straps to securely mount them on the car.
5. How to Safely Mount Your Bike Into the Rack?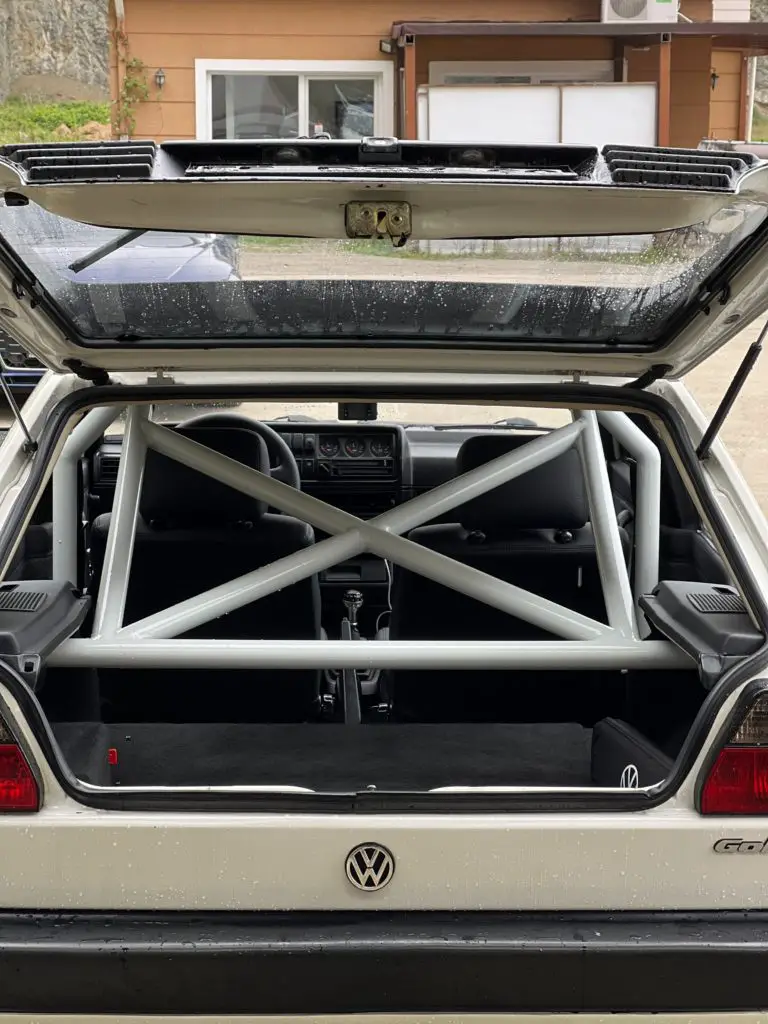 You can easily mount your bike using a bike rack in a few steps. Begin by opening the bike rack. 
Then secure the bike rack on all trunk parts with the help of support bars while considering proper ground clearance. 
Following that, tighten the straps carefully to hold the rack in place. 
Confirm the security of the rack by testing the stability and shaking it in all directions. 
Once you're sure the bike is not going to come off during your trip, you can load bikes carefully without damaging your vehicle. 
For extra protection, you can use car scratch protectors and bike covers. 
6. Is It Legal to Drive With the Trunk Mount Bike Racks on Your Vehicle?
Yes, it is perfectly legal to drive with a properly strapped trunk bike rack. However, your rack should not cover the license plate and disturb the lights. 
Aside from this case, you won't face any legal issues while driving with a trunk mount rack. Although, driving with an empty trunk rack can be a bit of an issue in some states. 
7. How Do I Choose a Perfect Bike Rack?
There are plenty of things to consider while choosing a bike rack. However, the choice depends upon your personal needs and budget. 
Vehicle Type:

The most important thing to consider is your vehicle type. Some bike racks can be mounted on multiple vehicles, but some are designed only for cars, SUVs, or buses. You can search online for which bike rack fits your vehicle or contact the seller for suggestions. 

Number of Bikes:

Generally, bike racks have a capacity of two to three bikes. However, if you need to transport more bikes, there are options available. Just remember that this might cost you more and only be compatible with heavy-duty vehicles. 

Budget:

Bike racks are available in all sizes and shapes. Also, there is a significant range in the price of the racks. 
If you want to go for the most affordable ones, trunk racks and hitch racks are the cheapest. On the contrary, platform racks and roof racks are costlier than other racks. 
8. How Much Weight Can a Bike Rack Carry?
The carrying capacity of a bike rack depends on the type of rack and types of bikes. On average, a bike rack can carry anywhere between 35 to 180 lbs. 
Also, it's a good habit to weigh your bikes while considering the given limit of the rack by the manufacturer. Hitch mounted bike racks and trunk racks have lower weight limits than other racks. 
9. What Are Anti Sway Cradles?
Anti-sway cradles are attachments you can use in bike racks to reduce wobble while driving. The wobbling can create disturbance and even damage your car's exterior. You can use peripherals with such cradles to prevent unwanted incidents while transporting your bikes. 
These cradles are often made of nylon webbing or flexible rubber straps. The nylon webbings are low quality and are difficult to use, whereas rubber straps are faster and easier to strap your bikes. 
10. Why Do You Need the Adapter Bars in a Bike Rack?
Adapter bars are used to hang racks while transporting bikes. Also, this tube adapter is compatible with carrying frames of small kid bikes. 
However, you might lose significant clearance if not used properly. You may want to consider a different alternative if you have big and heavy bikes. 
11. How to Clean Bike Racks?
Except for roof bike racks which can go entire trips without getting unbearably dirty, most other bike racks need cleaning after each trip. To take care of this, it's best to clean them manually with the manufacturer-recommended cleaning materials/agents. 
Do not simply drive through the car wash and hope for the best. Most car wash units aren't designed to clean bike racks and they might damage it instead. 
12. How Fast Can You Drive With a Bike Rack?
If you have a properly mounted bike rack, you can easily drive to the speed limit. Although, a poorly installed bike rack can cause a slight drag due to the disturbance in the aerodynamics of the car. In addition, heavy wind can disturb you from driving faster while there are trunk racks in your vehicle. 
13. Do Bike Racks Protect Your Bikes From Theft?
Yes, bike racks protect your bike from theft. This is thanks to the in-built lock that often comes with these products. However, it's still very helpful to get an extra lock as a determined truant could get through the inbuilt lock with enough time and the right tools.
While it might not be necessary, depending on where you're traveling to, it's still a logical precaution to take. 
Conclusion
We hope to have cleared all your queries about trunk bike racks. In the process, we discussed various bike racks, along with many safety concerns. 
In addition, we also discussed whether trunk bike racks are safe. Furthermore, we talked about the pros and cons of trunk bike racks.
A bike rack is useful for someone frequently traveling along with their bikes. We came to know that trunk bike racks are one of the most budget-friendly racks with tons of features, and they are easy to use, portable, and compatible with most vehicles. Feel free to use trunk bike racks if you need to transport bikes while traveling.