Comprehensive Guide: How to Lock Bike to Hitch Rack
**Articles may contain links that I earn compensation for if clicked and you make a purchase. As an Amazon Associate, I earn from qualifying purchases. These earnings do not actually impact the price of the product or service.
The first step towards a memorable biking experience is getting it to the trails. However, most bikes aren't optimized for road riding. 
Road riding will almost certainly wear you down due to several "stops and starts" in populated areas. Therefore, you must carry the bike or whatever number you have to the bike trails. 
A hitch rack is the best way to transport those valuable bikes to your preferred location. This device helps you save gas mileage, protect your bike from overpass or garage door damage, and prevent your car's roof damage. In addition, it eliminates the hassle of lifting your bike to the roof. 
However, you need to properly mount and lock the bikes using a cable lock to benefit from a hitch rack. As straightforward as it seems, many cyclists get it wrong and end up damaging their bikes or losing them. 
We have compiled this comprehensive guide on locking bikes to a rack to guide you. And, we have also covered how to improve bike security since lack of attention can get your bike stolen even if you use a cable lock. 
But firstly, let's find out what a hitch rack is.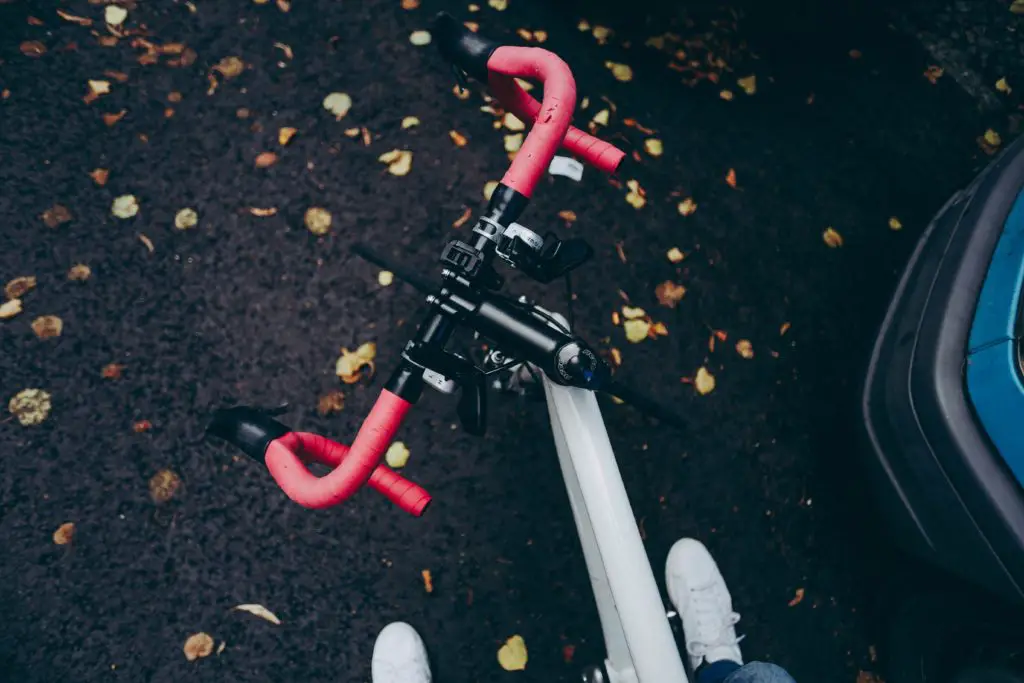 What Is a Hitch Rack?
A hitch rack is a vehicle's trailer attachment where you can lock your bike for transportation. These racks are easy to install since it primarily needs a locking hitch pin to secure them to the receiver. 
However, maneuvering might be a concern since they extend the length of your vehicle. Although, unlike roof racks, these types of racks immensely reduce lifting and unforeseen damages.
These hitch racks come in different styles. Your best choice entirely depends on your vehicle model and the efficiency of holding your bikes while in transit. 
There are two distinctive types of hitch bike racks, which include the following:
Tray Hitch Racks
These hitch racks provide a platform or tray for your bike. Hence, its alternative name- platform bike rack. It supports the bike by its arms, capturing the front wheels while the rear wheel is strapped in, and has two types of clamps. 
The wheel-style clamp holds and secures the bikes by the wheels and prevents any frame contact that can potentially damage the finish. Frame-style clamps hook the bike's crossbar to hold it by the frame.
Platform bike racks can hold one to four bikes, and it's easier to load bikes on. In addition, the features of this type of hitch rack make it best for a mountain bike with larger tires. 
You can also safely lock women's step-throughs and kids' bikes on it. And, if you want a bike rack with no sway, then a tray-style hitch bike rack is your best bet. However, you will still need a cable lock to fasten the bikes.
Hanging Hitch Racks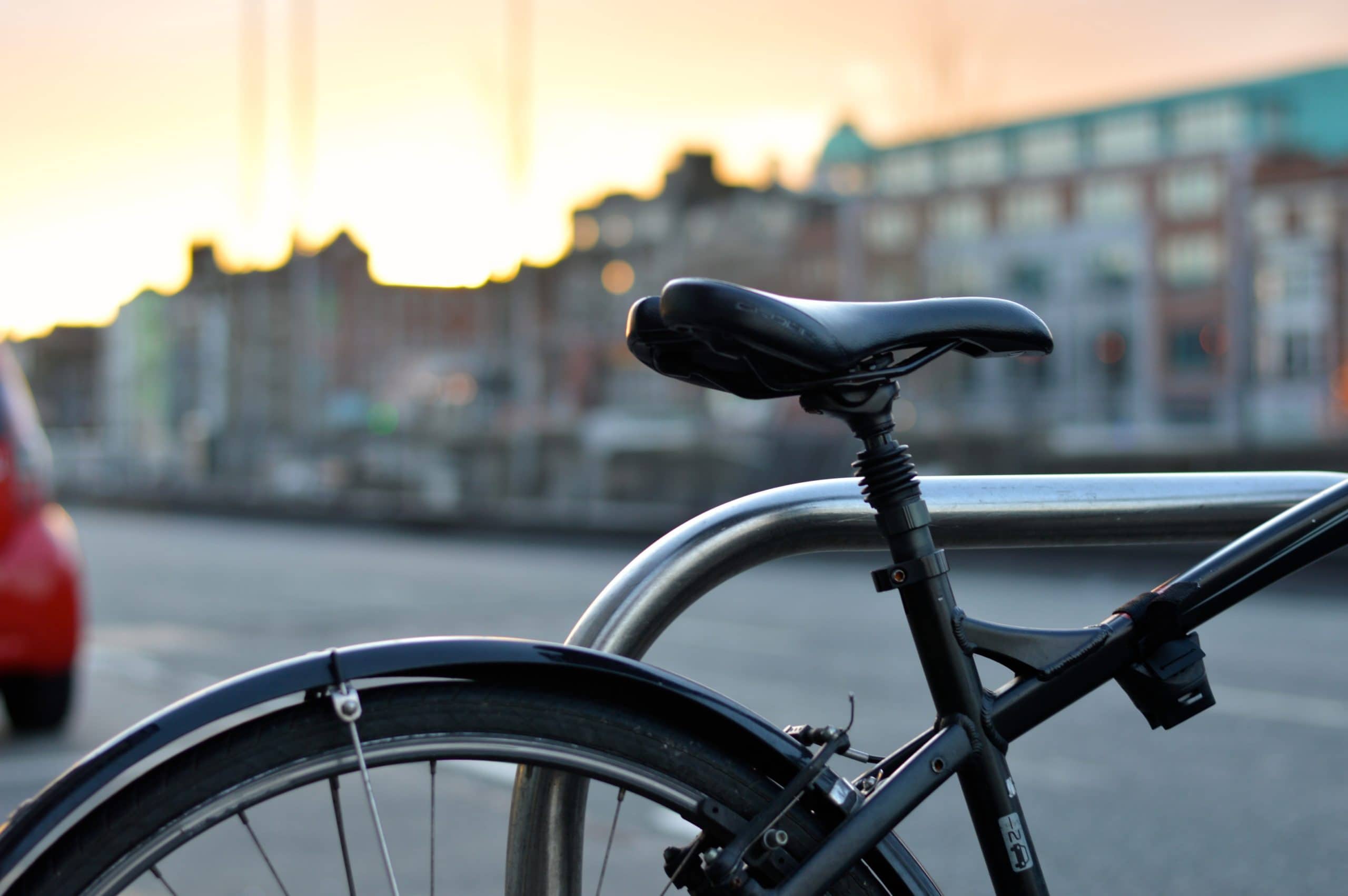 These hitch racks take a mast-style design that holds your bikes by their frames. However, there are limited wheel-mount options for this type of hitch rack. You will slot the fork to lock a bike on it to hang vertically.
The mechanism with which this bike rack works for direct contact with the bike's frame. On the upside, hanging bike racks are minimalistic, easy to use and provide good ground clearance. In addition, they can usually hold up to six bikes. 
Step by Step Process of Locking a Bike to a Hitch Rack
You must meticulously lock the bike to the rack for safety and security. But before you get any further, you should carefully read and understand the user's manual. 
Once done, you can follow the four steps below to ensure your bike reaches your destination in one piece.
Step 1: Check the Bike Rack to Determine the Condition
Checking the bike rack as a precautionary measure is the most important thing to do before you mount the bikes. Ensure that the hitch lock firmly attaches the hitch rack to the receiver. 
You can use an anti-wobble hitch pin or anti-rattle clamp. Tightening prevents wobbling or slipping off when the bikes are in transit. After tightening the hitch rack, you can shake it or put a little weight on it with your leg to ascertain its condition.
Step 2: Detach the Bikes' Accessories
Next, you will detach accessories such as water bottles, bags, helmets, reflectors, and anything that might fall off. Remember, you need tools like torque wrenches that can do the job without damaging the bike's carbon fiber parts. 
It's advisable to buy the tools if you don't have them instead of improvising. Once you are certain that all the loose parts are secure, you can proceed to mount your bike on the rack. 
Step 3: Mount Your Bike on the Rack
You will have to lift the rack's latch and its arms until the latch locks into place. After that, mount the bike by laying the top tube across the hitch rack's arms and cinching down the straps. 
The number of straps you need depends on whether or not your bike has an anti-sway. If not, you will need two, but if it has this feature, you will need an extra strap, with the third having an anti-sway cage. Note that this applies to men's bikes only. 
For women's bikes with a step-through frame, you will need a Thule crossbar which you can get from a bike shop near you. These crossbars are equally easy to use since they come with a wrapper that holds the bike on the headset and the seat post. 
You will mount the bike on the hitch rack like a normal bike. You will then secure the bike by putting it into the lock core and locking it using your keys. In addition, you should strap the front wheel if you use the hanging bike rack to prevent movement.
Step 4: Test the Hitch Rack
After you are done, it's essential to test whether the locking hitch pin works perfectly with the added weight. You can take a short drive before starting your journey. 
In addition, you should try unmounting the bike to know if you understand the process. This step is necessary more so if you are headed to remote places.
How to Secure Your Bike on a Hitch Rack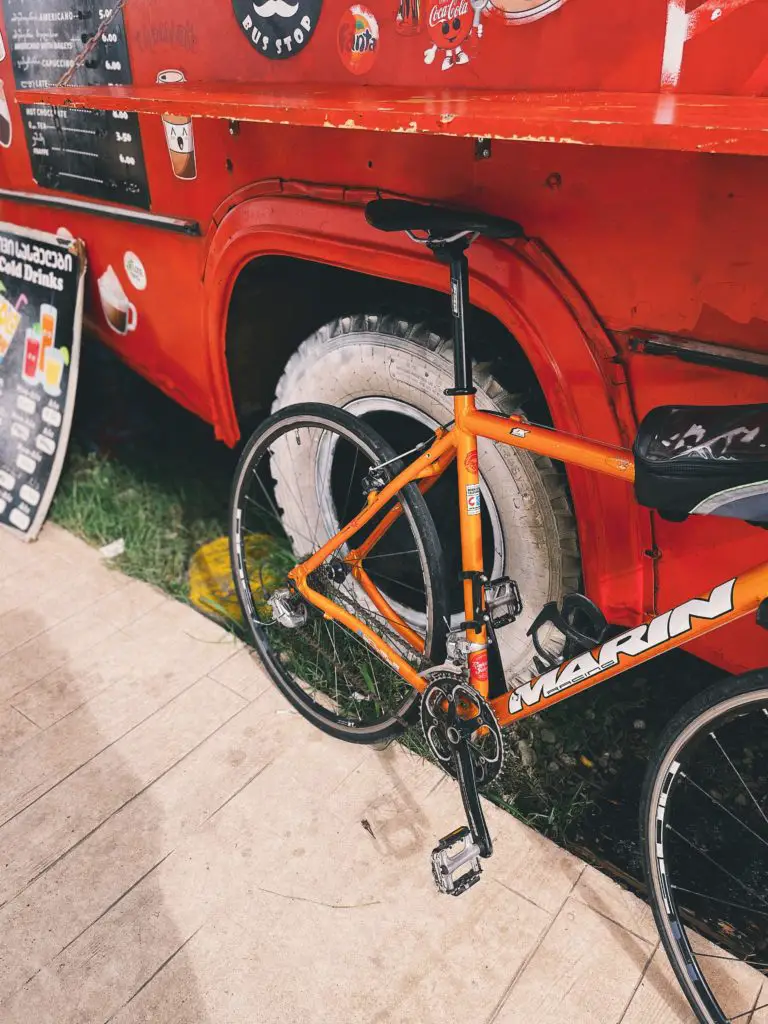 Mounting the bikes on the hitch racks and fastening them with cable locks doesn't guarantee security and safety. If you park them unattended, thieves armed with tools like bolt cutters can free the bike and steal it. To prevent this, you can use any or both of the following to lock bikes for better security.
Chain lock
Chain locks comprise hardened steel links with nylon sleeves and a lock that can be separated. Nylon sleeves cover and prevent damage to your bike frame. This lock is one of the best you can use in securing your bike.
You can conveniently wrap it around your seat tube when not in use. In terms of security, this lock type is arguably the most secure. 
Unlike a cable lock, it's more resistant to power tools like an angle grinder, and thieves can't pry it open, or bottle jack it. Therefore, you can use it when you park in a public place and not worry.
U lock
A U lock, also known as a D lock, is like a giant padlock that provides bike security at a fraction of the chain lock's cost and weight.  This type of bike lock is made from hardened steel and other metals. 
How you secure your bike using this lock depends on the locking structure, your bike's size, or the size of your lock. You can lock the frame only or lock the frame, front wheel, and rear wheel. But you will need a cable lock for this case.
On the downside,  U locks are susceptible to theft since thieves can cut either side and remove them with a twist. However, you can improve this locking mechanism by supplementing the U lock with a cable lock. 
The cable should be hooped at each end so that when the lock secures the front wheel and frame, the cable lock secures the rear wheel.
Factors to Consider When Choosing a Hitch Rack
Hitch racks come in different designs and sizes. You must choose the right one to transport your bike to your destination efficiently. 
Therefore, it will be helpful to consider the following factors:
Hitch Receiver and Bike Capacity
A trailer hitch bike rack needs a fitting hitch receiver for efficiency. The racks come in different classes depending on weight and carrying capacity. Before buying your hitch rack, consider if it will fit in your vehicle and the number of bikes you need to transport.
Class I holds 2,000 lbs with a 200lbs tongue weight and fits in ¼ "  to 1″ receiver size. It can carry one bike and a maximum of two. 
Class II has a 3,500lbs carrying capacity and also fits in ¼ "  to 1″ receivers but can carry four bikes. 
The last class can carry five bikes and has over 3,500lbs of towing capacity. It, however, needs a 2″ hitch receiver size.
Vehicle Compatibility and Clearance
A bike rack can be an obstacle if you need the rear cargo area. Therefore, you need to consider the compatibility and measure the distance between the spare wheel or cargo area and the bike rack. 
The measurements will help you select the right hitch rack. In addition, you also need to check ground clearance. You need enough ground clearance, but you can add a hitch extender to give you more if necessary.
Budget
It's also essential to consider your budget when buying a bike rack. The type you go for should be within your budget and allow you to get other items like cable locks for security. 
Note that cheap racks can cost you more in the long run. Therefore, go for the reasonably priced racks on credible marketplaces like Amazon.com.
FAQs
1. Which is the best hitch rack?
 The best hitch rack is the one that properly fits in your vehicle's hitch receiver and doesn't inconvenience you when accessing the rear cargo area. You can get these racks on Amazon, with reviews from other customers. It helps if you go for the highest-rated ones for a better return on investment.
2. Can any car use a hitch rack?
These racks are adjustable but not universal. This means that you can install them in cars that lack crossbars. These bike racks fit well in SUVs and trucks, but using them in hatchback vehicles is challenging.
3. How do you know if a hitch rack will fit in your car?
You can't guess when it comes to size. Measure the receiver and then use the information in the specification section to choose the right size. 
You can seek customer support assistance on platforms like Amazon. This will save you from trouble with the rack.
4. Can a hitch rack damage your car?
No, it can't. These racks are the safer option when it comes to traveling with your bike. However, that depends on how you fasten the bikes. 
You need to lock and tighten the bikes using cable locks and straps to ensure the wheels don't swing. This measure also prevents the bikes from swaying and hitting your car. 
5. Can you open the rear hatch after locking the bikes on the hitch rack?
You can open the trunk after locking the bikes on the rack. Although, the ease will depend on the receiver's position, swing-away capability, and your car model. You should also consider if the hitch will affect the rear hatch since the hinges aren't designed to hold the bike's weight.
Conclusion 
It is safe to say that riding a bike on the trails is the best due to features like the heavy tires of a mountain bike. You need a hitch rack fitting your vehicle to get the bikes on the trail. But before mounting the bikes on the rack, you need to detach loose parts using the right tools, then follow the steps you have read here.
Remember that mounting the bikes or one bike and fastening it with a cable lock doesn't guarantee safety. Most people have had their bikes stolen while parking. You need other types like U lock and chains to lock bikes for assured safety.