Can You Paint Bathroom Countertops
**Articles may contain links that I earn compensation for if clicked and you make a purchase. As an Amazon Associate, I earn from qualifying purchases. These earnings do not actually impact the price of the product or service.
There are several ways to design and decorate, and even a tiny spot of paint can transform the overall appearance of the place. However, people often neglect the bathroom while painting the rest of the home. A bathroom countertop is one area that you should carefully paint to enhance the aesthetic of your bathroom.
Is it, nevertheless, feasible to paint your bathroom countertop? Yes, it is, and with a bit of creativity, you can transform the bathroom into a work of art. However, painting countertops will not be the same as painting your walls since paint adheres to the walls more readily. 
On the other hand, it will easily peel away from the bathroom counters. Although you could use spray paint, it will wear off too quickly.
It's critical to know how to paint your bathroom countertop correctly. Water often spills over the countertop, which can remove the paint if it is not securely covered. To help you, we've compiled a list of tips for painting bathroom countertops.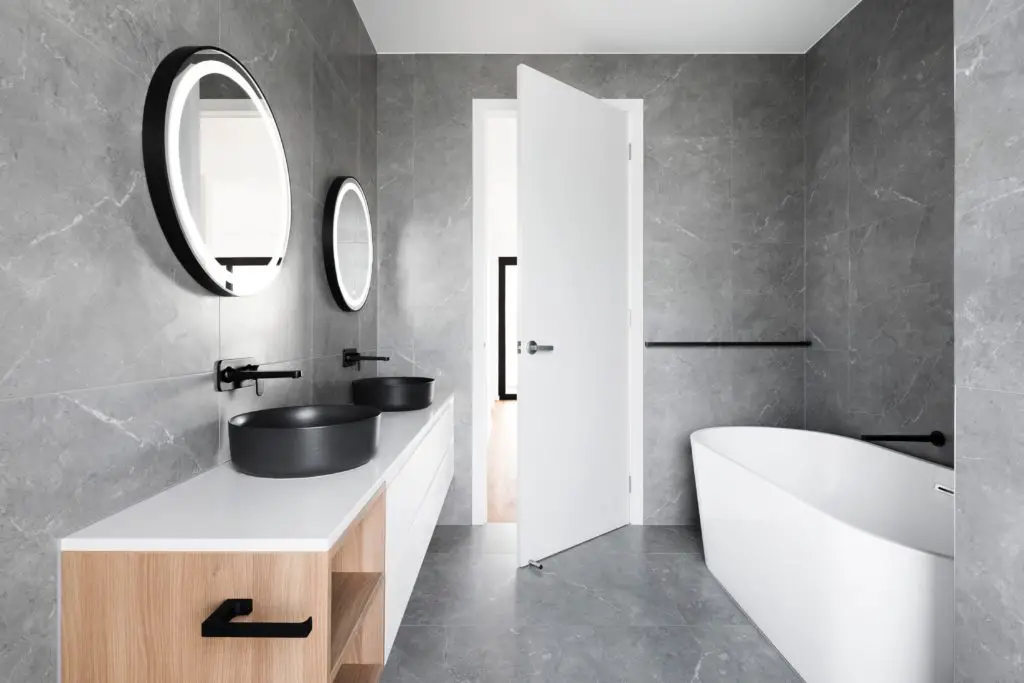 Here's How You Can Paint Bathroom Countertops
To paint the bathroom countertop, make sure you follow the procedures below exactly. A painted bathroom countertop will not only enhance the look of your bathroom but will also prevent water from being absorbed into the surface. Moreover, a painted countertop can disguise an old counter's discoloration or odor and give it a fresh appearance.
But if you don't plan the process, you won't be able to achieve your goals. First, choose which color best matches your bathroom and how to apply it. Next, you should collect all the tools you'll need to complete the job.
Step 1: Plan and Purchase the Important Stuff
If you believe you'll be able to improve the appearance by applying several coats, make sure to have some additional paint with you. Most people take their bathroom vanity seriously, so a thorough paint job is recommended for the best results.
To paint a countertop, you'll need the following equipment:
While ensuring you have adequate paint, keep in mind that waterproof paint is the best option. There will likely be a lot of water on your bathroom countertop, so only waterproof paint will hold up in these situations.
You'll need sandpaper to smooth the surface and remove the old paint from the counter. To refine the edges, 80 to 120 grit sandpaper would be preferable.
Newspapers
Newspapers are ideal for covering spots where you don't want the paint to come into contact. Other materials, such as plastic sheets, are also available, but newspapers are inexpensive, simple to recycle, and commonly accessible in every home.
You'll need tape to hold the plastic or paper in place. You can also use paper tape to make an outline and paint it if you want various designs on your bathroom countertop. Remove the tape after you're finished, and you'll have the desired pattern.
There is a need for a sealant to stick the paint in areas with a lot of water where the paint will not usually stay. Although it might not be necessary, you can't keep your bathroom dry all the time.
A Foam Roller and a Paintbrush
You'll need a paintbrush if you want to work on the sink bowl simultaneously with the countertops. Otherwise, a foam roller would do; we recommend using a roller since it is pretty convenient, even if you have no prior painting expertise.
You may not be able to reach certain corners while you paint the bathroom countertop, so you may use spray paint to fill in such areas over the painted surface. Then, simply use a spray bottle to add a finishing touch to the corners.
Step 2: Use the Sandpaper to Sand the Countertop
Using sandpaper, level the countertop and remove anything that could prevent the paint from adhering. Grab a pack of sandpaper if you're not sure which one would work best for painting bathroom countertops. It won't break the bank, but it will save you time since you won't have to return to the store to get more sandpaper.
Step 3: Use Primer Paint
Primer paint is a coating that provides better paint adherence. It's required to apply it before painting the countertop; the first coat is the primer, and the second coat, if you don't want to add anything in between, can be the paint.
You don't want the painted countertops to start peeling off within a month, if not sooner. When painting your bathroom countertops, ensure the primer will keep the paint in place for a more extended period, which will require high-quality paint. Before applying the paint, make sure the primer is entirely dry.
Step 4: Let's Paint
Attach the foam brush to a paint stick or create one at home, then dip it into the paint bucket. Maintain enough ventilation in your bathroom, so that paint fumes do not irritate your nose. Use baking soda or activated charcoal in the bathroom if you don't have a large bathroom window or an exhaust fan and can't keep the door open.
To avoid the paint seeming faded, start at the countertop edges and apply a couple of layers. Avoid using a spray paint bottle since it will not provide the same level of precision as a roller or brush.
Do not paint the bathroom sink until the rest of the countertop has been painted. Also, in comparison to what you did on the countertop surface, choose dark and contrasty hues to give your sink bowl a unique appearance.

Step 5: Seal the Paint
Here's where the sealer comes in: let the paint dry thoroughly before applying the sealant. To keep the paint vibrant and undamaged, we suggest applying an acrylic sealer. Because you won't have to apply the paint again for a long time, a sealer may save you a lot of money.
If you don't have waterproof paint, you can use a waterproof sealer to protect your paint. It may be a little more expensive, but it will keep your countertop looking lively for a long time.
Frequently Asked Questions (FAQs)
1. What paint should I use on my bathroom countertop?
While the choice is yours, we recommend using latex satin paint since you'll most likely spill water on the countertop. If this paint isn't available, semi-gloss paint will do; nevertheless, you'll need to coat the top with multiple coats for better protection.
2. Can you paint old bathroom countertops?
Yes, you can easily refinish old bathroom countertops. While painting, the only thing to keep in mind is that the bowl should not be broken or allow water to enter. 
If water gets into your countertop, it will eat away at the paint in a matter of months. If you're certain there's no water on the bathroom counter, you can paint it using the instructions above.
3. What paint will stick to the Formica countertop?
Despite their porous nature, you can paint on Formica countertops multiple times without worrying if they will hold the substance. In fact, the best part about Formica countertops is that you can paint them with whatever color you choose without it peeling off. If you're skilled at it, use a can of spray paint, but be careful not to get the paint all over the place.
Wrapping It Up
So, can you paint bathroom countertops? Yes, painting countertops is relatively simple as long as they are not damaged from the inside. We shared the best techniques for applying paint on countertops quickly and simply.
If you're painting your bathroom countertop using a primer, spray paint, or a foam roller, follow the instructions carefully to minimize problems. So go ahead and bask in the glory of your freshly painted countertops!