7 Simple DIY Wall Letter's for Your Child's Room
**Articles may contain links that I earn compensation for if clicked and you make a purchase. As an Amazon Associate, I earn from qualifying purchases. These earnings do not actually impact the price of the product or service.
YES! Letters on the walls of your child's room are still a popular and stylish way to personalize their space. Here are some fun ways to make the letters even more personal by creating letters that represent what they love!
1. Set the Theme: Choose a paper that works with the theme of their room. Simply paint a cardboard letter (found at your local craft store). Then lay the letter upside down on top of your chosen theme paper – here it is a colorful map for your little traveler – use an Exacto knife to cut around the letter and spray glue the paper. Attach carefully to avoid bubbles.
2. Tell a story: What does your child love? Chose pages from a favorite story book (the duplicate you found at a thrift shop!), a favorite cartoon, or even your child's own artwork (copy them so the ink doesn't run) and decoupage the craft store cardboard letters. Watch our DIY video for step by step instructions. How to Decoupage Wall Letters Video
3. Spell it out: Cover a canvas or a board with papers that match your child's decor, then pick up unfinished wood letters of your choosing, spray paint them all the same and hot glue them to your squares. A new twist on the traditional name on the wall!
4. Peak their Interest: Use your child's interest as the basis of their letter. Here a young car lover sees you think what he loves is important. You could use so many toys or small collectibles to achieve the same effect – how about train tracks? Share your ideas with me!
5. Set the Stage: Creating an art area? Get little artists inspired by using the materials they will be using. Have a little chef? How about using wooden spoons or other kitchen items? Setting up a sewing area? Wrap wood or cardboard letters with yarn.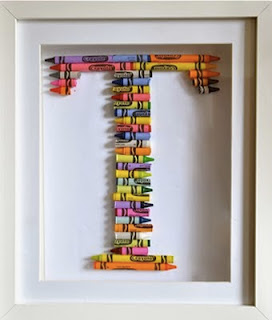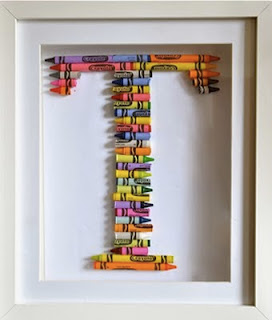 6. Sew it up: For a softer look in the nursery how about sewing some felt letters? Mount them on colorful paper or fabric backgrounds in a frame or hang them like pennants on the wall. Love this idea!
7. Diva it up: Want to add some sparkle and shine? Here bottle caps, coins or gems could be glued to foam or wood letter. I love the idea of pennies! I think I have to give this one a try.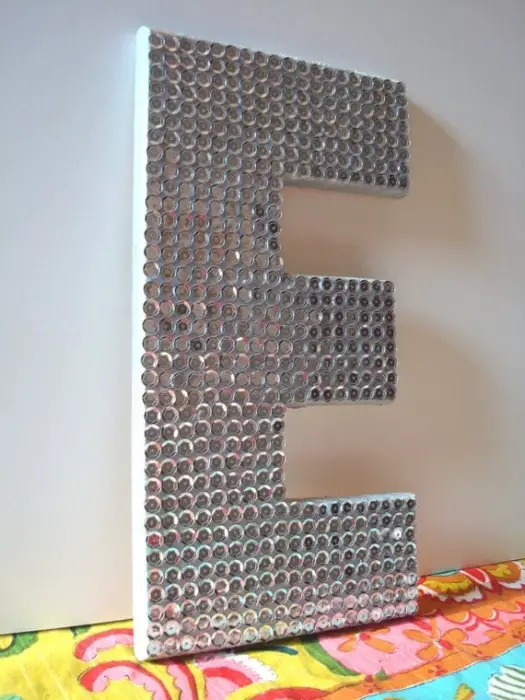 Image from Etsy
Have fun with your wall decor. It doesn't have to be a big investment so it can be changed with your child's style or interests. Enjoy!