How to Install a Hitch Bike Rack
**Articles may contain links that I earn compensation for if clicked and you make a purchase. As an Amazon Associate, I earn from qualifying purchases. These earnings do not actually impact the price of the product or service.
Cycling is a hobby that many people love. It is one of the unique ways to enjoy the sights of nature while keeping one's health in check. In addition, it is a sport you can enjoy with friends and family.
Going to the same local trails countless times can get tedious or less challenging. If you're looking to explore a new track far from your home, a hitch-mounted bike rack can easily make the transportation of your bikes and bike gear easier.
Apart from that, with hitch racks, you don't have to worry about mounting heavy bikes onto the roof of your car. Besides, carrying heavy bikes or cramming them in the trunk of your car can be hectic and inconvenient.
Bike racks are designed to attach to the hitch receivers fixed on your car. They are effortless to install, and you don't have to remove the wheels of your bike to mount them on the tire trays.
Additionally, most hitch racks allow you to mount up to four bikes and attach them to the hitch mount of your car, truck, or SUV. If you want to learn more about how to install a hitch bike rack, continue reading this article.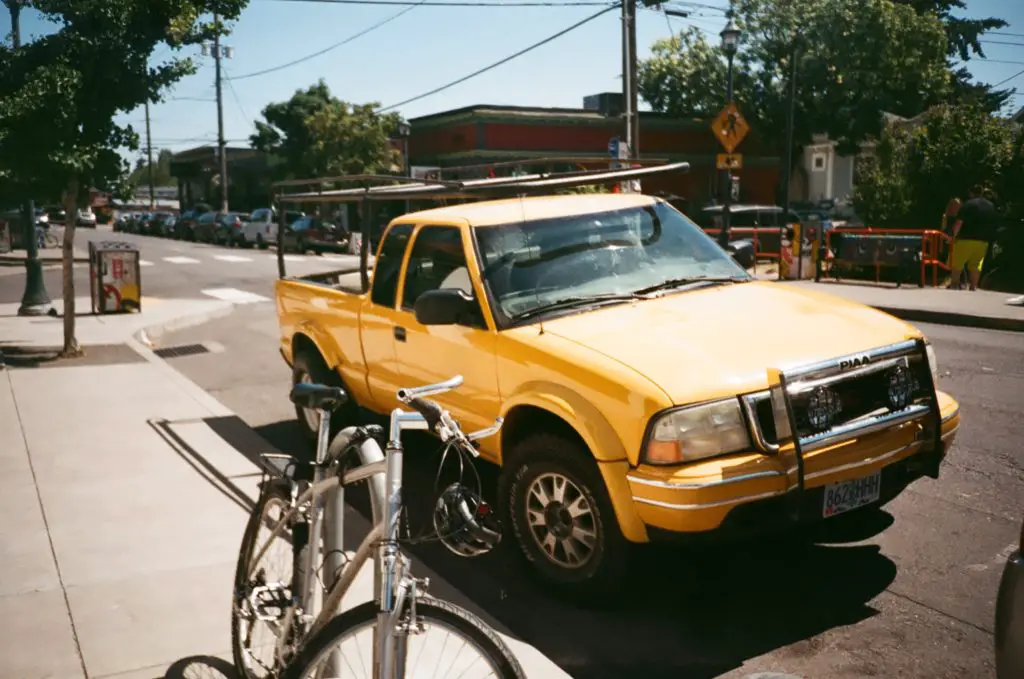 Why Are Hitch Bike Racks Better?
A hitch bike rack is better than a roof rack because you can't easily access the roof of most trucks and SUVs. Moreover, a roof rack is generally harder to use, as it can be difficult to carry and load a heavy bike onto a car's roof.
A hitch rack also performs better than a trunk rack because trunk racks aren't compatible with all vehicles. Additionally, trunk racks can mount to a truck bed's rear hatch. 
However, loading bikes onto the truck bed is much easier in this case. Hanging them onto the mount is tricky and doesn't provide space for more than one bike. 
Moreover, a hitch rack provides accessibility to its users. Loading your bike onto the rack is way easier. The bike rack trays are close to the ground, making it easier to carry many bikes on the rack. 
In addition, the bikes are not hanging far from the ground. So, in case of the rack breaking, the damage to your bikes and car would be minor.
Additionally, installing a hitch bike rack onto your car is a breeze compared to roof or trunk racks. Manufacturers designed them to be compatible with the models of various cars. 
If your vehicle has a hitch receiver, you can easily mount the racks. If your vehicle doesn't come with one, you can shop for one that is appropriate.
Install Hitch-Mounted Bike Racks in 6 Easy Steps
The process of a bike rack installation isn't as complicated as it sounds, and we have a complete guide for you. Most importantly, you don't need heavy equipment to secure the hitch rack onto your car. Mast-style bike racks carry up to five bikes, and you can easily install them.
Determine Your Vehicle's Hitch Class
Your car, truck, or SUV likely came with a hitch receiver. Before you shop for a bike rack for your car's hitch, determine the class of your vehicle's hitch receiver. A hitch mount is divided into categories that range from one to five. 
Typically, the hitch racks are compatible with the hitch receivers of classes two and four. Many cars come with a pre-installed hitch rack or trailer hitch. For example, most SUVs come with a trailer hitch mount.
Find Out Your Vehicle's Hitch Receiver Size
The next thing you should do is determine the hitch receiver size pre-installed on your vehicle. If you aren't sure about the size of the receiver, you can always refer to the vehicle manual. 
The hitch receiver sizes are divided into the five classes, of which one-to-four class hitches are commonly pre-installed onto most vehicles. Generally, class five hitch racks are used for heavy-duty trucks.
Identify Your Vehicle's Tow Capacity
Before you secure a bike rack onto your vehicle, make sure you find out its tow capacity. A hitch mount is only as proper as it can help your vehicle tow bikes and other bike gear. In addition, there are many mounts for different bike types that depend on the towing capacity of various vehicles, such as SUVs.
Decide on the Type of Rack You Want
Determining the type of bike racks your car can handle is essential. There are numerous types of bike racks you can install on your vehicle. 
For instance, if we take a truck or a jeep into consideration, the rear doors of both vehicles need access. In this case, you should consider installing a rack that can swing or fold away to the sides. Folding racks give rear access to the doors.
Apart from that, different racks have different capacities for holding bikes and other bike gear. Most bike racks come in either two or four pairs for carrying bikes. Which one you want will depend on how many bikes you have and plan to carry. 
So, if you want to mount multiple bikes, get a hitch-mounted rack accordingly. Another thing you should consider is the extra number of straps that help fix the bikes onto the racks.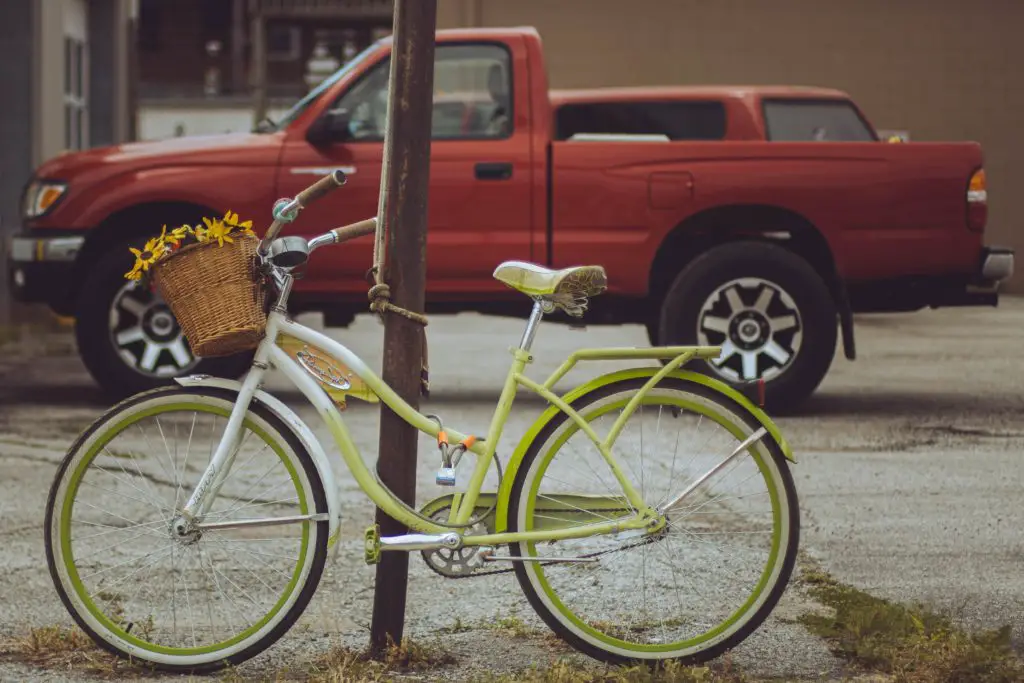 The next step would be lining up the bolt holes on the rack and your vehicle's receiver. With the help of a wrench, tighten the inserted hitch bolts that come with the rack. 
In addition, the bolts should come with a lock washer or a flat washer. Most racks also have a cotter pin inserted on the opposite sides of the bolt from the head. You will need to lift and load the bike rack into the hitch receiver.
Push and pull on the rack to check if it's stable. This enables the bike rack to carry the maximum number of bikes and haul them over long distances.
Make the Necessary Adjustments
Finally, before loading any bikes onto your rack, adjust accordingly. Check everything about your rack, and then mount your bike or bicycle with your bike gear.
Ensure you correctly place the bikes when loading them onto the rack. Incorrectly placing or cramming bikes carelessly onto the racks can damage their frame. 
Additionally, ensure you tighten all the straps and the bars over the wheel or frame. Many hitch mounted racks come with support arms, which strap onto the bike's front wheel.
As a final resort, haul the rack to check the durability of its lock on the bike. Make sure it is tightly fixed to the vehicle to ensure minimum bike sway.
Conclusion
Hitch mounted bike racks are, without a doubt, a better investment than a roof or a trunk rack. They are accessible, convenient, and much easier to carry. 
Overall, hitch bike racks don't cost as much and are provided by many top brands. They serve the vital purpose of mounting your bikes to the back of your vehicle. With the help of this guide, you'll be able to install a hitch bike rack to your vehicle easily.