How to Waterproof a Window in a Shower?
**Articles may contain links that I earn compensation for if clicked and you make a purchase. As an Amazon Associate, I earn from qualifying purchases. These earnings do not actually impact the price of the product or service.
Looking to achieve better durability of your shower window by preventing water droplets from getting to the surface and edges? In this case, the most basic approach can suffice, like using a window curtain in a tiled shower. 
The tips we've included in this piece will show you how to waterproof a window in a shower, thus, protecting your window from damage. To that end, you can either prevent all moisture contact or waterproof your bathroom window.
A window in the shower can be a wonderful addition to the house's interior design and a great solution for high humidity levels. Plus, it lightens up the space with natural light. However, having water splash regularly on the window in a shower can cause damage after some time.
Fortunately, there are modern ways to curb this issue around your tub or showers. For example, consider these seven easy steps on how to waterproof a window in a shower.
How to Waterproof a Window in a Shower – Seven Easy Tricks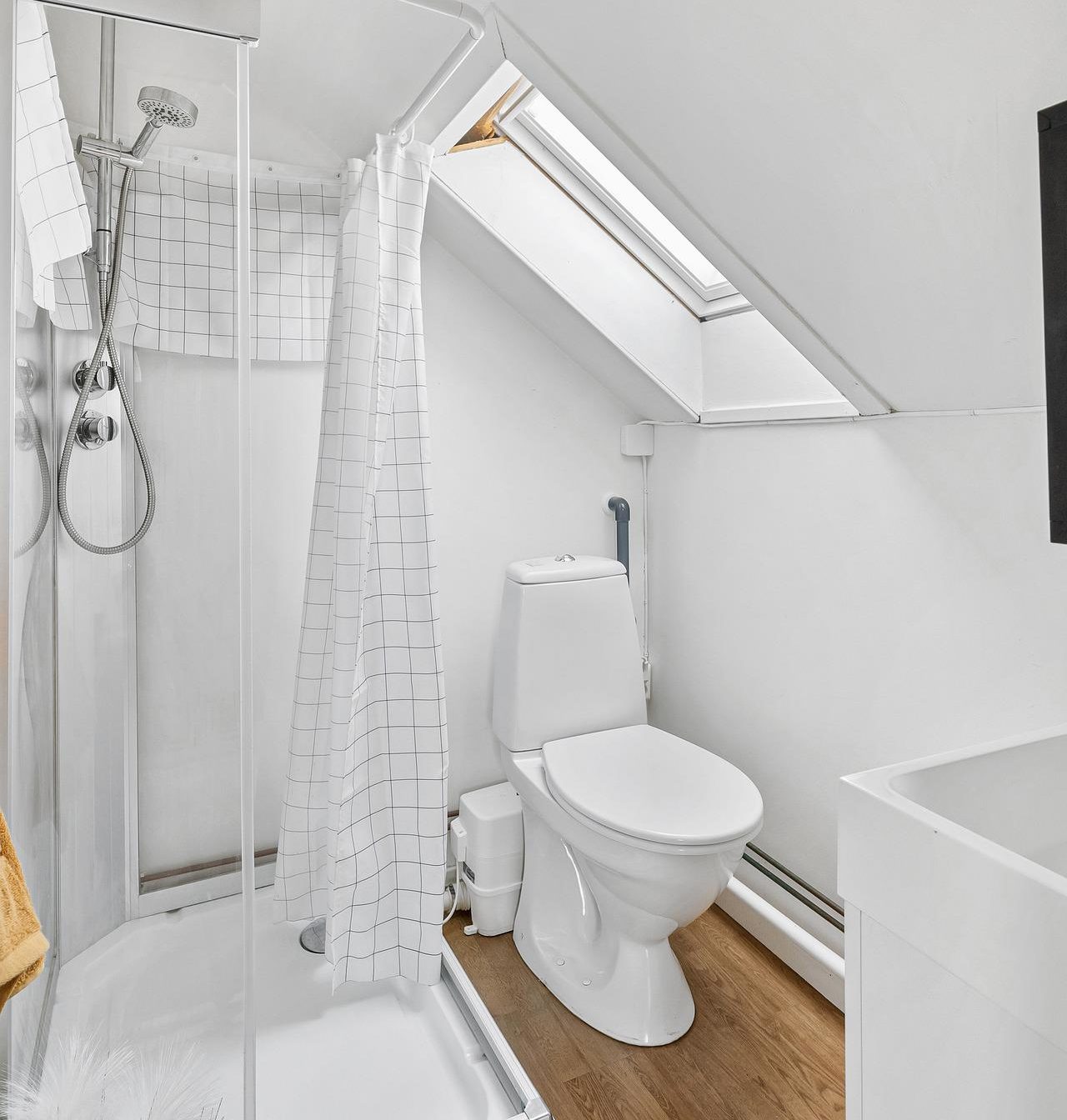 1. Ensure the Shower Head is Below the Window
First, when installing showers in the bathroom, you should ensure that the window is above the shower head. Plus, there should be a reasonable distance between the bathroom window and the shower head. 
Also, place the window outside the range of the shower spray to prevent water from getting to the window frames and seals.
2. Install Waterproof Blinds
This is an efficient method for a window waterproof. You should ensure that you use a high-quality material that can withstand high humid conditions. While using this method, the most popular and feasible solutions include vinyl blinds, shutters, and faux wood blinds. 
Vinyl blinds and shutters are good waterproof materials because they are water-resistant and help prevent moisture from spoiling your windows. These wood blinds are made from PVC. Plus, they're versatile and composite, making them durable to prevent cracks and leaks due to water impact.
Furthermore, the blinds have different slat sizes, and tilting them will allow you to customize them to your need. You can keep them shut for full privacy or open to get an outside view or natural light while showering. 
In addition, you can also consider a faux wood shutter. However, real wood shutters and blinds are not ideal as moisture can cause the material to peel.

3. Use Shower Curtains
Adding shower curtains is a cost-effective and straightforward method of preventing shower splashes from landing on your shower windows. 
This method is ideal if you want to cover the view of your bathtub without hindering the flow of air. So, aside from protecting the window in a shower, you also enjoy privacy.
On the exterior wall, fix a shower rod around the shower area and place the shower curtain on the newly installed rod. It's as simple as that, and it's an easy task to carry out, especially if there's a machine for drilling holes at home. However, you can also use the services of a professional.
With this window waterproofing method, you can enjoy proper lighting and air while also enriching the space. Note that the way you want the shower curtains installed is entirely up to you. 
At the same time, a stylish shower curtain will be the first thing visitors see as soon as they open your bathroom door. So, picking the right one will add a new aspect to the whole thing and might be a permanent solution.
4. Install a Pitched Sill
Any interior designer will recommend adding a pitched window sill on the window jamb. This slanted approach allows water to flow back into the shower instead of a flat surface that collects water.
To start, use a latex-modified thinset to prop a Corian and mix till it's stiff to make it easier.  After installing the pitched sill and it's dry, consider tiling over it.
At that point, consider replacing the wooden sills with tiles. After this, smooth out the grout lines, and seal all to ensure effective waterproofing.
5. Install Glass Blocks
Glass blocks create a stylish and premium appearance, and you won't have to worry about water damage. Although glass blocks can look beautiful, they're costly. 
Also, these blocks allow natural light to brighten up the walls. For such results, this method includes using glass mortar to fill spaces.
On the flip side, keep in mind that these blocks are heavy. One glass block weighs more than 1.4 kilograms, thus needing extra support from the rest of the room.
Installing glass blocks in your shower enclosure requires professional expertise. They're available in many online and physical stores. 
6. Use Vinyl or Fiberglass Window
Opting for vinyl or fiberglass windows instead of wooden windows is a shortcut to waterproof and protect them. In short, such windows use sturdier builds and also look great on the wall. Plus, unlike wood windows, water won't cause rot on them.
Using this type of wooden jamb is a simple and quick way to fix the issue. This is because the window jamb provides extra support while the vinyl prevents moisture from affecting the window.
The easiest way to secure the wooden window jamb waterproofing is to run tiles into the frame. For best results, seal the shower with a cement board and use good silicone caulk to cover the opening between the centerboard and the jamb. 
Also, you should wrap the joint and window jamb with a waterproofing membrane and properly caulk the windows.
7. Replace or Remove the Window Trim
A window wood trim that's water-logged will eventually rot. Trims provide easy access for water to get in from the back of the window. Hence, it's always a good idea to get rid of the wood trim on a tile wall.
After this, you can set a tile to the verge of the window opening. Also, regularly checking for signs of tear around the caulking on the window trim will help. 
Lastly, ensure you dry clean the window sill after each bath to protect the sill from rotting.
Conclusion
Waterproofing is a good way to prevent damage to your shower window. Moreso, it can be relatively inexpensive as the materials and labor costs are mostly affordable.
After setting them up, remember to regularly check and inspect them. Also, ensure to dry clean the frames often, which can also help you keep track of leaks and mold.
Occasionally, you should check the grout lines, joints, and caulking to see if they're still in good condition. Once you notice signs of wear, it's best to quickly replace the affected part(s) to prevent further complications.