How to Install a Bike Rack on an SUV
**Articles may contain links that I earn compensation for if clicked and you make a purchase. As an Amazon Associate, I earn from qualifying purchases. These earnings do not actually impact the price of the product or service.
Over time, cycling has become one of the outdoor activities that relieve us of tension and stress. In addition, we can bond with our loved ones when we cycle together. 
While cycling can keep us fit and healthy, we should consider how we could transport it with our vehicles. More specifically, you should know how to install a bike rack on an SUV if you own such a vehicle. 
Many bike owners erroneously think that mounting their bikes on their SUVs does not need learning. However, because of the peculiar structure of an SUV, it's important to take special note of the steps required. 
Thankfully, using a trunk-mounted rack, which is often the go-to type for SUV owners, isn't so complex when you follow the steps outlined in this article. 
Before going ahead, it's important to emphasize the need for a high-quality rack, first. With the number of racks on the market, you should search for the proper rack to fit your bike as well as your SUV. 
If you have recently searched for trunk-mounted racks online, your browsers can show personalized ads depending on the type of trunk rack you searched. Some of these might include Allen bike racks. The choice of which brand to use is entirely up to you.
There are three broad types of truck-mounted racks you can use to secure your bike to an SUV. Each of these racks has manual instructions to help you install your bike. Hence, you should read the manual carefully before your bike rack installation.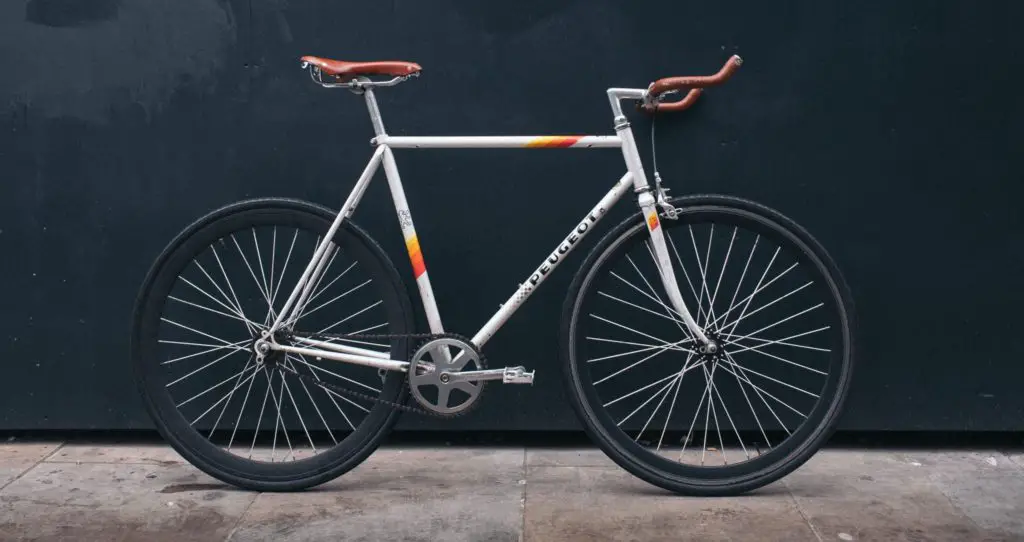 How to Install a Hitch Mounted Bike Rack
If you don't want to waste time installing your bike rack, you should consider using the hitch-mounted bike racks. This type of bike rack installation happens without touching your vehicle, and the only thing you can touch is your SUV's hitch rack.
The process is hitch-free and does not affect your SUV's finishes. Bike owners who have an extra tire on the SUV's bike should ensure that they have an extended hitch. Meanwhile, you can buy a hitch if your vehicle lacks it.  
The installation of your bike rack does not involve a complicated process. With the essential tools, you can mount your bike rack within minutes. 
Here are the steps to follow:
Step 1
You have to insert your hitch rack stem inside the receiver tube. The next thing to do is secure the hitch-mounted rack with a star washer, clip, flat washer, and ½ inch hex head bolt.
We recommend that you check the type of hitch-mounted rack that can suit your  SUV before you begin the process.
Step 2
It would be best to fix the safety support belt before you can twist it to the rack's core area. In addition, the bike rack post should connect with the arms. Ensure that the strap curve goes to the rack towline's back by swiping it. 
Step 3
In this step, you should mount your bike to the rack and use rubber bike arm strips to secure your bike. Furthermore, secure the seat post and cross-post on the rack. There should be no bouncing with the trunk-mounted bike rack.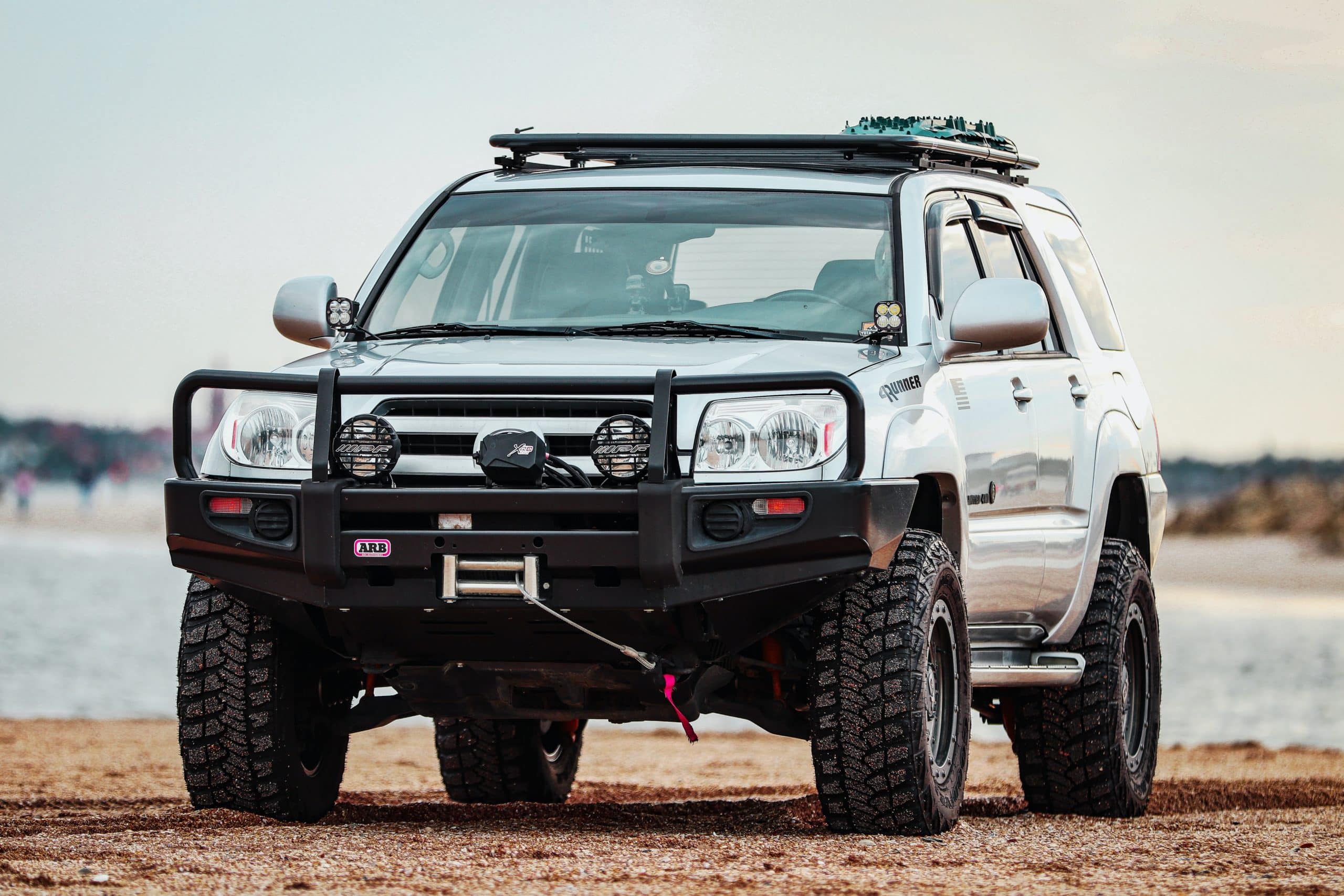 How to Install a Roof Mounted Bike Rack 
If you own an SUV in a city where a lot of people get around on bikes, you might've seen another SUV owner drive with their bike on their roof. Roof-mounted bike racks can help you achieve the same. 
Thankfully, it's not impossibly difficult to install a roof-mounted bike rack, too. The average SUV already has an arrangement for such an installation. 
More specifically, most SUVs come with a roof rack that can help you install a roof-mounted bike rack without damaging your paint or roof. It can take you a few minutes to install your bike rack but it's totally worth it.
The summary of installing roof-mounted racks on your SUV is that you need to lift your bike and secure it to the roof rack. If this isn't something you can do alone, feel free to get some help from a friend or family member, especially if you have to secure multiple bikes. 
Here are a few more details to guide you through the process.
Step 1
Before doing anything, place your bike rack on your SUV's crossbar. Then twist the front knob for the clamp's front area to open. When you achieve this, open your rear clamp.
In addition, the bolt has to move to pass the clamp slot before you can lower the front part. Place this over the crossbar's front and push the rear clamp's clack over your crossbar's rear. 
Step 2
Here, you have to secure the rear lamp tightly before shutting the clamps around your crossbar. When you do this, drag the front clamp to move across the crossbar. You can use the knob to secure the front clamp on the crossbar firmly. 
Step 3
The final step involves clamp adjustment to fit your roof rack. With the clamp, you ensure that the factor bars stay intact when you install the bike rack. Furthermore, you should check your bike's wheel attachment, and ensure that the tires have the recommended pressure. 
Roof-mounted racks can help you travel with more items since your bike can stay on the roof. However, you should ensure that your SUV has properly mounted racks that can withstand heavy loads.
Otherwise, it might be a good idea to visit a vehicle service provider and have them install high-quality roof racks for you. 
How to Install a Trunk-Mounted Bike Rack
Most SUVs come with hitches and crossbars when you purchase them. However, if the vehicle's hitch is faulty or lacking, you can get the trunk-mounted bike rack. 
The trunk-mounted racks are connected to the hitch. Therefore, you may not need the roof-mounted racks, hitches, or crossbars.
With the rack, you can mount your bike effortlessly. Here is the process of the rack installation on your car's trunk:
Step 1
First, you must connect your truck-mounted rack to the car's doors with buckles, hooks, or straps.
A padded bike rack works better to ensure that your car suffers no damage when using a truck-mounted bike rack.
Step 2
Some SUVs may have spoilers, but that should not affect your rack installation. Trunk-mounted racks can function with spoilers, and the process is straightforward and does not take time. 
With the support of trunk-mounted bars, you should attach your bike at an angle between 15 to 45 degrees. In addition, ensure that the straps wrap around your wheels for better placement in the truck. 
Buying Guide on Bike Racks
The Manufacturer
While it might not seem like a particularly important detail, the manufacturer of the bike rack matters as much as the bike rack itself. A well-reputed manufacturer is likely to have and be able to afford a highly-skilled team capable of providing top-of-the-line products. What's more, they're likely to be able to afford warranties, guarantees, installation services, etc. 
So, before selecting the product you'll buy, consider the manufacturer first. Be sure that they are actually good enough to satisfy your bike commuting needs. Be sure to only check their official website to avoid accidentally buying counterfeit products from duplicate brands. 
Type of Bike Rack
With the number of bike racks on the market, you don't need every model because they come in different shapes and sizes. However, with a measuring tape, you can get the proper measurement of your crossbar, hitches, and other accessories.  
We recommend purchasing the right rack type for your vehicle to ensure you have a strong hold on your bike.
Ease of Installation 
The steps we provided above should cover the basics of installing a bike rack on an SUV. However, some products come with extra parts and even those that don't require more effort to learn the installation process than usual. 
For example, a roof-mounted bike rack needs the installer to carry it over the SUV roof. If your bike is particularly heavy and you have no one around to assist you, installation would be quite difficult. So, before going ahead, figure out how easy a product will be to install first. 
You can do this by going through customer reviews and gauging the experience of other people who've bought and have had to install the products you're eyeing.
Frequently Asked Questions on How to Install a Bike Rack
1. Is it possible to install my car bike rack on any SUV?
The answer to this isn't quite as straightforward as you may imagine. The reason is that different cars have different unique features and the same applies to bike racks. If you already have a bike rack, the best way to find out the answer to this question is by trying it out first. 
This involves reading the instruction manual carefully and following it in like manner. If one part of the rack from your car, doesn't fit your SUV, do not force it as you could damage your SUV.
2. Can a bike rack affect the body of my car?
Yes but the bike rack should not damage your SUV if properly installed. While manufacturers claim that their products would not damage vehicles, you should consider using the right product and installing correctly.
Final Thoughts
We reviewed the various methods on how to install a bike rack on an SUV and came up with this article. Ultimately, the decision on how to install your bike depends on the vehicle and the type of rack you want to use.
While some vehicles come with roof racks or hitches, others do not have them. Therefore, you may have to put special consideration into the products you buy for bike mounting.