How to Lock Bike on Car Bike Rack
**Articles may contain links that I earn compensation for if clicked and you make a purchase. As an Amazon Associate, I earn from qualifying purchases. These earnings do not actually impact the price of the product or service.
Are you a rider planning to go on a long trip while having your favorite bike with you? You certainly don't want to be traveling while worrying about the safety of your bike all through a long journey. 
Car racks are the secure and budget-friendly solution to this problem. With a car rack, you wouldn't need to worry about your bike falling or taking up too much space in your vehicle while you transport it.
Bikers who take the security of their bikes seriously or have their bike stolen once know how convenient and secure it is to have a designated car bike rack. These help to lock your bicycle while traveling to different places. A car rack can be a good space saver if you've been hampering your bike inside your car before.
However, putting your car on the bike rack is one thing, and ensuring it's safe and secure is another thing. It isn't that easy how it looks. That is why you need to learn the safest ways to lock your bike onto the car rack to prevent theft or damage.
Here are a few easy and hassle-free tips and techniques to help you secure your bike on a bike rack. 
Read ahead to learn how to lock a bike on a car bike rack and why doing so is necessary.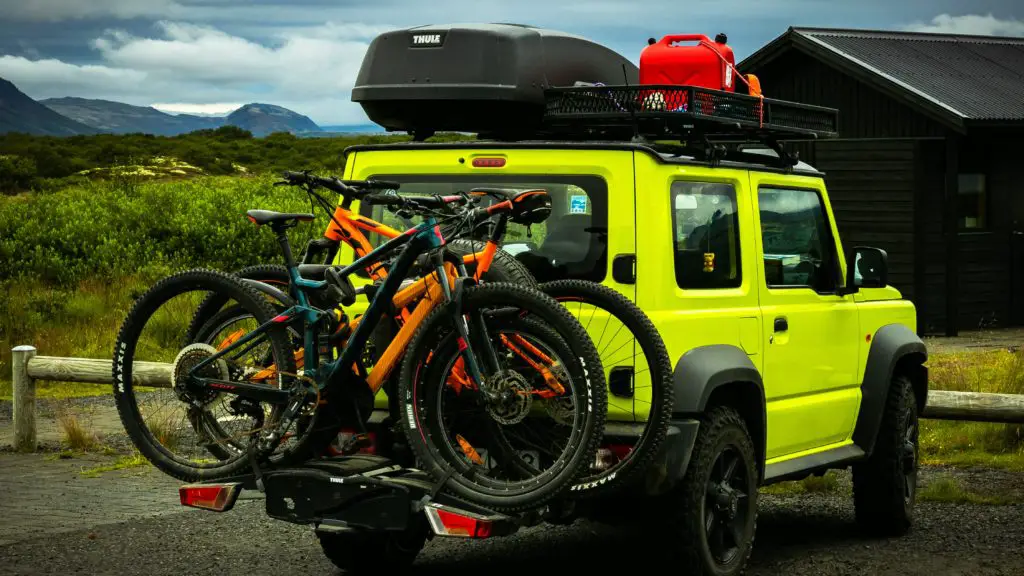 Why Is It Important to Lock a Bike?
One of the undeniable disadvantages of a car rack is that your bike is highly visible on the outside of your car, which makes it vulnerable to theft. Leaving your bike unattended on a bike rack while you go on a small bathroom break or an errand is only advantageous for thieves.
Car bike racks are the most suitable way to transport your bike along with your vehicle. But they do not provide the much-needed security and safety.
Locking your bike is especially important when you plan to go on a long trip with your bike mounted onto your car bike rack. This way, you can easily leave your bike unattended for a while. Locking your bikes on a car bike rack can save you the trouble of worrying about a bike thief too.
While traveling, if you do not latch your bike properly to the car bike rack, it can cause constant worry. You won't be able to concentrate on the road. A lock secures your bike and leaves you stress-free to enjoy your trip.
Types of Car Bike Racks
Car racks have various types and styles. It is important to choose a roof-mounted bike rack that best suits your vehicle. Moreover, it should promise the security and safety of your bike. 
Choosing the wrong rack can cause damage to your car and can make your bike vulnerable to theft.
Here are some of the major car bike racks.
Trunk Mounted Racks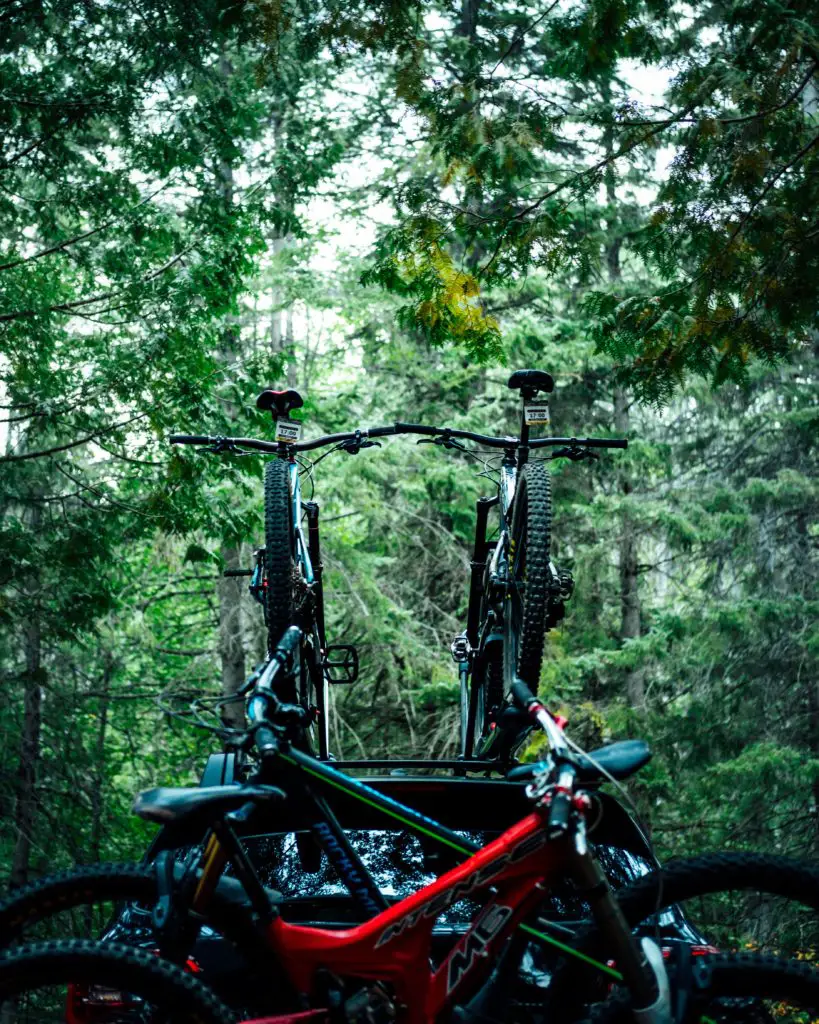 A trunk-mounted car bike rack attaches to the back of your car to hold the bike. They are usually cheap and cost less than the other racks. It all depends on their design and quality.
Trunk racks do not require a hitch system. They usually remain in one place with the help of straps connected to the trunk or bumper of your vehicle. The arms and cradles of the bike rack provide support to the bike to hold it tightly in place. 
Trunk mount racks are easy to install and remove with some practice. The bike racks are a universal fit. This means they can be installed on a wide range of cars as the fit is adjustable. 
Apart from that, they are lightweight and easily portable, and you can easily store them when not in use.
But due to their design and installation position, they can cause damage to your vehicle. Additionally, trunk racks use straps to hold your bike tightly. If done poorly or you don't tighten the straps correctly, your bike can shift or sway while driving.
It is difficult to lock bikes in your car using a trunk-mounted bike rack. This is due to its design, which is a major security concern.
Roof Mounted Rack
If you want to utilize your car's rooftop and save space inside, a roof rack is an excellent choice for you as they are versatile. 
The best thing about a roof-mounted rack is that your bike can be easily locked to pre-installed locks. You can also put extra locks if you want to maximize the security of your bike. Remove the front wheel of your bike when you use a roof rack.
There are some roof racks that allow you to lock the whole bike while keeping both wheels. Moreover, they can carry several gears like surfboards and skateboards, and bikes. Another advantage of using a roof-mounted bike rack is that it won't block your passenger door or the rear entrance.
The downside of roof racks is that since they are installed on the vehicle's roof, it is difficult to lift and bring down bikes on taller vehicles. They are not easy to install or remove as they require some tools. Additionally, as these racks are attached to the car's roof, they can cause noticeable wind noise or resistance.
Hitch-Mounted Rack
As the name suggests, hitch mount racks are attached and mounted to the trailer hitch of the car. Here's the thing about hitch-mounted racks – you can still use the trunk of your car easily as they do not come in the way. Hitch mounted racks are great if you want to carry several bikes along your trip.
Most hitch racks come with pre-installed locks, or you can easily secure your bike to the hitch-mounted bike rack using a cable lock to maximize security.
Moreover, installing and removing the bike from a hitch rack is comparatively easy. They are extremely easy to install as they do not require removing any part of your vehicle or the wheels of your bike.
These racks are expensive, but it depends upon the brand and number of cradles installed. Moreover, depending on the multiple numbers of bikes you install on them, it can get heavy and cause little sways while driving.
Best Methods to Securely Lock a Bike on Car Bike Rack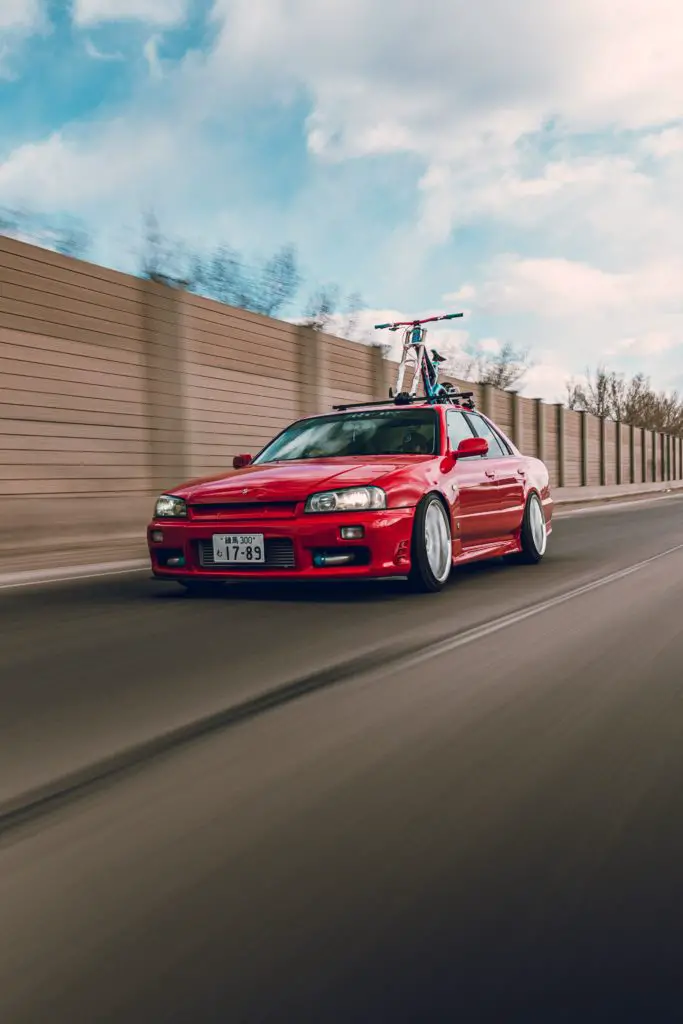 Now, as we have gone through the basics of what you should know about the most popular types of car bike racks, it's time to learn some of the best methods to securely lock your bicycle on car bike racks.
The Strap Method
This method uses a lock strap cable made up of flexible and thin material to create multiple loops around the bike frame and rack.
To fasten your bike, you simply need to loop the strap around your bike properly to fasten and secure your bicycle frame and then throw the rounded end of the strap into your car, trunk, or on your roof-mounted rack. By doing so, your bike is now locked, as you need to first open your car door or trunk to free the bike.
Although this method looks simple and quick, it does not provide your bike's safety or security. Moreover, you shouldn't use straps as major security to lock a bike as they can be easily cut. 
So never leave your bike unlocked if you have used this method. A strapping method is only suitable for additional security measures.
The strapping method is ideal to use in roof-mounted racks and can also be used to add extra security in trunk-mounted racks.
Tow Hitch/Tow Loop Method
This method is much more secure as an external tow hitch mechanism helps to secure the bike from theft or stealing. This method requires locking your bike using a tow hitch or a tow hook.
To lock the bike frame, all you'll need is a strong cord that you loop around your bike and then tie on the hitch to your car and make sure to properly secure it. You will often need to remove your front wheel or rear wheel to fasten your bike tightly. Make sure to use a padlock to secure and tighten it.
However, instead of using a padlock, you can simply loop the chain locks under the bumper or to other non-removable parts of your car, then loop the cable around your bike while using a tow loop to lock it securely.
Make sure to tie the cable to the non-removable parts of your car or to a car rack to avoid any harmful accidents in a busy area. This method is perfect for locking your bike in hitch-mounted car bike racks.
The U Lock Method
Still not convinced? U locks are nearly impossible to cut and, therefore, will keep your bike safe from thieves. Your bike will be safe as long as you use this method to latch your bike on a secure rack.
It is the simplest method to secure your bike as it only requires it to be attached to the bike frames and an immovable object of your car's frame. Mostly it's advisable to lock your bike from the front tire or the back wheel onto the U lock.
To maximize the security of your bike, you can add additional cable locks and a long cable with the U lock to your bike's frame. This will make a much more complex and integrated security system. 
You can also use the strap method as a second lock with an additional one U lock or two U locks. It's the most budget-friendly method because you can easily find various U locks at affordable prices.
Conclusion
It is imperative to know the methods to maximize your bike security on a car rack to prevent bike thieves from getting their hands on them. Knowing how to lock a bike is a skill that must be learned by all bikers.
Hopefully, with the help of these tips and techniques discussed in this article, you can safely transport your bike using a car rack or leave your bikes, especially the expensive electric bikes, in a parking lot without the fear of losing them.