How to Make Your Shower More Serene
**Articles may contain links that I earn compensation for if clicked and you make a purchase. As an Amazon Associate, I earn from qualifying purchases. These earnings do not actually impact the price of the product or service.
At the end of a tough day, there is probably nothing that sounds better than a relaxing bath with some hot water. A soothing shower experience can provide intense relaxation and soothing as you get at the luxury spa if you know how to make your shower more serene.
The best part is that you don't need to empty your bank account to transform your bathroom into a rejuvenating space. It requires a few simple steps and minor tweaks here and there. And you can create your personal space to get that spa-like shower experience every day.
Here are the top suggestions to help you make your shower more serene and soothing.
Tips on How to Make Your Shower More Serene
1. Install Warm and Calming Bathroom Lights
Warm light aesthetics can create a unique relaxing effect. A well-lit space with soft and warm lighting helps the mind ease into a pleasing and calming state. 
There are various lighting options you can choose from and have installed in your bathroom. You can use vanity lighting around the mirrors or an overhead LED lamp on the ceiling.
You can also create a mixture of lighting sources with flush-mounted lamps, vanity lights, and portable smart lamps. But it is essential to keep in mind the layout of your shower space before picking fixtures. 
Additionally, a bathroom is a place with plenty of reflective surfaces. Therefore, optimize your shower's lighting by installing fixtures that can further enhance the ambiance with reflected light. 
While choosing the light fixtures, keep in mind your shower space's color. It is best to pick colors that blend with your walls.
2. Get Closer to Nature With Natural Décor
Plants act as a natural 'stress buster' and can help you have a relaxing shower experience. A study found that plants can help people relax because they look beautiful and give off fragrance. Besides acting as calming elements, plants also add a minimalist yet elegant touch to the bathroom's aesthetic appeal.
You can incorporate plants into your shower ambiance in a variety of ways. Potted plants, for example, are an excellent and effortless element to include. 
You can place these ornaments on floors and countertops or hang them from the ceiling. However, it would be best to choose plants that thrive in the bathroom's humid atmosphere.
Further, the type of plant will determine the location you can pick based on its sunlight needs. If you think a synthetic plant will not fit in your shower, you can opt for fresh flowers instead. Also, you can place vases on countertops strategically positioned under the lighting fixtures for an enhanced effect.
3. Keep It Clean
Decluttering creates a more minimalist aesthetic appeal in any room. And if you are aiming for a serene and calm space, it needs to be well-organized and decluttered. To do this, start by looking at all the things in your bathroom.
An excessive number of items can make the bathroom look messy and unappealing. It would be best to consider removing all expired or finished products. Further, identify the essential products needed within the shower area; these are the only items you should have in the space.
After selecting essential products to be put in the shower area, you should plan their arrangement. Ensure that you have enough storage space inside the bathroom, such as cabinets, and drawers, to keep the products.
Decluttering will make your shower experience more pleasant, and you will find it easier to clean the countertops. Open storage shelves are excellent for easy accessibility. Instead of littering the countertops, these shelves are ideal for keeping very frequently used products.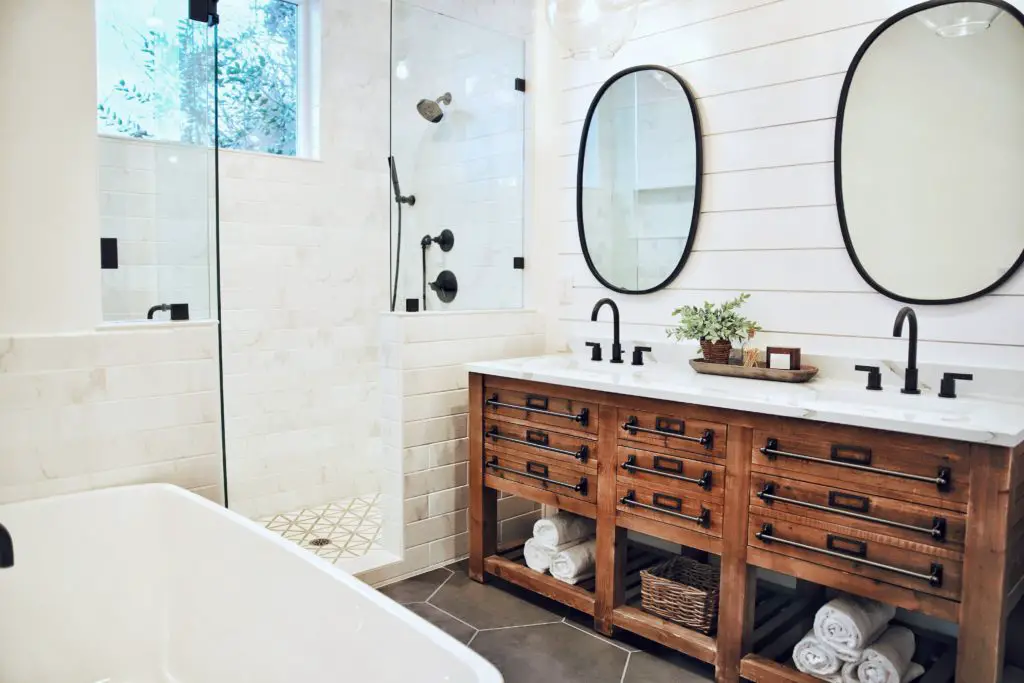 4. Incorporate Aromatherapy Into Your Shower Routine
Calming scents such as lavender and eucalyptus help reduce anxiety and provide a relaxing experience. Researchers have long discussed the benefits of aromatherapy for the body and mind.
Fragrances such as lavender, rosemary, or eucalyptus are most famous for their relaxing effect. But you can pick any perfume that calms your mind. 
You can adopt several products to enhance the scent in your showers, such as scented candles, essential oil/carrier oil, and fresh flowers. Aromatherapy is an essential advantage for alleviating most stress-related issues and other ailments.
Beyond candles, you can install diffusers with essential oils, spa mist, or shower tablets to create a mixture of complementary scents. Also, you can hang fresh eucalyptus to combine natural decor and aromatherapy.
5. Invest in a Good Shower Curtain and Rugs Set
A beautiful and comforting rug and shower curtain help you create a luxurious and relaxing appeal in your shower area. Bath rugs or mats come in different fabrics, colors, and textures. However, you should select a carpet that blends with the wall paint and lighting effects.
It is also essential to consider the fabric's properties. The material should feel soft, suitable for the humid indoor bathroom atmosphere, and easy to dry.
You can opt for a soft and cozy fabric for the bathroom entrance or areas away from the shower, as this area won't get very wet. It can also help keep the shower floor warm and prevent you from stepping on the cold shower floor every morning. In addition, if you have a larger bathroom area, you can put different rugs.
Further, a lovely shower curtain can make your shower area look clean and dry. But a shower curtain with minimalist color and design will add to the soothing vibe of the space. Again, you will need to consider the existing shower area decor.
6. Add Quality Shower Accessories to Enhance the Experience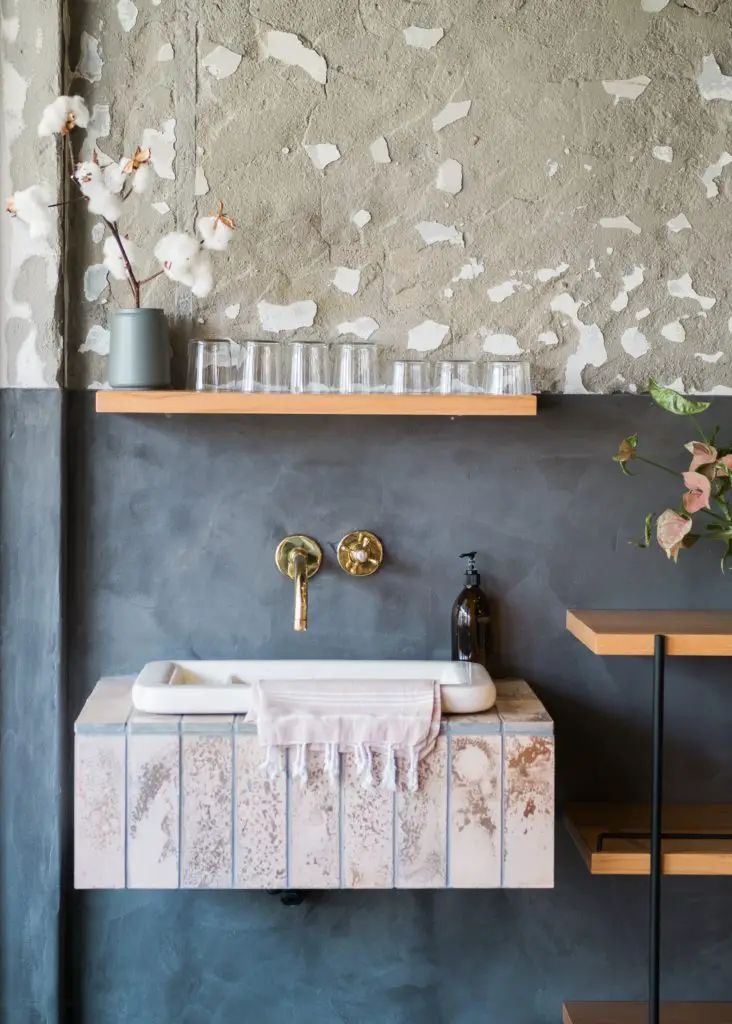 Everybody keeps a loofah or shower sponge in the shower area to help with exfoliation. But you can take it one step further to improve your shower space. 
You can start by investing in an excellent scrubbing or exfoliating dry brush.
A dry brush can help you enjoy an initial exfoliation session before the shower to enhance your body's circulation. It helps remove dead skin cells and has a detoxifying effect.
Include a Seating Bench for the Shower
A shower bench is another accessory that can provide a great deal of convenience. These benches are mostly made with water-resistant material and will make your shower experience more convenient. 
This option depends on your shower space and layout, but benches are helpful during wash-ups. It can also double as a space to put your bathing products on while you shower.
Add a Seating Spot for Post-Wash Care
You can also opt for a side chair or stool if your bathroom space can accommodate more furniture. This seat cover should be a comfortable fabric but keep in mind the hot and humid atmosphere of the shower before picking a seat. The aim is to provide a comfy sitting spot while performing your morning or night post-shower skincare routine.
Pamper Yourself With Soft Towels
Most importantly, you can revamp your bath towels. Investing in plush and soft towels can make a big difference to the shower experience without spending too much money. 
Also, adding specialized towels for each activity will give you that spa-like luxurious feel while also making facial cleansing more hygienic. Experts say that the face has more sensitive skin, and bacteria, oil build-up, and dead skin cells from the rest of your body can irritate it.
Enhance the Shower Experience With Some Tunes
Music is another excellent way to relieve stress and uplift your mood in the shower. There are plenty of aesthetically pleasing Bluetooth speakers you can choose from to match the rest of the interior. Invest in a good waterproof speaker and listen to calming music while you shower.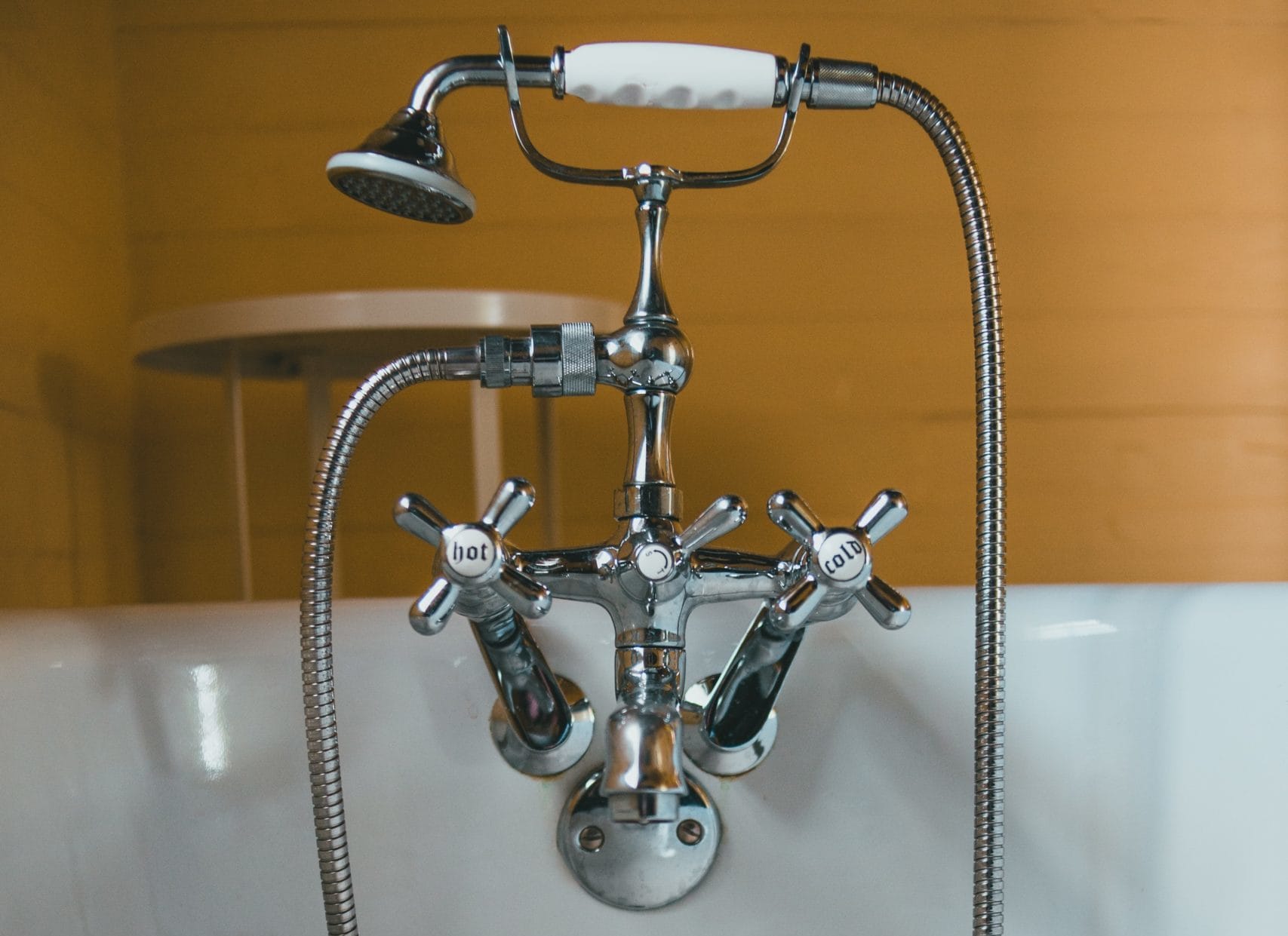 7. Upgrade Your Shower Head
Shower heads can get clogged due to the calcium deposits in the water, resulting in slow water flow. Further, regular shower heads provide simple, generally average spray patterns. 
Instead, consider upgrading to a more luxurious shower head. You can opt for shower heads that pulsate and gently massage with spray patterns.
Further, adding a hand-held shower head component can make showering more luxurious and convenient. You can also take the upgrade beyond the shower heads to other fixtures if your budget allows. For example, you can opt for digital shower control for the precise water temperature of the bath water.
8. Invest in Quality Products
Add a Collection of Exfoliation Products
Whether you have a walk-in shower or a bathtub, the bath products make the experience more soothing and luxurious. Furthermore, good products give you a soft glow and healthy skin. 
Upgrade your soap, shampoo, and body oil with the best ingredients to improve your skin and hair. You can also add organic exfoliating products to your shower regime.
Upgrade Your Cleansing Essentials
You can add a body wash and shower melt (you can even make these with baking soda and citric acid) to enhance the aroma of your hot shower. If you own a tub, bath salts and bath oils are a great addition to a relaxing soak. It can even help with body aches or unwinding after a stressful day. 
And if you enjoy a good-old soap bubble bath, stock up on quality bubble bath products and bath bombs for that extra element of fun.
Moisturize Your Way to a Soft Skin
Make your shower routine better with hydrating body lotions with ingredients such as shea butter for soft and supple skin throughout the day. You can also opt for body butter, coconut oil, or vitamin e oil to keep your skin hydrated. Another item that people generally ignore is hair care products such as hair spas and hair oil; get them if needed.
Conclusion
Showers are arguably an essential part of everyone's routine daily. The bathroom is your personal space where you can spend some quality "me time" and indulge in pampering yourself. We have highlighted a few easy steps that can completely transform your daily shower time and even save you trips to the spa.
Our recommendations are easy to implement, low-cost, and can be easily incorporated into rented apartments. Please use these tips often.