How to Decorate Towels in Bathroom
**Articles may contain links that I earn compensation for if clicked and you make a purchase. As an Amazon Associate, I earn from qualifying purchases. These earnings do not actually impact the price of the product or service.
Monica Geller from friends had eleven categories to arrange her towels in the bathroom. You don't have to be that obsessive to get a great look, but there are some steps that you can take to decorate your towels. You can get some cabinets, ribbons, and a couple of hooks and racks to get an organized and comfy look. 
But as many people ask us how to decorate towels in the bathroom, here's a complete guide to improving your towel decoration.  
The article will list some of the types of decorative towels you keep in your bathroom and will explain how to arrange them to make them more accessible and aesthetic. Also, it'll give you ideas about hooks, racks, and towel rolling methods. 
Finally, you'll get some of your questions answered. So, let's start giving your bathroom decor a great look just by decorating towels a bit creatively.  
So Many Decorative Towels!
First, let's get a closer look at the different types of towels and their functions. This is important for organization and making a plan for decoration. 

Hand Towels
Hand towels are small-sized and mostly hung on towel bars or rings. They are used to dry hands after washing, mostly kept close to the washbasin. Hand towels are also useful for guest bathroom decor.
Bath Towels
These types of bath towels are large and are perfect for drying the body and hair after a bath. The bath towel is primarily soft and gets the most room, so they need unique folds for a decorative towel outlook. You can store hanging bath towels on a towel bar.
Face Towels
These are soft towels with a particular fabric to protect your skin from dryness. A towel rack is ideal for these towels because they are not significant. 
They are great as decorative bath towels. Some people use hand towels for this purpose too.
Washing Cloth
A washing cloth is also a towel you use to wash your body. It gets wet during the bathing process, but you cannot use damp towels for washing. 
Decorative Towels
Finally, decorative bathroom towels are fancy and have beautiful colors. They give your bathroom a cozy look, so you dont use them often unless you run out of dry towels. 
The towel shelf or a towel rack is ideal for decorative towels. They are also called display bath towels. Decorating towels gives your bathroom decor a great look.
Storage Ideas for Towels in the Bathroom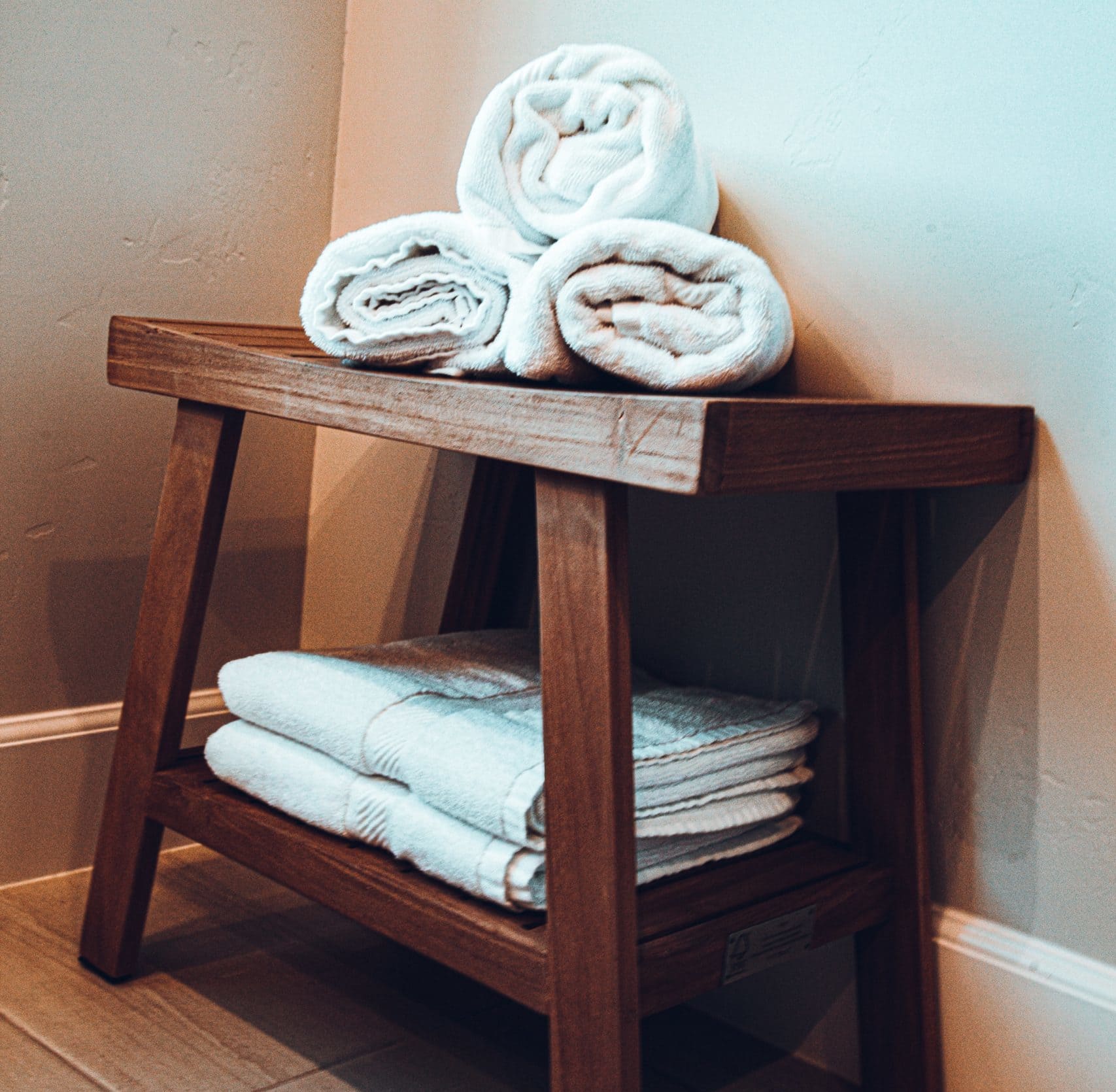 Now that we know the various types of towels we need to arrange and use for decorating the bathroom, we can go for the practical steps. From the tower rack to the towel holder, and from a wooden ladder to small buckets, you'll get all the beautiful bathroom ideas. Firstly, we'll give you some ideas for tower storage of towels.
Practical Ideas for Towel Decoration
You can use different towel storage methods for a new bathroom towel or used towels. Tower racks are great for spreading a used towel in the bathroom while stacking up the unused towels on the frame. 
Most towel racks contain a bar and a shelf so you can fold the new towels on the stand and hang the damp towel on the bar. To decorate your bathroom, you can use the following methods. 
Use Ribbons  
You can tie the towel in the middle with a ribbon to give it a nice hanging look. Matching ribbons with pretty designs will look amazing on your used towels too. 
Use a Bouquet 
You can also use a bouquet for decorating your damp towels and new ones. Use a lace or a bow ribbon to set up a matching color bouquet. 
Make a Burlap Bow
A burlap bow is a great way to store bathroom towels. Use a wide lace to make a burlap bow and fold the towels to size. Then, hang the bathroom towels in the bow and use a colorful shape to decorate towels. 
Storing Towels on Hooks, Rings, and Racks
Ladder Towel Rack
The ladder towel rack is excellent for damp towels as it keeps them spread out. It's also great for small bathrooms as it uses vertical space. You can also use ladder rungs to decorate with small baskets or flower pots. 

Vertical Stacks
Bathroom towels can be a problem in damp weather as you use many towels while dry towels run out. In such a situation, you can use a vertical stack of towels on shelves to keep them dry and plenty. A vertical towel rack is also a great idea.
Tower Storage
Tower storage is an excellent addition to a bathroom, especially if there's some room there. You can add vertical furniture cabinets and towers to create a nuanced style. 
Plus, you get to keep as many towels as you want in your bathroom. Each tower rack can store multiple decorate bath towels. 
Open Stacks
Space under the vanity or the window is ideal for keeping towels in open stacks. This gives a great look if you use decorate bath towels with different colors and designs. 
Towel Rings
Towel rings and towel holder is great for storing towels in small bathrooms. You can wash your hands in the basin and dry them with small towels. Or, you can use decorative bath towels in different colors to add a unique touch to your bathroom accessories. 
Towel Hooks
Perhaps the oldest method of towel storage is using towel hooks. You can add a hook almost anywhere in the bathroom. 
Hooks are also great for keeping large damp towels. However, keep changing towels as a hook can damage the towel fabric and may elongate its length from one side. 
Basket Towel Storage Ideas 
Basket storage is a sophisticated towel decoration method that imparts elegance and class to your bathroom towel storage. You can use these methods for this purpose. 
The Basket on the Basin
You can keep a small basket on the basin space with towel rolls nicely placed in it. You can use small towels that a person can use once and maintain a separate basket to store the damp and used towels.
The Basket Below the Basin
Next, you can keep a larger basket below the sink or vanity. For small bathrooms, this is a great towel storage idea. You can make a basket at home or buy it from a flea market to keep it under budget.  
The Basket on the Wall
Another great towel storage idea is hanging small basket sets on the wall. You can use a towel rack to keep the baskets or buy a set of hanging baskets. 
The Basket in the Window
Finally, you can also keep one or two baskets in the window. Try to buy a basket or bucket with vibrant colors that give out a spacious look to your bathroom decor. You can use a towel rack behind the window too.
Decorative Towels on Cabinets and Basin Counters
A decorative towel is an excellent idea for bathroom decor. You can use a folded towel on each side of your faucet in a towel rack. Or, you can keep the folded towels on the adjacent walls of the vanity in racks. 
Small creative boxes can also work great for this purpose. 
How to Decorate Towels in a Small Bathroom?
Let's discuss some ideas for saving space while keeping the bathroom towels neat with beautiful decoration. You can use these spaces to store your towels.
Install Towel Bars 
Towel bars are handy as you can install them almost everywhere. You can use the front and back of your door, basin cabinet sides, over the basin mirror, under the vanity, and beside the shower. 
Also, you can stack two or three towel bars to keep more towels. Besides, a towel bar keeps a towel fresh and dry.  
Use the Walls
You can save space by using vertical storage techniques and making a towel rack. A ladder is a great towel decoration idea that keeps them dry too, and a tower is another way to store your towels. You can also install hooks on your walls in a symmetrical manner to give your bathroom towels a great look. 
Use the Corners
Many people miss out on the potential of corners, and dont use them for storage. A corner towel cabinet can store dozens of towels without anyone even noticing.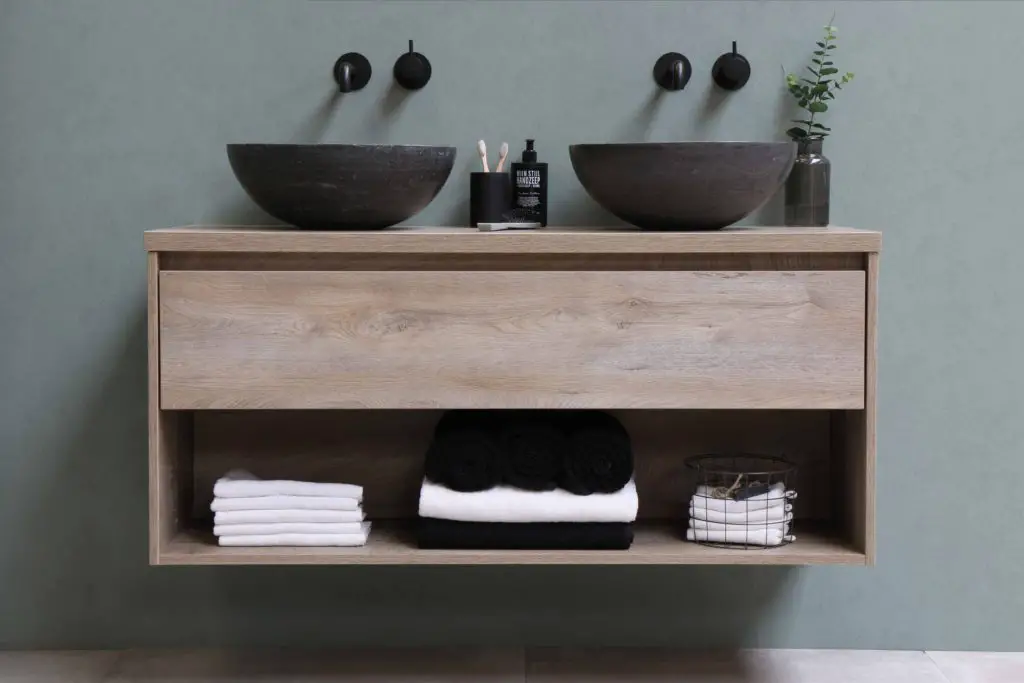 Fold Them Up
You can save immense space just by folding and rolling towels creatively. Colorful folds are a great decorative idea for your bathroom decor as well. Use every nook and cranny to keep your folded and rolled towels. 
Use the Bottom
It's a common practice not to use the bottom of a rack, cabinet, or vanity. You can decorate that space by hanging a bar, installing a hook, and hanging your towels. 
Final Thoughts
When you put your mind to it, you can decorate your bathroom using towels. No doubt it'll take time, but after a while, you'll tell people how to decorate towels in the bathroom. 
When used intelligently, even the smallest bathrooms give a cozy and comfy look. Besides, you need to keep your towels dry and clean so you can just throw them on the bathroom floor (you're not Joey, right?). 
If you have budget issues, you can get creative and install small hooks, racks, and towers with a small amount of money. A thrifty thing to do would be to visit a flea market and get plenty of hardware for implementing the above ideas.