Five Top Tips for Choosing Interior Plantation Shutters
**Articles may contain links that I earn compensation for if clicked and you make a purchase. As an Amazon Associate, I earn from qualifying purchases. These earnings do not actually impact the price of the product or service.
In a world where everything is fast and temporary, it's refreshing to see something that looks so timeless. Shutters have been around for centuries and they're not going anywhere.
In fact, more people are choosing custom interior plantation shutters because of the benefits they offer. Picking out the perfect set of shutters for your home doesn't need to be hard work though!
Here are 5 great tips for helping you make an informed decision about choosing indoor plantation shutters for your house:
1. Take a Look at Your Window Sizes
Plantation shutters come in a variety of sizes, so it's important to take into account the dimensions of your windows. Trying to cram a large shutter into a small window frame is not going to look good – it'll just look like the shutter is too big for the space.
On the other hand, if you go for a smaller shutter in a large space, it'll look undersized, so plan ahead!
2. The Shape of the Frame Is Important
Shutters are available in many different types of designs and styles. You can go for plain straight lines or you could go with a more artistic style like an Ogee frame. The type of window frame you have will determine which style of shutter is most suited to the space.
For example, a large arched window will need a curved or shaped frame to complement it. If you have smaller windows, then simple straight lines will give a cleaner look that focuses attention on the view outside. Think about what mood you want your shutters to create:
Shutters can be used to create different moods in a room. Do you want a bright and airy feel? Or maybe a more cozy and intimate atmosphere?
The type of shutter you choose will play a big role in how the room feels. For example, if you want to make the room feel brighter, go for plantation shutters with lots of glass panes.
3. Picking the Right Color Is Essential Ever Wondered Why?
When it comes to shutters, you have two main options: white and wood. Which one you choose will depend on your tastes and how light or dark the space is.
If there's not much natural light in the room, you might want to opt for white shutters that will add more brightness. If you have a dark room, wood shutters with a natural tone will bring warmth and depth to the space.
4. Do They Resemble Your Personal Style?
Plantation shutters are a classic style that will never go out of fashion. They work well in both traditional and modern homes, so you don't have to worry about them not fitting in with the rest of your decor.
However, if you want a more unique look, there are other window coverings available like roller blinds or curtains. These might be a better fit if you're after something that's more quirky and individual.
5. Make Them to Your Own Specifications
If you want to make sure they're a perfect fit, why not have your shutters custom-made? This will ensure there's no gap in between the shutter panel and that they sit flush with the window frame.
It'll also give you more flexibility when it comes to size and colors, so invest in something that really reflects your tastes.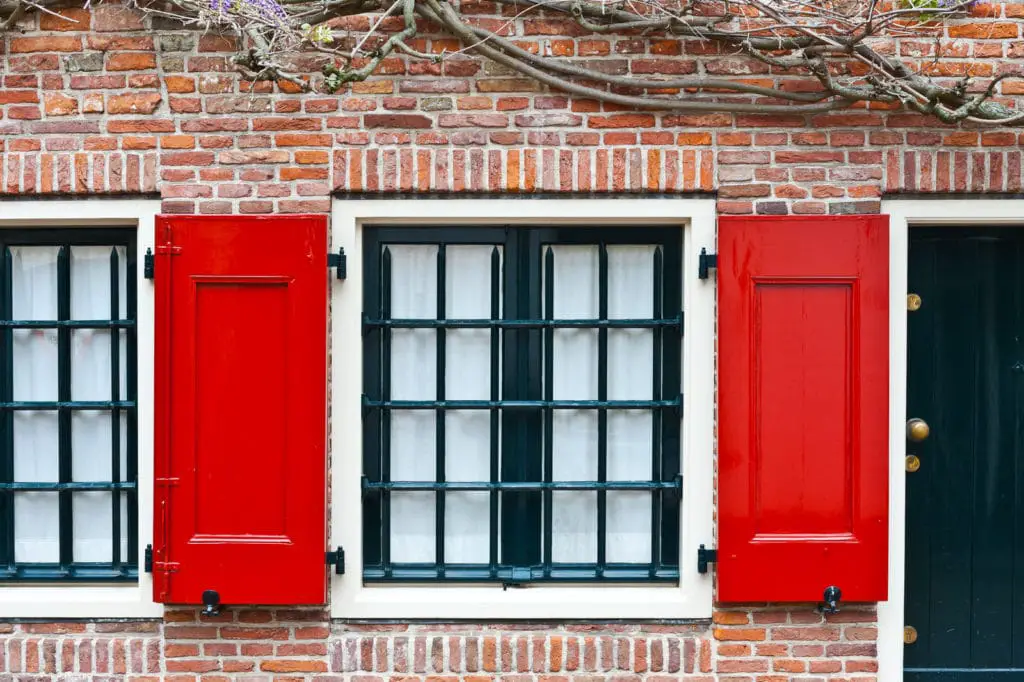 Bonus Tip: Give Detail Attention to Shutter Construction Material Quality
The materials used in plantation shutter construction are important to keep in mind, as they can affect the overall quality of the shutters.
For example, if you go for cheap and low-quality shutters of wood material, it might not be as sturdy as a more expensive option. The same goes for plastic shutters – they might be cheaper, but they won't last as long as a wooden option.
When it comes to plantation shutters, you really do get what you pay for, so make sure you invest in a good quality product that's going to last.
Different Types of Plantation Shutters
Since we are on the topic of plantation shutters, there are a few different types that homeowners may choose from.
The three most popular types are:
Vinyl Plantation Shutters
Vinyl shutters are the most affordable type of shutter and they're also the most durable. They're perfect for humid environments, as they won't warp or peel.
Vinyl shutters, unlike wooden ones, do not contain any wood and may instead use PVC or aluminum supports for stability. They're also resistant to the elements and ideal in high-moisture regions.
Shutters for vinyl plantations are available in many styles and materials:
Hollow vinyl – shutters that are made of only vinyl frames are precisely what they say: hollow. They have the advantages of vinyl, but because the hollow frame can't support heavier frames, they have size limitations. While these are the most affordable of the choices, they might sag with time.
Structured hollow vinyl – The picture frame shutters are made of vinyl and have metal inside the shutters to support the weight. These remain hollow despite having improved structural integrity.
Solid vinyl – Solid vinyl is the next step up in the food chain, as it's a vinyl frame that has been stuffed with blown PVC. These are more sturdy than hollow shutters, and they're still quite inexpensive.
Vinyl-clad wood – The shutters are made of vinyl and have a hardwood frame. They combine the strength and durability of wood with the advantages of a vinyl coating, making them more moisture-resistant.
Composite Plantation Shutters
The composite plantation shutters are also called engineered wood which is MDF wrapped in a vinyl or PVC coating. They are very sturdy yet still waterproof. These shutters offer an affordable alternative to wooden shutters.
Wood Plantation Shutters
Wooden plantation shutters are the most popular type and come in a variety of styles and colors. They're also the most expensive, but they're well worth the investment as they can last up to 30 years with proper care.
They're available in three different types of wood: basswood, hardwood, and softwood. Basswood is the lightest and most affordable, while hardwood is the strongest and most durable. Softwood interior shutters are the least expensive, but they're also the least durable.
Wooden plantation shutters can be stained or painted to match any color scheme, and they can also be treated with a wood sealant to make them more moisture-resistant.
Plantation Shutters FAQ
What is the most popular plantation shutter size?
The most popular shutter louver size is 3 1/2″, which appears to be the most common selection because it occupies a balance position between slat louver sizes. It has a nice view, curb appeal, and the majority of people think that the 3 1/2″ slat is "The Plantation Shutter" louver size.
What are the pros and cons of plantation shutters?
The pros of plantation shutters are:
They are a permanent fixture and can add value to your home.
They come in a variety of materials, so you can find the perfect option for your home.
They are durable and will last for many years with proper care.
They can be customized to match any color scheme.
They can be repaired and refinished as necessary.
The cons of plantation shutters are:
They can reduce natural light inside your home.
They're expensive, but worth it for the long term.
They require regular upkeep and maintenance.
What is the difference between vinyl and wood plantation shutters?
The main difference between vinyl and wood plantation shutters is that wood is a natural material while vinyl is man-made. Vinyl shutters are also more moisture-resistant than wood, making them a better choice for humid environments. Wood shutters can be stained or painted to match any color scheme, but vinyl shutters can be painted to match any color scheme.
What is the difference between slat and rail plantation shutters?
Slat plantation shutters have evenly spaced vertical slats while rail plantation shutters have long panels that are mounted horizontally on tracks. Slat plantation shutters are better at blocking light, while rail plantation shutters are better at providing privacy. Rail plantation shutters are also more expensive than slat plantation shutters.
Why are plantation shutters so expensive?
Plantation shutters are expensive because they're made from high-quality materials, assembled by skilled craftsmen, and custom-made to fit your windows. They can last up to 30 years with proper care and maintenance, so this investment pays for itself over time.
How do you clean plantation shutters?
You should wipe down slat and vinyl plantation shutters with mild soap and water. You should dry wipe wooden shutters once per month, and you can use a polishing product to clean hardwood window shutters every few months.
Final Words
There is no denying that the plantation shutter design is one of the most popular window treatments out there. Though most people do prefer to buy ready-made ones, they are also simple enough for someone with basic carpentry skills to make on their own. This way you can customize it according to your taste and budget.
A set of shutters can really change the look and feel of a room, so it's worth investing some time in finding the right style for your home.