The Best Traeger Grills Reviewed
**Articles may contain links that I earn compensation for if clicked and you make a purchase. As an Amazon Associate, I earn from qualifying purchases. These earnings do not actually impact the price of the product or service.
Our top 5 Traeger Grill Reviews You Will Not Want to Miss Out On
For those of you who do not know, Traeger grills are wood pellet grills that can provide your food with an amazing taste that is slightly different from the flavor you would get off a charcoal grill. Traeger grills have become a great classic and have been designed in an easy to use and highly convenient manner. You will not have to worry too much when using a Traeger grill because the grill does most of the work for you. You can just set your food on the grill and then forget about it because that is how easy it is to use.
Due to the fact that Traeger grills use wood pellets instead of your standard charcoal, gas or electricity to cook the food, the grill imparts a different flavor to the food. The combinations are endless because you can use any kind of wood pellet you want for any type of flavor and generally cooks like to use wood pellets that would complement the food being cooked. Flavor combinations are important to consider when choosing your wood pellets, but generally the smoky flavor is great no matter what.
What Should You be Looking for
If you are a beginner in the Traeger world, you may need to understand what kind of grill you should be looking for. Understanding what you should be looking for can allow you to save more money and even buy a grill that gives you more value for your money.
First and most importantly, you should look for a grill made of strong and durable material. Traeger grills are the best when they are made of stainless steel because they are easier to clean and have an aesthetically pleasing look as well. Stainless steel grills will also last you a longer time because of their resistance to rust. Also, they are the most commonly found grill types, so you will likely find a stainless steel grill easily and at an affordable price.
Next, it is important to find a Traeger grill that is an appropriate size for you. Depending on how large or small you yard and storage are, you will want to figure out the space you want to dedicate to your grill. Buying a grill is an investment and it would be a shame if you bought a grill that did not fit your targeted space. So, make sure to find one that is appropriately sized. Aside from your own space, you should also find something that is an appropriate size for the purpose you are buying the grill for. If you aim to cook for your family alone, then a smaller sized grill would be better. However, if you plan on using it for commercial purposes, something industrial sized would be more useful.
You should also be looking for Traeger grills that provide an even distribution of heat. Some grills of other brands advertise a high heat output and while that may be attractive for laymen, it is actually not a good quality to have because such high heat is not easily controllable and it will affect the end result of your food's cooking.
The price of the grill you buy will also be a huge factor to take into consideration. If you want something that will cater to the needs of your family, then a smaller and more affordable grill will be the one for you as it will not require too much investment (which means you can save much more). If you want to get something that you can use at block parties or family reunions, a medium to large sized grill might cost more, but it might be worth it. Finally, a large sized grill would also be great if you expect to get a lot of return on it through commercial use.
Finally, there are a few other characteristics you might want to consider, including the number of burners you would want (which will depend on how you will be using the grill), any safety features you would want in place (in cases where you have small children at your house) and the shape and layout of the grill (which may be important depending on your preference).
Traeger Grill Review
Here are the top five Traeger grills that you should definitely check out:
5. Traeger 10526 Bronson 20 Pellet Grill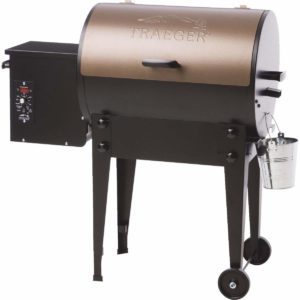 The Bronson 20 pellet grill includes a lot of incredible features that will make your grilling journey easier and flavorsome. This is a very versatile grill because it can allow you to do six different cooking techniques with only one cooking vessel, including grilling, smoking, roasting, baking, braising and barbecuing. This grill is perfect if you want something that will not take up too much space and can cater to your family's grilling needs. It only costs $499, which is quite affordable when it comes to a grill of this caliber.
This grill includes a digital temperature controller and all-terrain wheels, which allow for easy portability. The grill has enough capacity for two chickens, so it has a spacious layout and is quite compact in size, so you do not have to worry about it taking up too much space.
PROS
Affordable
6 in 1 cooking techniques
Easy temperature control
Portable
Compact
CONS
Available in one size
Only available in one color
Check Lowest Price
4. Traeger TFB42LZB Lil Tex Elite 22 Grill and Smoker
This combination grill and smoker is an ideal setup for any avid griller who wants to step up their game. This grill also has the Traeger six in one capacity, but what it does differently is that it provides the perfect standard sized setup. The design of the grill is quite sleek and the bronze color of the cover adds to its aesthetic.
The grill grates are porcelain coated, so they are non-stick and very easy to clean. The grill itself comes with digital temperature control and wheels for easier moving. The grill also has the capacity to fit six chickens, so it is perfect if you are the one hosting frequent parties, family reunions or providing food at block parties. All of this for the price of $944.49.
PROS
Easy to clean
Non-stick grill grates
Very large capacity
All-terrain wheels
Digital temperature controller
Six in one cooking techniques
CONS
Not very affordable
Only available in one size and design
Check Lowest Price
3. Traeger Grills TFB57PZBO Pro Series 22 Pellet Grill and Smoker
Another grill with 6-in-1 functions, the Pro Series 22 pellet grill has similar features to the rest. But what sets this one apart is how compact and affordable it is. This grill is the perfect match for anyone who wants a compact design with a great capacity. This particular grill has the capacity for about four chickens, which is the perfect size if you frequently have parties and guests over.
It can fit perfectly in your backyard and includes wheels if you want to move the grill elsewhere. The steel construction makes it very durable and the porcelain coated grates make it very easy to clean. This grill only costs $652.29.
PROS
Perfect size
6-in-1 function
Portable
Compact
Easy to clean
CONS
Not very affordable
Only available in one size and design
Check Lowest Price
2. Traeger Grills TFS60LZC Select Elite Pellet Grill and Smoker
The Elite series grills are a group of grills that have been sleekly designed, with a large capacity (enough for four chickens) and four wheels instead of two. Aside from the standard features, this grill includes a cabinet at the bottom, which is perfect for storing your cooking equipment. It also includes shelves on the side of the grill, which can help when you serve the food. This grill costs $999, which may be an investment, but is definitely worth it for frequent grillers.
PROS
Strong and durable
Easy to clean
Includes a cabinet
Has four wheels
Has side shelves
Digital temperature controller
CONS
Larger size,
Not very affordable.
Check Lowest Price
1.      Traeger Grills TFB38TCA Renegade Elite Wood Pellet Grill
This grill has a brilliant red and black design, with a basket under the grill for easy storage. It is the best one on this list because it is both compact and affordable. This grill also offers the most consistent performance out of all of the grills on this list. It evenly distributes the heat, so your food will never burn.
This grill is available at an affordable price of $533.18 and is great for your home grilling experience.
PROS
Great design
Includes a basket
Very affordable
Compact
6-in-1 function
Digital temperature controller
Easy to clean
Strong and durable
CONS
Only available in one size
Check Lowest Price
Conclusion
Thus, if you are in the market for a new grill, you may want to use a Traeger grill review as your best shot at finding something genuine as there is no better way to make a decision than to rely on your own research. Such reviews (as the ones given above) will give you proper guidelines about which grill you should consider and which ones you should take off your list.