Best Grill Grates – Comprehensive Buying Guide
**Articles may contain links that I earn compensation for if clicked and you make a purchase. As an Amazon Associate, I earn from qualifying purchases. These earnings do not actually impact the price of the product or service.
The Best Grill Grates of 2020
Are you a grilling aficionado? Do you use your grill on a frequent basis? If so, you may notice that over time, the performance of your grill decreases. There may be various factors involved in this unfortunate process, including corrosion of the material, rusting, too much usage or too little usage. In such a case, the only quick fix is to buy new grill grates. Depending on the frequency of your grilling, you may have to buy new ones quite frequently. If you're a grill-o-holic, it's essential to buy one of the best grill grates on the market in 2020.
For frequent grill users, it is generally recommended that you should change your grill grates at least once a year. However, you can change them once every two years if you are only a seasonal griller. Moreover, many people believe that there is no need to change their grill grates, and all they need is a "good clean" to become usable again. This myth is completely false because cleaning rusty grill grates and reusing them can be a health hazard. Changing them would ensure the greatest level of hygiene as well as more efficient grilling.
What Should You Be Looking for in a Grill Grate?
Buying grill grates may seem confusing, and most people end up buying an expensive brand of grill grates because they want high quality and cannot be bothered to look for good deals. However, there is an easy way to find affordable grill grates that will also provide the quality you want.
First off, you need to know what size you are looking for. If you are looking for a standard size, grill grates will be easier to find, and you can even order them online by looking at the reviews given by other customers. However, if you have a larger or even smaller grill than average, you may want to look for more specialized grill grates, and this may require a trip to the store (if you cannot find suitable ones online).
Next, you should know the kind of material you want the grill grates to be made of. Generally, it is recommended to buy grill grates that are made of the same material as the ones you were already using. However, if you want to change it up, you are most welcome to do so. The material you should be looking for depends on the food you cook on your grill. Cast iron grill grates provide the perfect sear to steaks, burgers, and hot dogs. Stainless steel grill grates are perfect if you want something easier to clean and are ideal for food like chicken, vegetables, etc.
Finally, you want to find grill grates with characteristics like durability, affordability, heat endurance and strength. These characteristics make for the best grill grates.
Top 5 Best Grill Grates
The Grill Kings research, test, and recommend the best products. We may receive commissions on purchases made from our chosen links.
1. GrillGrate Set of Two 18.5″ Panels (Interlocking) + GrateTool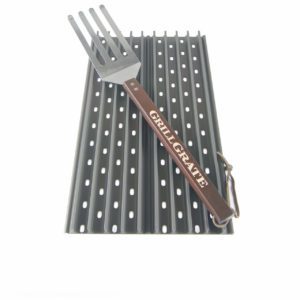 This set of two grill grates is one of the best deals we could find. The grill grates are of very high quality and will provide you with everything you could possibly want. Each panel measures 18.5" by 5.25", which is an ideal size for most standard grills. The set of two also comes with a Grill Grate tool that allows for greater ease in flipping your food.
The best part is that this set of grill grates provides extremely even heat, prevents your grill from flaring up (because the raised rails are made of aluminum and between the grates, there is also aluminum to prevent too much exposure). This set of grates is also rustproof. You can also get great grill marks without having to worry about your food burning.
2. Shinestar Grill Grates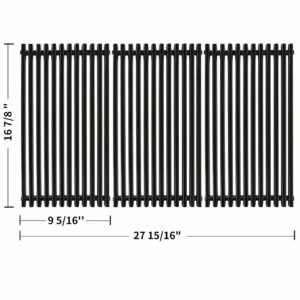 These porcelains coated steel cooking grates are fine pieces of work that are perfect for Charbroil model grills. These grill grates are perfect replacements for various different grill models. The closely packed grates allow for a great and even cook on your food while also ensuring wider grill marks and easy cooking.
The best part by far is that these grill grates are completely non-stick, so you do not have to worry about a large amount of cleaning up. These grill grates are available at a very affordable price.
[i2pc show_title="false" title="Pros & Cons" show_button="false" pros_title="Pros" cons_title="Cons" ][i2pros]Available in a set of 3
Non-stick
Perfectly even cooking
Easy to clean
Affordable[/i2pros][i2cons]Not available in different sizes[/i2cons][/i2pc]
3. Hongso Porcelain Coated Cast Iron Cooking Grid Grates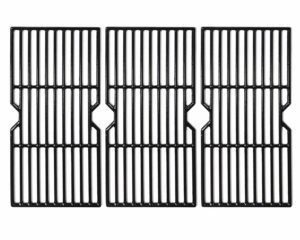 Another great set of porcelain grates, Hongso, has provided top quality for a very affordable price. These grates are available in a set of three and each grate is in the size of 8" by 17", which is a great fit for larger grills. These grates are highly durable and very long-lasting because of the porcelain coating and cast iron material.
These grill grates are easy to clean, non-stick and provide brilliant char marks to food. They are a great replacement for any grill and have a great amount of strength. They are also heavy-duty and provide a great amount of heat conduction, making for a nice and even cook.
Check Current Price
4. Hisencn Stainless Steel Rod Cooking Grates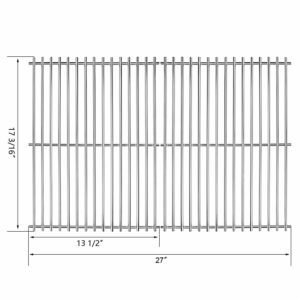 The perfect replacement for a number of different grills, the Hisencn stainless steel rod cooking grates are available in a set of two. The dimensions measure 13.5" by 17", which is a great size for anyone looking to buy for a bigger grill. These are the most heavy-duty and durable grates currently available on the market.
However, they will require a lot of oiling before use as they are not completely non-stick. They have very high-temperature resistance, so they will definitely last a long time.
Check Current Price
5. Uniflasy 17 Inches Cooking Grates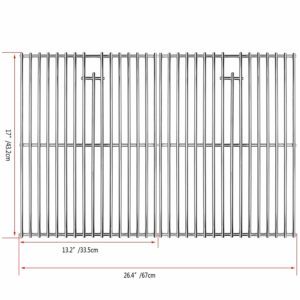 Another great pair of replacement grates, the Uniflasy grates, have the best design for a number of different large grills. These grill grates are available in a set of two, each one measuring 13" by 17". The heavy-duty stainless steel material and the multiple cooking rods ensure that this set of grill grates will provide you with an incredible grilling experience.
The grates have smaller gaps between them than others, which provides you with a worry-free experience. The best part about these grates is how easy they are to clean.
Check Current Price
Final Verdict – Top 5 Best Grill Grates
This extensive grill grates review should be of great help in your journey towards finding the perfect set of grates for yourself. After all, your grill is one of the best means of cooking and gets your family and friends together on various occasions, so why not take good care of it. Finding replacement grates may seem difficult, but once you know what you are looking for, the search becomes quite straightforward.
Featured image credit from limited-red.com