Best Charcoal Grill – Comprehensive Buying Guide
**Articles may contain links that I earn compensation for if clicked and you make a purchase. As an Amazon Associate, I earn from qualifying purchases. These earnings do not actually impact the price of the product or service.
The Best Charcoal Grill of 2020
With summer just around the corner, now might be the time to start thinking about purchasing a new charcoal grill. If you have never bought a charcoal grill before, there are some things that you should take into consideration.
Here we have reviewed the best charcoal grills in 2020, pointing out the pros and cons of each one. We have also created a comprehensive buyer's guide on charcoal grills to help you determine which one would is the best for your needs.
Top 10 Best Charcoal Grills
The Grill Kings research, test, and recommend the best products. We may receive commissions on purchases made from our chosen links.
1. Weber Original Kettle 22-Inch Premium Charcoal Grill
Featured as an Amazon choice winner, the Weber Original Kettle 22-Inch Premium Charcoal Grill is perfect for any grill enthusiast. There are many amazing features to this grill that we love. With a porcelain-enameled lid and bowl to retain heat, we have found this lid won't rust or peel. You may also use the lid hook to avoid placing the lid on the ground while grilling. We love that it can hold up to 13 burgers at once.
With a cooking area of 363 square inches, this Weber grill can withstand high temperatures. You can do either direct or indirect grilling by arranging the charcoal on the fuel grate. The electronic Touch-N-Go gas ignition system enables one to ignite charcoal with a push of a button. With precision heat control, you can control the temperature of the grill without lifting the lid by adjusting the dampers.
We loved that this grill was so easy to set up. Take it out of the box and within half an hour at the most, you can be using it. We also found the instructions were very easy to read.
2. PK Grills Original Outdoor Charcoal Grill and Smoker Combo
If you have always wanted a smoker but know you would use a grill more, there is no reason why you can't have both! PK grills are perfect for those that are new to grilling or have been grilling for years. This grill features an aluminum grill capsule that provides an airtight seal, maximizing the temperature control to achieve a steady temperature between 180-750F. The aluminum grill capsule spreads the heat evenly creating an even cook throughout.
We are really impressed with the 4-point venting system on the PK Grills Original Charcoal Grill and Smoker Combo. It is coupled with its unmatched shape that is perfect for both direct and indirect cooking, also known as 2-Zone Cooking. The 4-point system allows extraordinary airflow inside the grill capsule. Keeping constant heat on a charcoal grill has never been simpler.
You can grill any way you like with this combo. Fast and hot or low and slow. Either way, you will have your food grilled to perfection.
Tailgaters will love this charcoal grill as it is portable, yet large enough to cook a lot of food on. Hamburgers, brats, hot dogs, baked beans, corn on the cob, potatoes…. all of these great tailgating foods can be cooked easily. And because the grill is also big, you can even cook a turkey on it!
3. Weber 10020 Smokey Joe 14-Inch Portable Charcoal Grill
If you are looking for a charcoal grill that is small, consider the Weber 10020 Smokey Joe 14-Inch Charcoal Grill. This is a simple to use grill that is relatively inexpensive. Even though it is small, it can still feed a family. There is plenty of room for six burgers on the grill at once or a package of hotdogs or brats. A single person could easily cook up a steak and a side of asparagus or a baked potato easily without having to dirty up too many dishes.
This grill will not rust or peel and contains durable plated steel cooking grates. There are three aluminum legs and an ash catcher.
This is the best charcoal grill if you want something that is truly portable. It's perfect for tailgating, picnics, the beach, and so much more. It is lightweight and easy to move and will fit in a car with ease.
We also appreciate the limited 10-year warranty on this Weber model.
4. Char-Griller E16620 Akorn Kamado Charcoal Grill
Small families will appreciate the Char-Griller E16620 Akorn Kamado Kooker Charcoal Grill. This charcoal grill has a steel body with a powder-coated enamel covering that will not fade or chip from high heat. The interior finish is porcelain coated steel.
This Amazon Choice winner features 314 square inches of primary cooking space with a warming rack that measures 133 square inches for a total of 447 square inches. The insulated design creates more heat but utilizing less charcoal. Coupled with a cast iron grill, the design creates an insulated environment perfect for those juicy steaks. The body is constructed of 22 gauge steel, meaning it's highly durable.
We love how easy it is to control the temperature on this charcoal grill. Top and bottom adjustable dampers support even airflow into and out of the grill while cooking or smoking. The Kamado design allows it to be fuel efficient so one can use less charcoal when grilling.
We appreciate the locking lid. This is a huge safety feature to have in case there is a mishap.
5. Lodge Cast Iron Sportsman's Grill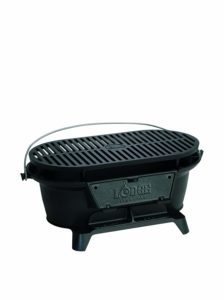 If you love Hibachi grilling, this is the best charcoal grill for you. The Lodge Cast Iron Sportsman's Grill will not use a lot of charcoal, yet still provides enough heat to grill your favorite foods.
The setup process for this charcoal grill is very easy. It only requires a few nuts and bolts and you are good to go. The instructions are easy to read and very straightforward.
One thing we love about this grill is the size. You can keep it at home for grilling up a quick meal, but it is also perfect for camping trips, fishing trips, picnics, and tailgating. This is a seasoned grill. It is seasoned with vegetable oil. The more you use the grill, the better your food will taste as the grill will continue to season itself.
While this charcoal grill is not the biggest on our list, it is still large enough for cooking for a small group of people. Foods are cooked evenly and quickly. The grill is also great at retaining heat, meaning that you don't need to constantly supply it with charcoal.
Buyer's Guide for the Best Charcoal Grill
We have compiled the best buyer's guide for charcoal grills. Here we will talk about the features that you should be looking for in a grill, as well as the different types of charcoal grills.
Things to Consider
All of the following should be considered when purchasing a charcoal grill.
Airflow
The airflow will regulate the heat in a charcoal grill. A fire will burn hotter if there is more airflow over the coals. If you want coals for slow cooking, you will not need to have as much airflow. Be sure to find a model that not only has a tight-fitting lid but also vents or dampers.
Coal Bed Access
It is important to find out how you can access the coal bed. If you are cooking for long periods of time, you will need to add more coals. We have found that generally after an hour and a half, the coals are starting to die down.
Safety
Safety should always play a huge role in determining which charcoal grill you will go with. You should understand how to set the grill up and use it safely and know how to add the charcoal, how to properly light the charcoal, and be certain the grill is sturdy enough. You would not want to be cooking and have the grill tip over, causing a bystander to injure themselves.
Size of the Grill
The size of your charcoal grill will determine if your heat is diffused or concentrated. If you like burgers or brats, consider going with a barrel grill as this kind of grill will allow you to cook the most food at once. If you prefer to cook slow and steady, you may want to consider going with a kettle or a kamado grill.
Different Types of Charcoal Grills
There are three different types of charcoal grills on the market today. Each one has its own distinctive feature with pros and cons.
Charcoal Barrel Grills
This type of grill is generally the largest one of the charcoal grill types. The barrel of this grill looks just like that, a barrel that has been turned over on its side. These grills tend to hold the largest amount of food out of the three types.
Charcoal Kettle Grills
This round grill will have the widest part at the cooking grates. The grill will taper off near the coal bed.
Kamado Grills
This deep charcoal grill allows one to cook for up to 8 hours without having to add any coals to the grill.
Features of Charcoal Grills
The following features are important when deciding on the best charcoal grill for yourself. While every grill may not have these features, these are some of the most popular ones.
Adjustable Height Cooking Grate
With this feature, you can easily raise or lower your food, depending on how close you need it to the coals. This would be the same as turning down the burner on a gas grill. We like this option because it allows you to sear a piece of meat by placing the grates close to the coals or further away for a thick chicken breast that will take a while to cook.
Grates That Are Easy to Open
Generally, charcoal grills that are lit reach their peak temperature within 20 minutes. New coals will often need to be added to this in order to keep the grill hot while cooking. By having a grate that is easy to open, it alleviates the problem of moving the cooking grate.
Easy to Clean Ashtray
If you like easy to clean, then this feature is nice. No one wants to scrub a grill down after each use, but if the ashtray can be removed, it makes it much easier to clean up.
V-rack
A V-rack is a handy tool that holds ribs and poultry in place when grilling. If you grill frequently, you may consider purchasing a grill that comes with this accessory as they are easier to cook with a V-rack.
FAQ
How should the charcoal be arranged?
Light the coals and spread them out evenly in the grate area if grilling with direct heat. Use tongs to move them around.
If you are using indirect heat, you should only place the charcoal that is lit on half of the grate area.
How can you keep charcoal going for a long time?
By packing the charcoals together, you can create a heat that will last longer. Coals should be added on a regular basis in order to keep the fire going for a long time. You should aim to add 5 to 10 pieces of charcoal when about half of the starting amount is remaining. This usually takes about half an hour. In order to have the hottest temperature, keep the bottom and top vents open.
Where should charcoal be stored?
Charcoal should be stored in a dry area. The bag should be resealed after each use or the charcoal should be placed in a container.
How long should charcoal burn before cooking?
Before cooking on charcoal that has just been lit, you should wait 20 to 30 minutes. The coals must be hot and glowing in order for the coals to cook your food properly.
What tools do you need for charcoal grilling?
When grilling, there are some tools and equipment that are necessary. You will need a pair of tongs to flip the charcoal and a pair for flipping the food. Also, you should have a grill cleaning brush to make sure the grill is clean before slapping food on it, and an instant-read thermometer to determine when your foods are at the correct temperature. You may also want a basting brush, a hinged wire basket for vegetables and fish, and a long-handled spatula for flipping burgers.
Final Verdict – Best Charcoal Grill
We hope you liked our review of the best charcoal grills and found our buyer's guide useful. There are a number of great charcoal grills on the market, such as our number one pick the Weber Original Kettle 22-Inch Premium Charcoal Grill. Full of great features, this grill can cook for a small crowd.
If you can't decide if you like grilling or smoking better, go with our number two pick, the PK Grills Original Outdoor Charcoal Grill and Smoker Combo. Or if you really just want a small and inexpensive charcoal grill, go with the Weber 10020 Smokey Joe 14-Inch Charcoal Grill.
Our buyer's guide should help you decide which type of grill is perfect for you. By making an educated decision about the charcoal grill you purchase, you can have countless grilled meals that are enjoyable for all.