What Color Towels for Gray Bathrooms Look the Best?
**Articles may contain links that I earn compensation for if clicked and you make a purchase. As an Amazon Associate, I earn from qualifying purchases. These earnings do not actually impact the price of the product or service.
Gray is an excellent color for a bathroom. This subtle and cool color gives serene and calming vibes to your bathroom and helps you have a relaxing bath time. However, accessorizing the gray-themed bathroom with visually pleasing towels is a little intimidating.
Indeed, bathroom towels are essential to your bathroom, not only for hygienic purposes but also to uplift its overall appeal. By choosing an attractive bath towel color, you can change the whole mood of your gray bathroom.
We have picked some beautiful colors for towels to help you give your gray bathroom an exciting and charming makeover. For everyone wondering what color towels for gray bathrooms they should choose, these gorgeous color options will give you an idea.
Best Color Bath Towels for a Gray Bathroom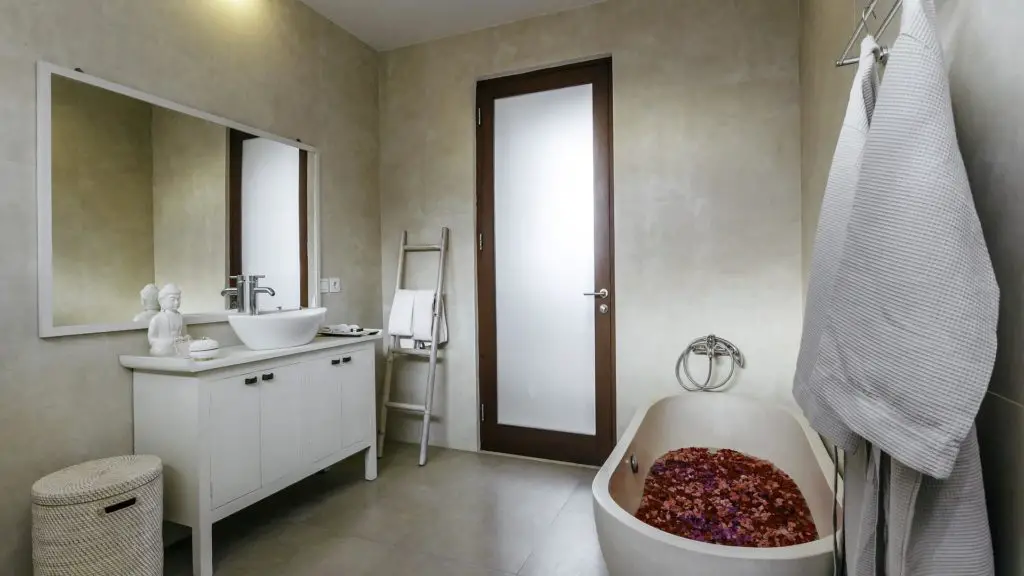 Some people may feel that gray is a somewhat dull and straightforward color. However, when it comes to accessorizing a gray bathroom, you can choose any color ranging from cool, warm, light, and dark from the color palette.
White and colored towels enhance a gray bathroom's delicate and subtle beauty. Brightly colored towels add a pop of color, whereas white towels offer symmetry to the gray color scheme of your bathroom.
Furthermore, you can choose the color of bath towels based on your bathroom space. If you have a small bathroom, then picking neutral shades of bath towels is a great choice. Pastels and neutral colors will make your bathroom look open and spacious.
Let's take a look at some of the best colors of towels for your gray bathroom,
White and Gray

Browns and Terracotta

Turquoise and Teal

Yellow

Pastel Pink

Lush Green

Black and White Prints

Pop of Orange

Navy Blues and Charcoal
A combination of white and gray bathroom towels perfectly beautifies the dark gray bathroom wall color. Depending upon personal choice, you can choose a perfect shade of gray contrasting with a gray bathroom or display a couple of gray and white towels. 
Most people prefer putting only pure white towels against the nice saturated cool gray bathroom. Overall, gray and white towels offer your bathroom modish vibes. Also, white towels look pleasing to the eyes and exhibit an aura of freshness and cleanliness.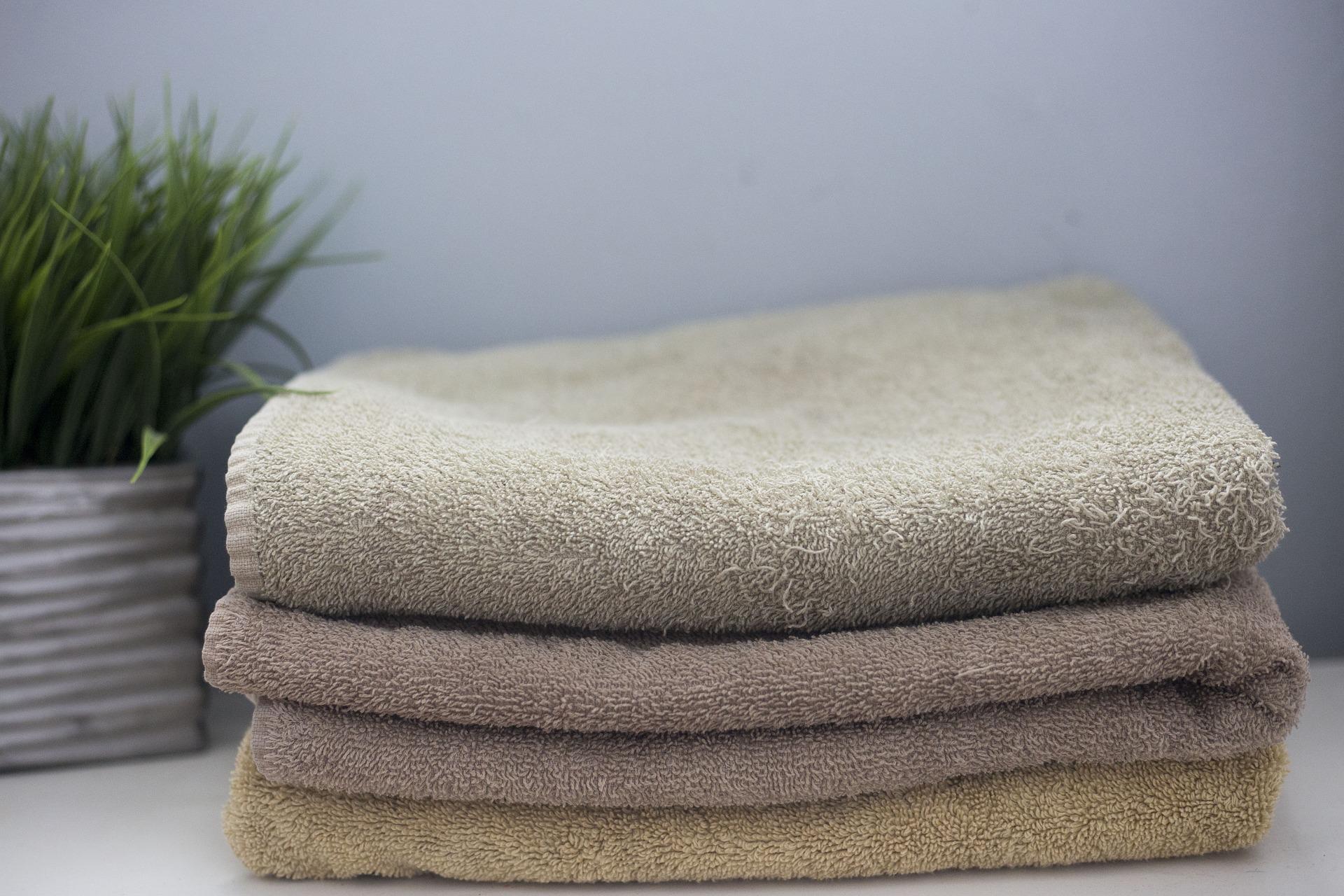 A warm and earthy-toned towel color looks deep and bold in a gray bathroom. These warm and bold colors, including dark browns, clay, and terracotta, gives your bathroom an eye-catching layer. Especially in the presence of natural light, the contrast of the gray bathroom interior looks incredible with these warm shades.
Moreover, you can further ornate the splendor of your bathroom by putting on a wooden bathroom stand. The wooden stand, along with terracotta or brown colored towels, looks utterly appealing.
These two gorgeous colors' refreshing and cool vibes offer a delightful contrast to the neutral accents of the gray bathroom. Adding these colors will stunningly enhance the beauty of bathrooms of any size.
Whether decorating the primary bathroom or a modest small bathroom, placing turquoise and teal towels will look splendid. Additionally, depending upon the shade of gray, dark gray, medium tone, or pale gray, pick the shade of turquoise or teal.
Furthermore, also consider the color scheme of your bathroom decoration. In brief, you can add contrasting bathroom towels to the decor or remain in the same color family. 
Moreover, people decorating their main bathroom attached to the master bedroom also like to stay connected to the theme of their bedroom's decor.
The contrast of yellow against the softer and darker gray looks visually striking and fascinating. Interestingly, so many shades of yellow are available, all unveiling exciting vibes of the color.
All shades of yellow look great with gray, and it all comes down to personal preference. Some people prefer bright yellow towels, while others tend to go for soft gold.
In addition to adding yellow towels, you can also add yellow light fixtures, bath mats, and shower curtains. You may also choose patterned yellow towels to add more depth and layering to the overall yellow and gray theme.
Overall, yellow is a fun color that will add life and excitement to your gray or white bathroom.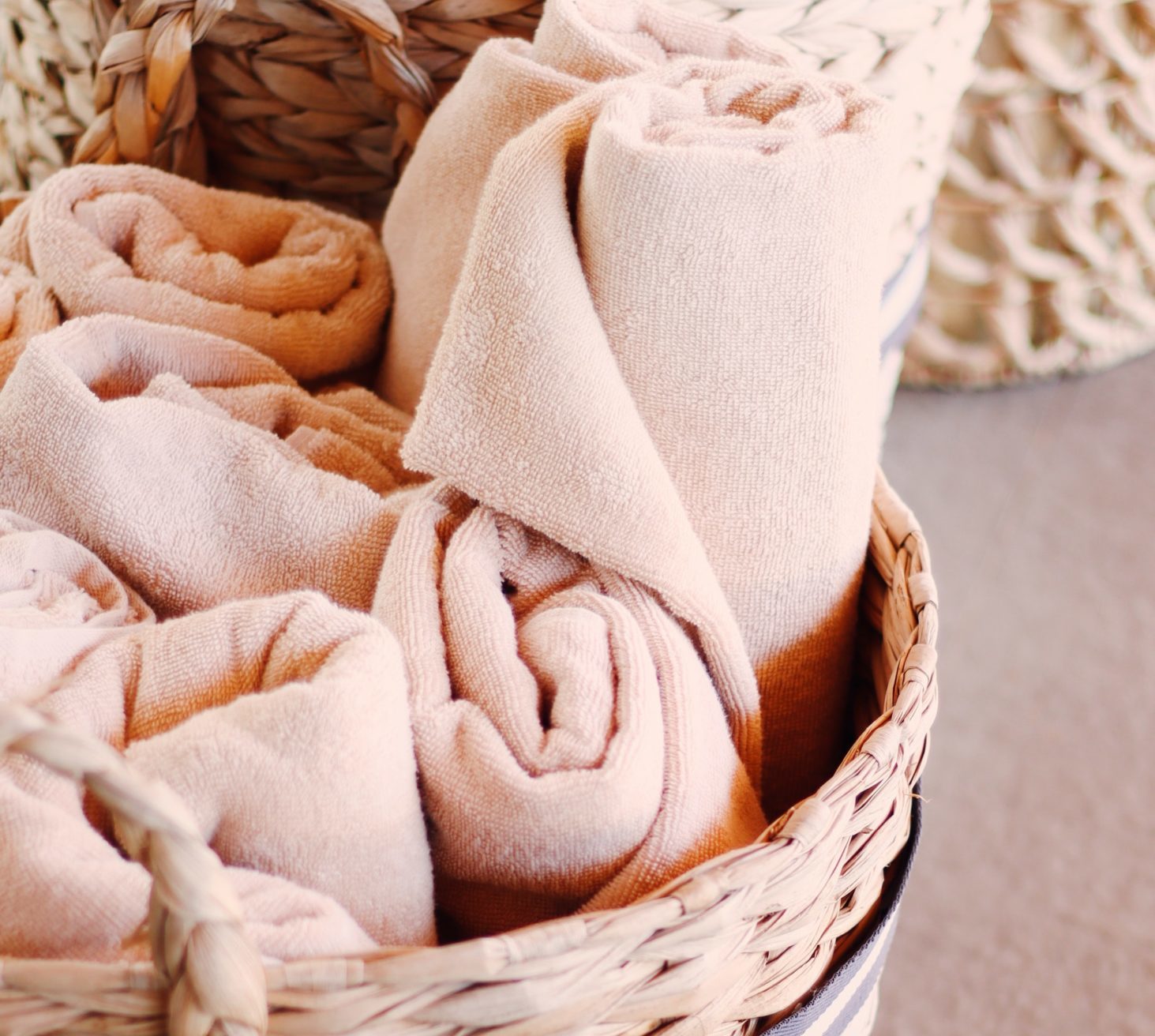 The addition of pastel pink hues exhibits a plush, soft and mellow aura in the gray or white bathroom. Light-colored towels fit perfectly with the neutral color scheme of bathroom walls. Especially if you are decorating a girl's bathroom, then placing pink towels will impart a feminine flair to the whole interior.
The light colors harmonize with the neutral color scheme of the gray or white bathroom. Generally, the designer-decided color scheme of a bathroom follows a single color family. 
Here, you will observe similar shades of grays and whites throughout the tile floor and bathroom walls. For choosing towel colors for this particular bathroom, you can pick neutral shades like pastel pinks and seafoam accents.
In particular, pastels are the best option if you refrain from opting for plain white and colored towels. Also, clean towels of these attractive colors calm your nerves and help eliminate all day's exhaustion.
Vibrant and refreshing dark green towels uplift a white bathroom's serene and soothing vibes. These brightly colored bath towels will instantly improve the aura of any bathroom. Whether revamping your primary bedroom or a small bathroom, adding this attractive color will brighten your place.
Moreover, the luscious green towels are an excellent option to add nature's calming and refreshing hues. Plus, these green towels look more beautiful in bathrooms with an existing décor of dark green vases or natural plants.
Furthermore, many people prefer Benjamin Moore's pigeon gray color in their bathrooms. This medium-tone gray color has a hint of violet that looks incredible in the tile work of most bathrooms. The lush green towels accent this perfect shade of gray and add depth to the interior design.
If you wish to add a calming yet attractive twist to your bathroom, you can place black and white patterned towels. There is no hard and fast rule to opting for a buff color palette or plain towel color.
Moreover, you can play with the patterns as well. For instance, while sticking to the theme of black and white towels, you can pick one pattern for hand towels while the other for bath towels. Especially if your bathroom walls have mostly square-shaped decor, you can hang colored towels to make your space look visually interesting.
This addition of patterned towels will look pleasing to the eyes. In addition to prints, you may also like black and white clean lines, and the line prints look tasteful and elegant.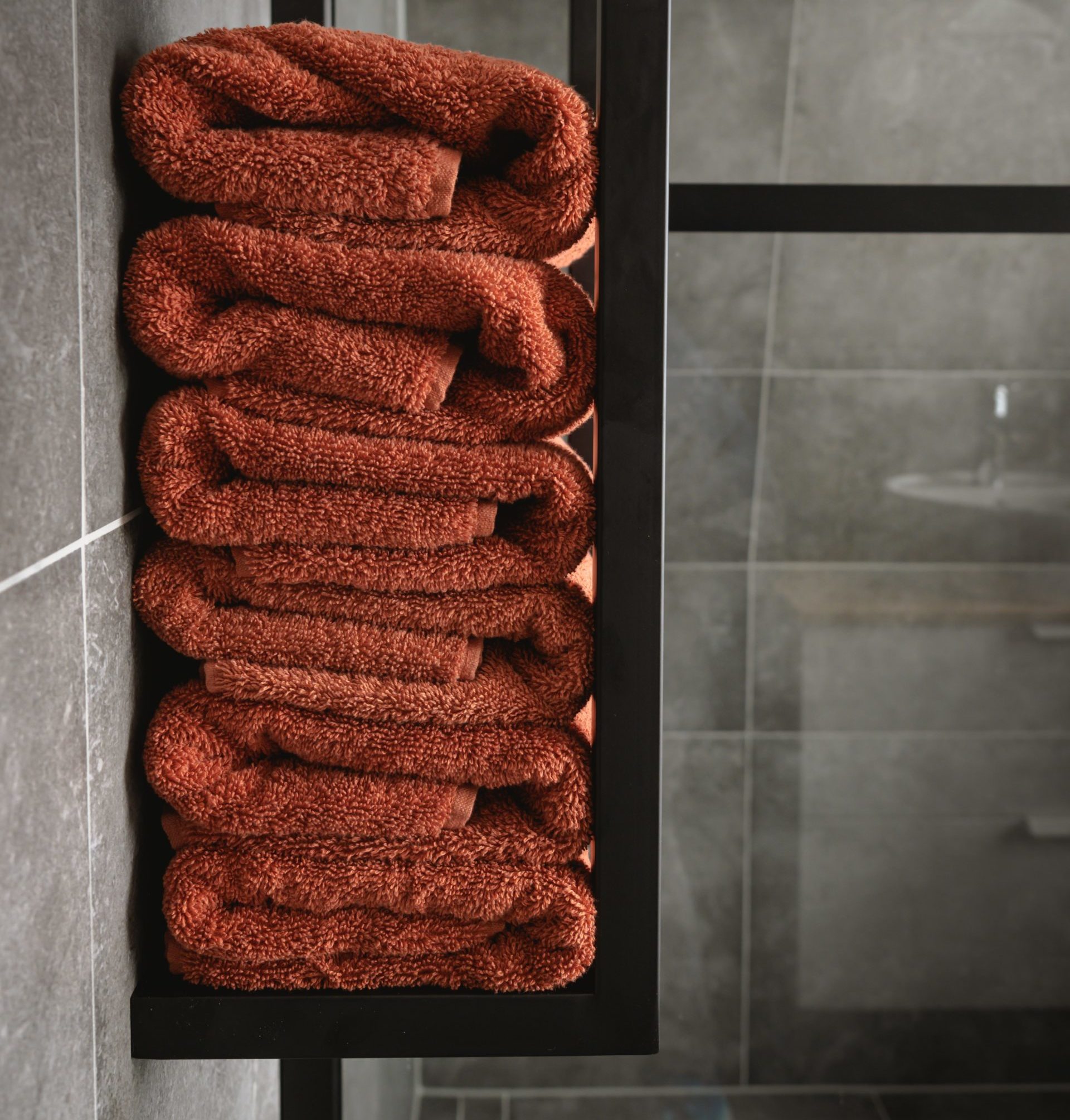 A pop of orange color can add visual interest to a sober gray or white bathroom. Any shade of orange will behave as an attractive and alluring contrasting color for the soft gray or white.
Whether revamping your primary or any particular bathroom, add orange towels; you will love the sudden bang of colors. The orange towels enhance the soft gold of light fixtures and beautifully mix up the wall color.
You can also add an orange shower curtain to your bathroom to give your place a more chic and modish appearance. Both bright colors and lighter colors of the orange family enhance the beauty of gray or white bathrooms.
The dark and intense colors like navy blues, black, and charcoal give any bathroom a modish and classic look. Plus, bath towels of dark colors flawlessly fit with the bathroom's mild and tranquil grays and whites.
Generally, these dark-colored towels are the top favorite colors for accessorizing gray and white bathrooms. Besides enriching the depth and intensity of the bathroom's interior, dark shades are an excellent choice to hide the spots. Indeed, addressing stains immediately is vital to maintain hygiene and cleanliness, but these dark colors do not instantly pop the spot. 
If you are going with the nautical theme, buy towels with shades of blue, including navy blue, sky blue, aqua, midnight blue, etc. Most people prefer navy blue towels as this color looks timeless, chic, and voguish. Furthermore, the depth of dark navy blue towel colors looks appealing against the plain white wall color.
Similarly, charcoal and black-colored bath towels improve the modish appeal of the bathroom. Add a soothingly-lit light fixture and cool-toned vases to beautify your place further. The dark towel color displays the smart and elegant taste of the user.
Final Thoughts
There you go! We hope you have some fun and appealing towel ideas for your gray-themed bathroom. 
Indeed, it is essential to pick your towel colors carefully. We have added a mix of cool, medium, and dark-toned colors to give you a wide range of options. These colors have exceptional character and offer something unique and attractive to a monotonous gray or white primary bathroom.