What Color to Paint a Black and White Tile Bathroom
**Articles may contain links that I earn compensation for if clicked and you make a purchase. As an Amazon Associate, I earn from qualifying purchases. These earnings do not actually impact the price of the product or service.
Black and white floorings are famous bold geometrics commonly used for bathroom flooring. Most bathrooms have bright colors regardless of the color of the bathroom flooring. However, with black and white tiles, you have several options of painting your bathroom wall any color, and it will still fit.
Color combination is crucial if you must have an aesthetically pleasing bathroom. With other color floorings, picking a paint color that matches may be challenging. However, not with white and black tires. 
Still, you may struggle with picking the right one to suit your preference and beautify the bathroom. 
If your black and white bathroom has white wainscoting, it is best to choose a darker color for the walls. If the black tiles are more than the white tiles, you may want to pick a bright yet subtle color.
You can paint a bathroom with black and white marble floors with colors like sage green and grey paint instead of black. 
Check out our color suggestions for your black and white tile bathroom.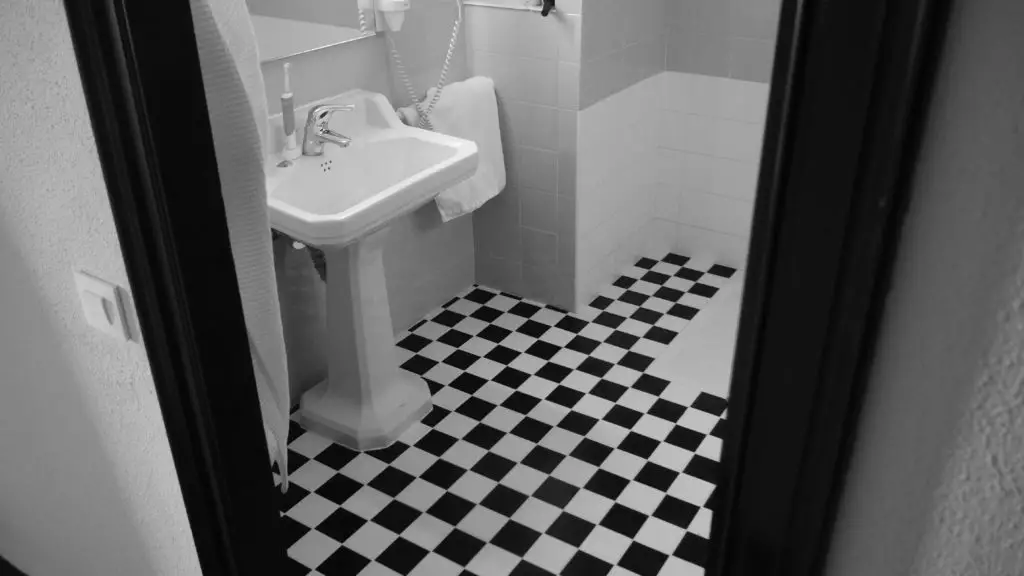 Color Suggestions for a White and Black Tiles Floor Bathroom
Gray is probably the best color to paint your black and white tile bathroom. Apart from being a secondary color, gotten from the mixing of white and black colors, it blends completely with most bathroom flooring.
Using gray paint for your bathroom makes decorating easier since the color is neutral.
Golden Mustard
Yellow walls are bright, but if you want to tone it down, use the mustard family colors. This paint color is a brown and yellow shade and ideal for your black and white floor.
Although it may look strange at first, the result will amaze you after painting the walls. If you don't find golden mustard paint, you can use mustard yellow paint in its place. 
This color stands out and adds elegance to any room.
It even looks more radiant in a room with black and white tiles.
It gives your bathroom a neutral feel rather than looking bright or dark. 
If you combine a towel set and bath mats of the same color as sage green, your bathroom gets a classic look.
if you can't decide between blue wall paint and a green one, you should pick turquoise. This color is a mixture of blue and green and gives your bathroom a subtle effect. The room feel is different with turquoise, and the walls end up with a seamless look.
If you are wondering why we suggest black paint for a black and white floor, you should wait until you see how it looks. Nevertheless, you should be careful with this color combination.
Too many dark colors in the bathroom can be a bit depressing, but when done correctly, it adds bold effects to the room. You may opt for a dark color like deep charcoal or gray-black to give it a lighter tone.
Blue is one of the best colors with a light tone for your bathroom wall.
When you view this color with artificial lighting, you will enjoy the ambiance that comes with it.
That is why people often painted bathrooms in older homes baby blue or pink. 
You don't necessarily have to use the same colors; there are several variations of blue to pick from.
Well, you already have black and white tile flooring, so using white paint blends easily. A black and white bathroom looks more spacious and adequately lit with white walls. A cool white paint improves the look of your bathroom and lets the tile take center stage rather than the color.
You can also add a yellow stain on your white walls to improve the outlook of your black and white tile floor. A white wall on a white tile may look too general, but adding a darker color gives the white wall a darker side. Mixing white with other colors improves the scenery of the bathroom. 
An accent wall may be the best for a bathroom with black and white tiles. When picking paint for accent walls, you can choose a dominant color and two other ones as subordinate. Adding red to the color scheme will give your bathroom an intimate and unexpected look.
If there are black and white tiles on the wall, you can also paint one side of the wall red and select other colors to use as the dominant.
Things to Note Before Painting Your Black and White Tile Bathroom
Whether you already have a color in mind or are going with our suggestions, we hope you to keep the following points in mind when painting. 
Selecting too dark or bright colors can shift focus away from the tiles.

The color grout between your black and white flooring goes a long way to determining the wall paint.

Black grout gives black lines between the tiles, and white grout gives white lines. Ensure to look at the color of the lines between the tiles before selecting paint.

You should consider the size of your bathroom before selecting a paint color. If you want your small bathroom to look spacious, you should paint it with brighter colors. If your black and white marble floors or walls, ensure to use darker colors to make it look classy.

Use a bright paint color on the walls for a small bathroom instead of darker shades to avoid the bathroom looking jammed.
Conclusion 
Color paint options for a black and white bathroom are unlimited, but picking the right ones will improve the outlook of your entire bathroom. You do not necessarily have to use the same color as the other rooms for your black and white bathroom.
When you visit the paint store, you can use a sample of the black tiles in your bathroom to get the right combination. You cannot go wrong with a sage green option. Nevertheless, pastoral green mural and dark browns are not bad either.
Besides, you can paint the walls black or soft grey for your black and white bathroom if you like. Nevertheless, your black and white tile bathroom can look great with black or deep charcoal. Matching black and gray with other bright colors will also add a broad appeal to the outward look of the bathroom.
If your bathroom has small black and white flooring, painting the walls with brighter colors is the best. A black and white tile floor can look different and tell a story depending on the color paint you choose. Therefore, take your time and select the best one that suits you.