How to Tie Down Dirt Bike on Hitch Carrier
**Articles may contain links that I earn compensation for if clicked and you make a purchase. As an Amazon Associate, I earn from qualifying purchases. These earnings do not actually impact the price of the product or service.
Dirt bikes are much heavier and will need a hitch carrier that can support the weight. You can't use a roof carrier for this because of the weight. 
Even on the hitch carrier, you must ensure it is adequately tightened. Otherwise, it might break the straps and fall while you are driving.
A hitch carrier comes with a manual to help tie a bike, but they are most useful for regular bicycles. Dirt bikes require a wide hitch carrier, solid support, and thick straps to stay on the carrier. 
If this is your first time taking a dirt bike like this, you'll need to know how to tie down the dirt bike on a hitch carrier. Making a simple mistake can damage your bike and even break it, so follow it thoroughly.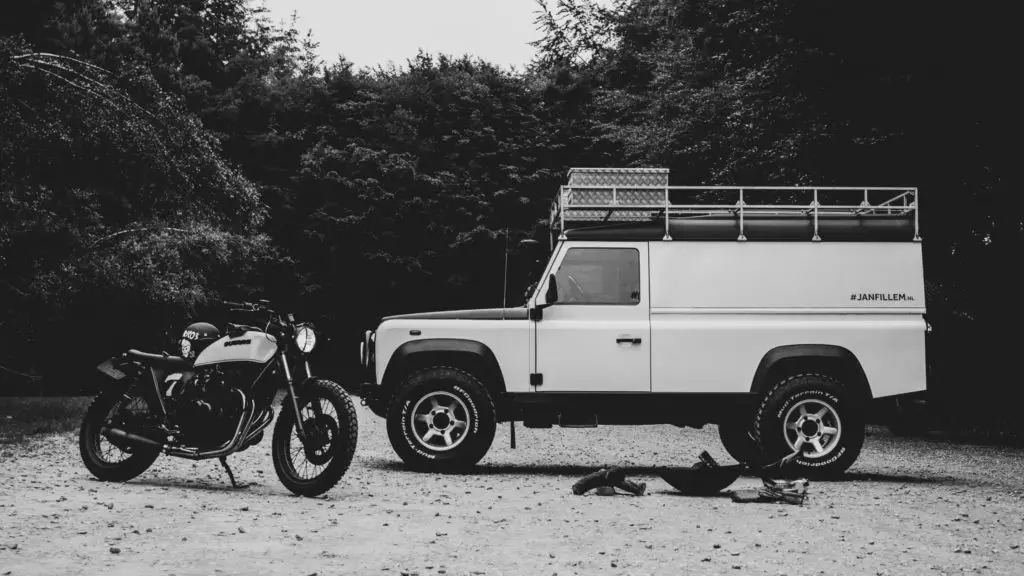 Which Hitch Rack Is Best for Dirt Bikes
For regular bicycles, choosing a hitch rack is not that important as they are light. However, for a dirt bike, you'll need a carrier that can withstand and support its weight correctly. 
Since you cannot keep checking the hitch rack, you must ensure that the bike is tied perfectly and won't fall even if you are driving off-road.
Dual Support for Bike
You'll require a hitch carrier that has dual support clips and uses nuts and bolts to screw with the car.
There is no need to purchase a hitch rack that you can easily tighten with your hand. Moreover, check its material and ensure that the metal won't bend because of weight.
If it starts bending, it will put additional weight on the car, and your rear wheel might burst, or the car's performance might slow down.
Additionally, it should have two rods you can attach to the bike's handle so it won't move. These racks might be expensive, but they are the best bet to ensure your bike's safety.
Moveable Base
You can't pick up a dirt bike and put it on the rack. It works for bicycles, but not for these bikes. You'll need to get a moveable rack to make a ramp with it and easily drag the bike on top of it and straighten the frame.
If the base is not moveable, you should look for a rack with a ramp to get the bike up to the hitch level. Most bike hitch racks feature a ramp; if not, you might need to purchase it separately.
Additional Locks for Bike Frame
Depending upon your bike's frame, you might require additional locks. Typically, a bike rack has two ratchet straps that tie-downs the tires and a lock to adjust the body. 
You can add locks to adjust the bike handles to keep them more stable. Some locks attach to your car's body and keep the bike stable regardless of how fast and rash you drive.
Get a Carrier With Built-in Wheel Chocks
While this gets expensive, it is the best way to ensure that your bike won't go anywhere after attaching it to the rack. If possible, get metal wheel locks as straps tend to get loose if you drive longer, especially on challenging terrain or mountains.
How to Tie Down a Dirt Bike on Hitch Carrier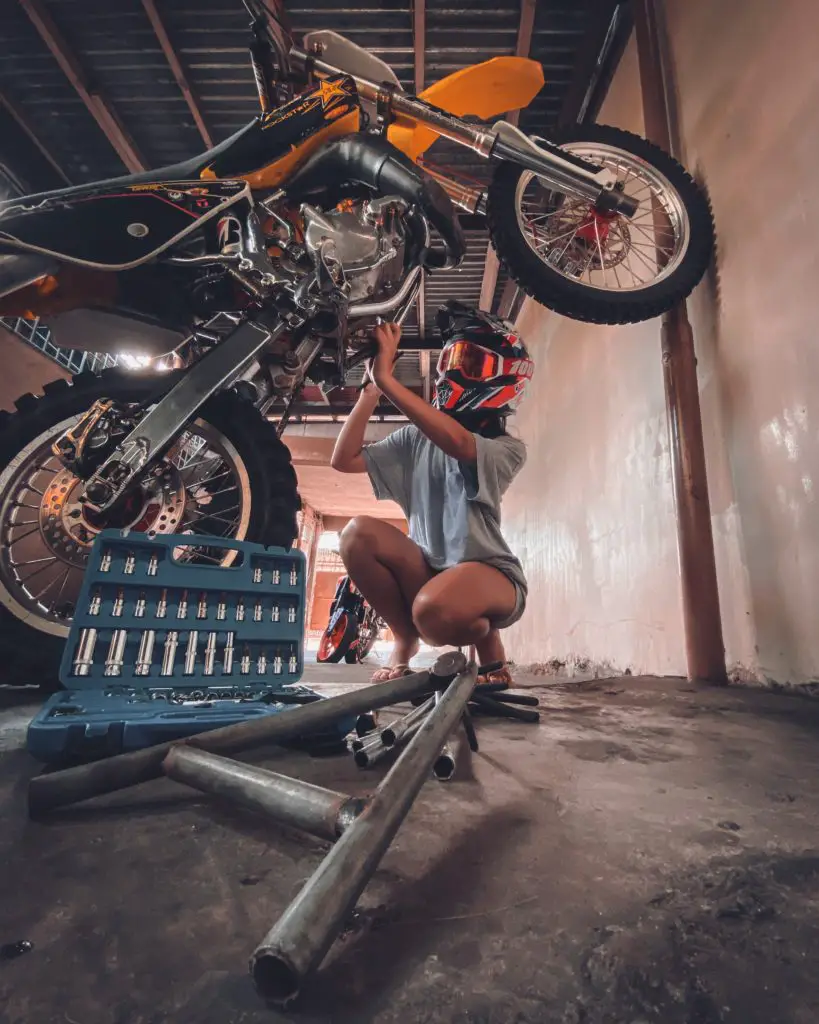 Once you get the right equipment, it becomes relatively easy to tie a dirt bike to a hitch rack. However, if you want to save money and go cheap, get a bundle of straps as they'll help you tie the bike properly.
You can start by attaching the trailer hitch to the rack and ensuring it is fitted correctly. Moreover, check the hauling capacity of the rack you buy; it should be more than the bike's weight and everything you'll attach to it combined.
After correctly installing the hitch rack, put some pressure on it and see if it gets loose or bends. Once you are sure that it can withstand the bike's weight without breaking, it is time to tie down your bike.
Positioning the Bike
This is where wheel chocks come in handy; you can adjust the bike as you like making sure that the front wheel locks between the chock. If you don't have a chock, you can use metal locks or straps to hold the bike. However, if you use belts, ensure to use high-quality ones so they won't break or get stuck.
Adjust the wheel position and tie-down straps until the bike stops moving. Do not use a stretchable strap to avoid the bike shaking when driving through rough terrain. Take your time to position and lock the bike properly.
Use Multiple Straps
You'll get two straps with a bike rack which is enough if you mount light-weight bikes. However, you'll need more than two straps for a dirt bike. 
Use two straps available to lock the tires and other straps to tie the body properly. Use adjustable straps to change the height and length based on which bike you'll mount again.
You can tie the straps near the rear tire since they will stick there properly. However, excessive straps will increase the overall time, and the chances of errors are enormous. You can use the straps everywhere, but that will put more tension on the body, forcing the bike to slip from the straps.
Do a Little Test
Before starting your adventure, we recommend taking your car for a test. Hit the highway and try to increase speed and swiftly switch lanes to see how the bike moves on the back. Try crossing some speed breakers or bumps, see how stable your bike remains, and make changes as required.
You won't have much to do on the track, so practice taking off the bike and putting it on at home. It all looks easy when you are at home and energized but gets complicated when you are tired. Ensure you know how to tie the bike properly before embarking on your adventure.
You can also hold the handlebars and shake the bike to check the tension and strength. If the bike moves as you shake it, you need to tighten the strap to a point where the bike won't move when you shake it. 
While driving a rough terrain, the bike is bound to experience jerks, and the grip might lose. If it is tight enough when you leave the house, it can survive the jerks, but if it is loose, your bike will fall the instant you start driving rashly.
Mistakes to Avoid While Tying the Bike
Beginners tend to make many mistakes while mounting the bike on a rack. Most people believe it is relatively easy, so they use a dozen straps to tie the bike. However, your motorcycle requires proper balance to stay on the rack; even if you use lots of straps, it might not be sufficient. 
Some people opt for cheap motorcycle carriers and end up damaging their bike. If you drive your car fast on a highway and your bike drops, it will cost you a fortune to repair it. Here are some mistakes you should avoid while mounting a dirt bike on a bike rack.
Get the Right Rack for Your Car
A roof rack is not an option here since you can't load a drift bike on your car's rooftop. Hitch racks are available in multiple options for different vehicles. Make sure to choose the most suitable one so it would get a good grip when you install it on your car.
Another thing to check is if it is easy to remove and how many parts you need to take off. Some racks only require removing the trailer knob or hitch, and you can take off the whole rear part. On the other hand, some require removing multiple screws to remove the entire hitch rack.
Consider Your Driving Route
While driving on a route with rough roads, turns, and ups and downs are quite an adventure, not having the right rack can ruin the experience. Plan your route carefully; if confused, use Google Maps to ensure you know the way properly.
Don't carry a rooftop rack as it might cause problems when you drive through a tunnel. No matter how confident you are with your driving skills, there are problems you can't tackle.
Keep Extra Gas and Spare Tires With You
Not taking more fuel is the biggest mistake people make. They fill the gas tank and estimate that they can go there and come back. 
A solid rack can add 40-80 pounds, and a dirt bike can add up to 300 pounds. Carrying such additional weight will drastically increase the car's fuel consumption.
You'll be fine if you are traveling to a place with lots of gas stations along the way. However, if you travel to urban places and mountains, always keep an extra can of fuel with you.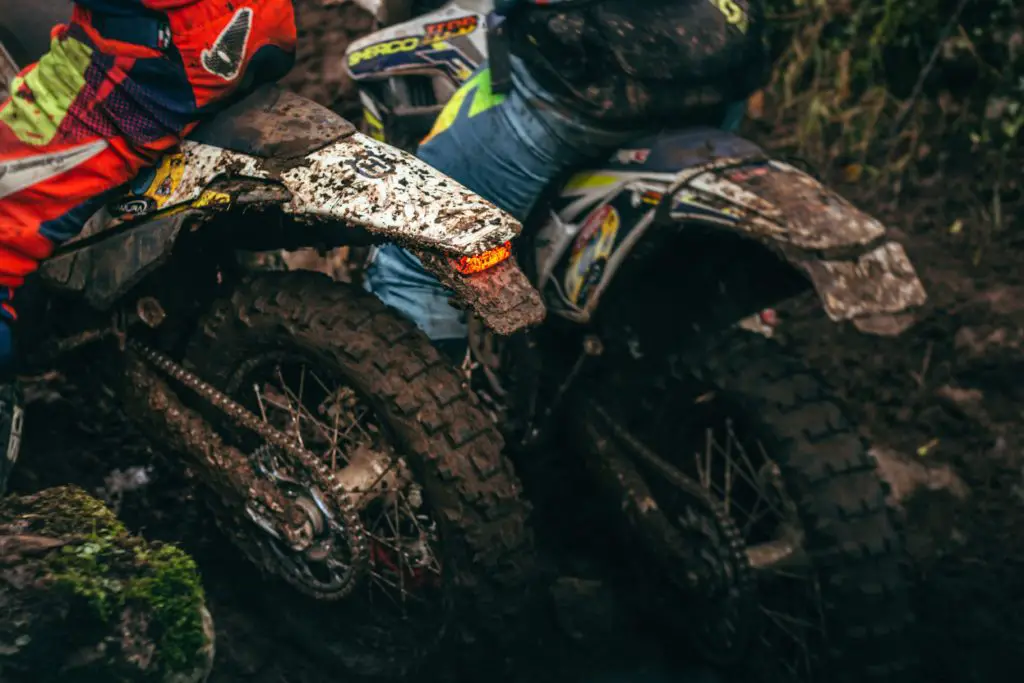 Frequently Asked Questions (FAQs)
1. Are dirt bike hitch carriers safe?
Yes, they are; if you stick to the weight limit, your hitch carrier will easily carry the dirt bike. Moreover, you must learn how to adjust the bike on the rack properly. Some people decide to mount the bike vertically, so they can carry more bikes on one rack, ending in a disaster.
Get help from our guide above, or use the manual that comes with the hitch rack. Ensure that the rack is suitable for your bike and will endure the weight easily.
2. How do you tow a dirt bike?
You can tow a dirt bike in multiple ways: one is to use a hitch rack which you tow-behind trailers or cars. Another way is to carry the bike in a dedicated trailer made to carry multiple bikes. However, using a hitch rack is the easiest, cheapest, and most suitable way.
3. Are motorcycle carriers legal?
In 2017, USA laws allowed people to carry motorcycles on carriers. Before 2017, there were some laws regarding the papers and bike registration before moving it like this. However, they allowed it once the GOVT realized that people often go hiking or trailing with a bike.
4. How do you transport two dirt bikes?
You'll require a truck or an SUV to carry two dirt bikes since they are heavy and add additional weight to the car. A small car won't be able to keep the best performance with more than 300kg extra weight. Get a rack for SUVs and truck wheel chocks and grab metal locks or straps to adjust and lock the bikes.
Conclusion
How to tie down a dirt bike on a hitch carrier? It is not difficult if you know what factors you should consider before mounting the bike on the rack. We have shared our guide to help you do this, be sure to follow it properly to avoid mishaps. 
Keep an eye on the hitch rack, and every time you make a stop, check the tension on the straps and see if they are not loosened.