**Articles may contain links that I earn compensation for if clicked and you make a purchase. As an Amazon Associate, I earn from qualifying purchases. These earnings do not actually impact the price of the product or service.
Bike racks provide secure parking for bicycles. All you need to do is attach the bike to the bike rack and do your business. You can forget about trying your bicycle on a fence or gate. 
Bike racks come in different shapes and sizes, but all work using the same principle. The article explores the different bike racks and how they attach to your bike.
Types of Bike Racks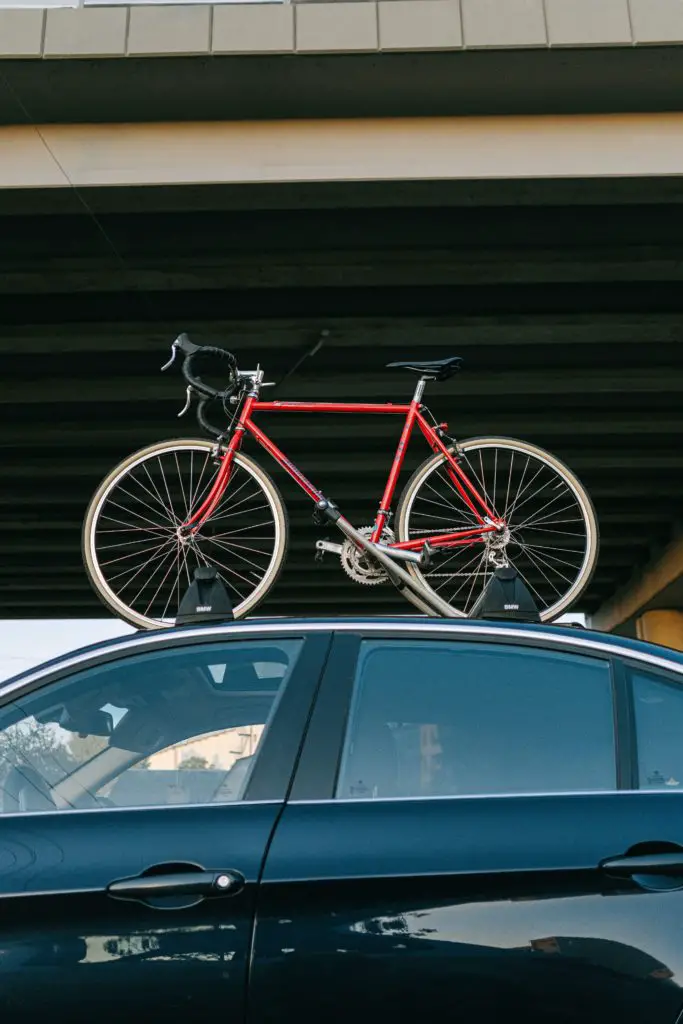 Hitch mount bike racks are the easiest way to carry multiple bikes in your car. To use a hitch mount bike rack, you must purchase a hitch to install behind your car. Hitch bike racks are popular because they are stable and close to the ground, making it easy to load and unload the bikes.
A hitch rack comes with a hitch tube or drawbar receiving tube, which the bike racks attach to the bike frame. You can alternatively rest the bike frame wheels down on the trailer hitch. 
A hitch bike rack is sturdy and can withhold much weight. Your main concern when buying this hitch rack is ensuring the rack fits your trailer hitch size.
Platform hitch racks carry the bicycles at a safe distance from the car, preventing scratches on the bicycle and car. This back rack can accommodate up to four bikes. It is also designed to fold down or move to the side to allow you to access the trunk.
One of the most popular ways of carrying bikes is on your vehicle's roof. To use roof racks, you need an existing rack receiver, but some car models come with one already installed. 
Some of these roof racks require removing the first tire of the bicycle. Moreover, some l can accommodate up to six bikes.
It is advisable to check your vehicle's manufacturer's instructions before adding a car rack. Additionally, consider the height the car racks will add to your vehicle.
Spare Tire Mounted Bike Racks
Some car models have a spare tire attached, which can be a good place to secure bikes. This bike rack is attached behind the tire, meaning there is no need to get rid of the spare tire to attach the bike rack. 
You strap and attach the bike with the spare tire-mounted bike rack. Such hanging racks can accommodate up to two bikes.
Trunk racks can be a solution if your car does not have a spare tire mount, roof rack, or hitch rack. If your vehicle has a trunk, you can use these hanging hitch racks.
The trunk rack is designed to fit into different styles, including flat, classic, and vertical trunks. They fold to lock into place when closing your trunk lid. Trunk racks are relatively cheap and can fit in different car models.
There are also open bed truck bike racks for people who don't own a hitch rack. It might be easy to throw your bikes in the back of your trunk and drive off. However, this can damage your car and bikes. 
In addition, your bikes will be at risk of theft. Some trunk racks are similar to sidewalk bike racks, which get attached to the bike frame.
With others, you have to remove the front tire of your bicycle to snap it in. The design of the trunk rack racks may vary, but they all ensure that you can store your bikes vertically without risking damage.
How to Install Bike Racks
Bike racks ensure that your bicycle is held in place. Whether using the roof or trunk, you have to ensure that there is not much space for movement. If the bike rack is not secure enough, you might get scratches on your bike or worse.
Most hitch racks do not have complicated assembling procedures. Besides, they come with manufacturers' straightforward instructions. However, we will share a few tips with you to ensure you safely carry your bicycle on a long-distance trip. 
If you go with the hitch racks but your vehicle has a spare wheel carrier, you need to get a hitch extender. A hitch extender helps carry the bicycles far away from the vehicle's body, leaving space for the spare tire.
You could also get extra accessories to carry up to two bicycles. You should consider getting a hitch stabilizer if your hanging hitch racks move around. A hitch stabilizer connects the car rack and the receiver.
Currently, there are many bicycle models on the market. You can get a conversion bar to help mount irregularly shaped bikes such as mountain or kids' bikes.
A car bike rack is a major investment. Therefore, you might want to invest enough money in a bike rack that will last longer. A good quality bike rack ensures that it endures against weather elements. 
Additionally, you have to ensure that the bike rack does not prevent normal car use.
If bike rack installation seems a bit hard for you, you can consult with a mechanic. The next time you purchase a car, you could bring up the bike rack issue. Buying a vehicle with a built-in roof rack will save you time.
Frequently Asked Questions About Bike Racks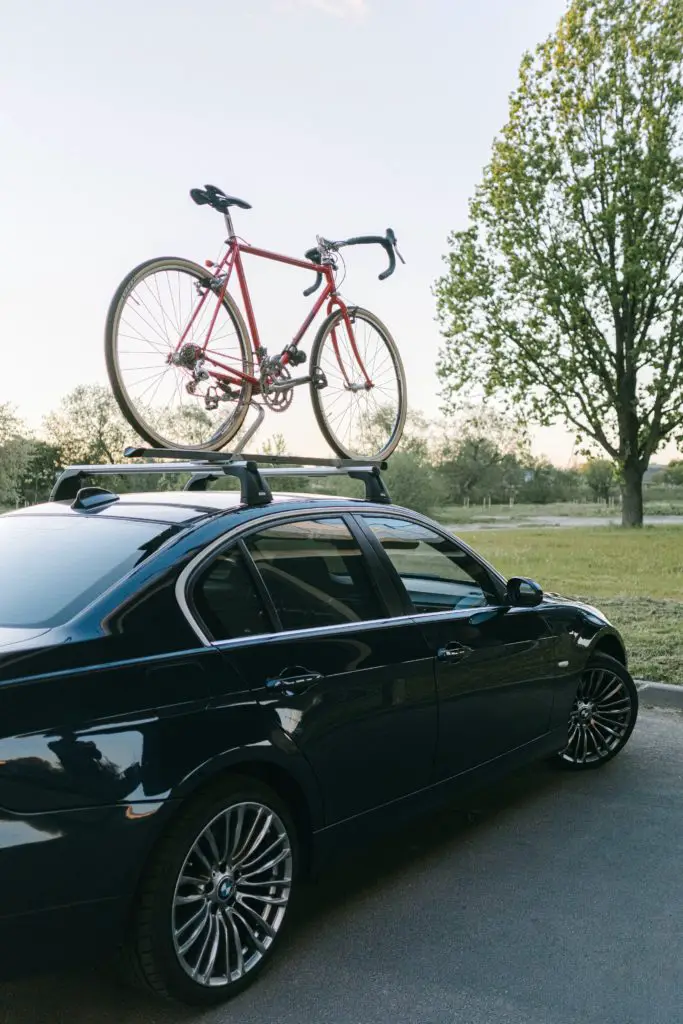 1. What are the benefits of having a bike rack?
Bike theft is rampant, and it is, therefore, one of the reasons why you need a bicycle rack. You can get secure parking for your bicycle and go along with your business. You can improve your health by cycling regularly.
Additionally, modern bike racks come with appealing designs and offer more functionality. A bike rack ensures that people stop using fences, trees, railings, street posts, or gates as alternative parking.
2. Should you leave a bike rack on a car?
Yes, no rule says you remove your bike rack from your car. People who use their bicycles daily don't have to remove the bike racks off their cars. However, many owners prefer to detach the rack from the vehicle when not in use.
People remove bike racks from their vehicles because they are heavy, and the extra weight might make your car work harder than normal. This results in slightly reduced gas usage. 
Additionally, removing the bike rack reduces your vehicle's chances of physical damage. A bike rack also creates a problem when it comes to parking for some car models.
A bike rack also adds maintenance costs. For instance, if the bike rack is dented or broken, it might also transfer this damage to your vehicle. Bike racks also tend to rust and should be replaced as soon as this starts happening.
3. How can I improve the life span of my bike rack?
The following tips can help reduce damage caused by the bike rack on your car and increase the rack's lifespan. First, ensure you buy the right bike rack suited for your vehicle and bike. 
Different car models require different racks, and none is perfect for all car models. For instance, if you drive an SUV, you might consider getting a hitch or roof rack.
Additionally, ensure that your car is well equipped to handle the number of bikes. It would be best if you used the bike rack for the right purposes to ensure it has a longer life.
Conclusion
A bike rack is a sure way to make your cycling convenient. With these, you can carry around your bike rack on your vehicle without damaging it. 
There are different racks that fit in different cars. You should make the decision based on your car model and how many bikes you intend to attach to it.
You can choose between spare tire mount bike racks, hitch mount bike racks, roof racks, trunk mount bike racks, and trunk racks. People who own cars with no roof can consider taking the trunk rack. 
Lastly, ensure the bike racks attach properly to make them serve you for long.