Best Kamado Grill – Comprehensive Buying Guide
**Articles may contain links that I earn compensation for if clicked and you make a purchase. As an Amazon Associate, I earn from qualifying purchases. These earnings do not actually impact the price of the product or service.
The Best Kamado Grill You Can Buy in 2020
Buying a multi-purpose grill normally means you are going to be giving up something but if you opt for a Kamado grill, you are not going to face such a scenario. Though Kamado Joe company was founded in 2009, these ceramic, charcoal-fuelled grills date back to over 3,000 years.
Kamado grills offer superb insulation as they are usually made with ceramic, making them highly efficient. They also make excellent roasters and pizza ovens. Here arises the question that what most people consider? Well, some head out to the store and take up the fine art of smoking meat. Others pick up a big and shiny new outdoor kitchen. However, many consider buying a Kamado grill. That's why we wrote up a buying guide for the Best Kamado Grill you can buy in 2020.
If you are willing to try a Kamado grill and confused about which particular product you should buy. Do not worry, we are here to help you out. In this article, we will provide you with reviews of the top or best 5 Kamado grills available on the market. Also, we will talk about the pros and cons of each of them. So, go through this guide and take your time to buy the best Kamado grill for the next grill party at your home.
How Does a Kamado Grill Work?
You will be thinking about what makes Kamado Grills best among the other and how do they work. Well, Kamado's distinctively egg shape makes them very easy to recognize. Generally, a stand supports the cooking vessel, though more traditional looking tables/stands are available. A domed lid of the top section is usually built with a thermometer.
The vents at the top and bottom help to regulate the temperature. The lower two-thirds of the grill is where the coals burn. The interior is designed and built to reflect the heat evenly throughout the interior. The most commonly used material is ceramic, though metal and stainless-steel models are also available.
Kamado grills work best with lump wood charcoal instead of briquettes – Lumpwood is the best charcoal for a Kamado grill. Add big chunks of wood for smoking. Small grate above the firebox is where the fire sits. Air flows in from the bottom of the grill and ash falls into an ash catcher. Above the smoldering coals, a fire ring is placed. Hinged lid covers the upper section of the Kamado.
Prices and images pulled from the Amazon Product Advertising API on:
5 Best Kamado Grills
You will find different Kamado Grills on the market and each of them is different from each other regarding the features. To buy the best one for yourself, do extensive research. Below mentioned are the top 5 Kamado grills. Let's have a look at them.
1.      Kamado Joe Classic II Grill
While talking about the best Kamado grills, one can never neglect Kamado Joe Classic II Grill. Its exceptional features make your cooking experience quite easy. With its smart design, you can enjoy your time while cooking. Its ability to effortlessly manage high-grilling and low-temperature smoking making it one of the most versatile charcoal grills on the market. Just like other Kamado grills, Classic II is also made of ceramic material but it gives the perfect cooking size of 18″ along with premium cart that is included in the package. It also comes with locking casters and wheels.
Divide and conquer, the flexible cooking system transforms the grill grate into the most powerful tool on your cooking tool's collection. Thanks to its multi-level, half-moon design that helps you to cook different foods in different styles at different temperatures. Top vent not only maintains consistent air setting necessary for and smoking but it also protects the grill from rain and mold. This dual adjustment top vent is coated with cast aluminum and allows you to smoke from 225 °F to searing at 750 °F. Advanced Multi-Panel (AMP) is a six-piece design that increases grill efficiency and eliminates breakage.
Patented air lift hinge reduces dome weight by 96% and as a result, provides you with the most comfortable grilling experience. The double-thick, wire mesh fiberglass gasket offers a superior air-tight seal and 10x the life of ordinary industry gaskets. With a patented, slide-out drawer, cleaning up the grill is very easy. To clean out the ashes, you no longer have to remove the inside components. Simply remove the ash drawer, dump your ashes and keep on grilling. Stainless Steel latch and cooking grates, built-in thermometer, grill gripper, HDPE side shelves and as tools are other accessories are included within the package.
Kamado Joes Classic II grill's design and construction make grilling enjoyable task
2-Tier divide and conquer is a solution to the 2-zone grilling problem
The easy-clean ash system along with slide-out drawer makes cleaning job very easy
The grill comes with other accessories so that you do not need to pay extra
The price to size ratio is not good. With 406 sq.in cooking space, it is a lot to pay for a relatively small grill
Conclusion
No matter what is the size, the Kamado Joe Classic II is an outstanding grill. We recommend it to those who want versatility when they grill. According to most of the people, it is the very best Kamado grill on the market.
Check Current Price
2.      Pit Boss 22″ Kamado Ceramic Grill
If you are an aspiring outdoor chef, then the Pit Boss Kamado charcoal grill can make it easy for you to produce world-class BBQ in your backyard. The grill offers high-quality design, cooking versatility and that authentic flavor. The heavy ceramic body of the Kamado is the ideal environment for efficiently burning charcoal. The cast iron top provides you with full control over airflow allowing you to set the perfect cooking temperature. It features a high-quality solid stainless-steel cooking grid and provides an impressive 567 sq. in. of a 2-tier cooking surface that provides more than ample space to hold your dishes.
Pit Boss grill features calibrated cooking vents for superior temperature control and using this you can slow smoke ribs, roast turkey, bake pizza, grill burgers, sear steaks or char your vegetables, just like any world-class chef or pitmaster. Heavy-duty hardware, wood springs and handle make the lid easy to lift and hold in position. Along with that, a shock absorber and a fireproof felt edge guide and protect the lid. Heavy-duty wheels make the grill easy to move around. The best thing about the Pit Boss Kamado grill is that it offers great value for the money, making it the best affordable Kamado grill.
Pit Boss Kamado grill provides you with great heat retention and fuel economy
The swivel caster wheels make this grill nice and portable by roll easily and lock in place
As compared to other Kamado grills, this grill offers excellent value for your money
The seal on the lower vent is not that much impressive
The grill does not come with a heat deflector, so you have to purchase it separately
Conclusion
If you are on a tight budget, then the Pit Boss Kamado grill is a viable option for you. It offers most of the features you would expect from a high-end Kamado grill at a reasonable price. You should consider giving this grill a try.
Check Current Price
3.      Char-Griller Akron Kamado
Want to start your hands-on experience on grilling? Well, in that case, Char-Griller Akron Kamado is an ideal option for you. The total size of the grill is 447 sq. in. including 314 sq. in. of primary cooking space and 133 sq.in of a warming rack. The insulated design uses less charcoal and less airflow. The body of the Akron is made of 22-gauge steel while the cooking surface is made of cast iron. The exterior and interior are coated with powder steel and porcelain steel respectively. The built-in temperature gauge allows you to easily maintain cooking temperature ranging from 200-700 °F.
Being entry-level grill, Akron still has some nice features such as double-wall insulation and an easy to empty ashtray. The lid also has a locking mechanism so that no heat escapes through. The grill is perfect in terms of money as well. The front of the grill features a locking caster, made of tubular steel and rubber wheels. Indexed dumper helps you to note the position of the damper.
Char-griller Akron Kamado grill is significantly cheaper than any other Kamado model – best affordable Kamado grill
As the grill is made of steel, it will not shatter or crack when dropped
Despite being a low-price grill, it is still very efficient
Because of steel material, Akron will rust out if you do not take good care of it
Conclusion
Char-griller Akron Kamado grill is the perfect option for you if you want to do the grilling for the first time. The fact that it is also pocket-friendly, makes it the best affordable Kamado grill available on the market.
Check Current Price
4.      Big Green Egg Grill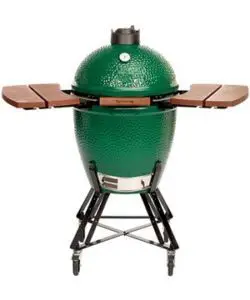 The original modern models of Kamado grills are Big Green Eggs. There are different models of them as well which comes in different dimensions
Mini – 39 lbs; 79 sq. in. cooking area; 10" grid
MiniMax – 76 lbs; 133 sq. in. cooking area; 13" grid
Small – 80 lbs; 133 sq. in. cooking area; 13" grid
Medium – 114 lbs; 177 sq. in. cooking area; 15" grid
Large – 162 lbs; 262 sq. in. cooking area; 18.25" grid
XLarge – 219 lbs; 452 sq. in. cooking area; 24" grid
XXLarge – 424 lbs; 672 sq. in. cooking area; 29" grid
This wide range of dimensions allows you to pick according to your requirements. They are also made of ceramics that enhances its efficiency. They are constructed keeping in mind the insulation of the product so that they provide exceptional insulation to the user. The signature green color of the grills will not fade after been subjected to intense heat. From grilling to smoking and baking, Big Green Egg Grills delivers the best cooking environment to your food.
The wide range offers you lots of options depending on how many people you need to cook for
Big Green Egg grills have an exceptional build quality that makes them the most durable grills available on the market
Green color will not fade even after being subjected to intense heat
The only thing that can be said about these grills is that they are expensive
Conclusion
Big Green Egg grills make their place in the top 5 best kamado grills due to their exceptional durability and wide range of sizes. You must consider them if you want a good grill for yourself.
5.      Louisiana Grills 24″ Ceramic Kamado Grill
The Louisiana Grills Kamado is an all-in-one charcoal cooker with the versatility to perfectly cook just about anything in any way. The 24-in size is ideal for any backyard. It makes use of naturally produces and abundant charcoal that produces encapsulated heat. Two folding bamboo shelves provide a sufficient amount of space to hold your food. The ceramic body, high-quality solid stainless steel grid, and wooden handles make this grill one of the most efficient and durable grills available on the market.
The fireproof felt edging protects the upper lid as a shock absorber. The versatility of the grill contributes greatly to its value. You can easily control the temperature according to your preference using the upper and lower cooking vents.
Louisiana 24" Ceramic Kamado grill is very easy to use
The encapsulated heat radiates into the food and enhances its flavor
The versatility adds up a good value to the grill's performance
The only thing that can be said about this grill is that it is difficult to clean
Conclusion
Based on performance and versatility, Louisiana 24" Ceramic Kamado grill worth the price. If you want a versatile grill, then you should pick this one.
Check Current Price
Prices and images pulled from the Amazon Product Advertising API on:
Final Verdict – Best Kamado Grills
Now after going through the article, you must have got the answers to your questions. Kamado Grills are sure of good value and have a solid place in the market. now you should take your time to decide which one will meet your requirements.