An Essential Guide on Where to Hang Wet Towels in a Small Bathroom
**Articles may contain links that I earn compensation for if clicked and you make a purchase. As an Amazon Associate, I earn from qualifying purchases. These earnings do not actually impact the price of the product or service.
It is common to find many people living in small apartments these days. There may be storage challenges in such a living space – where to keep shoes, clothes, small towels, bedsheets, etc.
Many people consider these challenges when renting or buying a small apartment but hardly consider the bathrooms' storage capacities.
Unfortunately, the problem of small bathrooms, which is very important, is often overlooked. You only think about it after taking the first shower in your new apartment, and you wonder, where can I hang wet towels?
At first sight, small bathrooms will appear to have everything you need, such as the toilet, sink, and shower. Of course, you can certainly put your essential cosmetics, combs, soaps, and so on in drawers, but a wet towel can't go in there, can it?
You also cannot just leave the wet towel lying on the bathroom floor; you'd have to hang it somewhere for it to dry, but where?
There's no cause for alarm, that's why we're here, and we have some ideas you should consider trying out for hanging wet towels in a small bathroom.

Ideas for Storing Towels in a Small Bathroom
1. Hang Them on a Hook
Sometimes, the easiest solution may be the best – and nothing can be as easy as a simple tight hook. This small, easy contraption features heavy-duty rubber-coated ratchet straps and cam buckle straps for easy installation. Hence, you can mount them on any bathroom wall without taking up too much floor space.
Rather than throwing your wet towels on the sink or lowered toilet seat – which wouldn't be too great for obvious reasons, just hang them on the hook. Moreover, it is easy to install hooks.
You only need a screwdriver and a few minutes, and your bathroom wall will be spotting a new hook in no time, without the help of any professional.
However, like the basket, hooks don't provide much surface area. Hence, a very big towel or a damp one may not dry thoroughly or on time when hung on hooks.
2. Use Basket Shelves
It may seem odd to have baskets in a small bathroom. However, it is definitely worth a shot since eco-inspired interior designs are trendy right now.
Besides, baskets are convenient when you have limited space. They provide enough space to keep a hand towel and several shower towels in a small bathroom, whether big or small.
In addition, you can have two different baskets for keeping wet and dry towels separately. A towel ring has a rather basic design, but baskets are way more exciting.
They are available in many different shapes, sizes, and amazing designs. So, in addition to being a handy organizational tool to make your items tidy, they can also serve as a cool piece of interior decoration.
You can store the basket under your sink or beside your shower or bathtub. Some varieties also come with hooks, in case you don't like yours on the ground. That way, you can hang them on the wall to allow a clutter-free bathroom.
3. Use the Space Above Your Toilet
While something like a beautiful woven basket can be pretty appealing, it can still occupy a lot of free space. That is particularly true if you place it on the ground, where you can trip over it while leaving the shower. One method of saving space is by installing an above-the-toilet shelving unit.
You often overlook the wasted space above the toilet when considering bathroom space. But there are two things that make it super convenient: it has enough room and doesn't stay in the way and disturb your mobility. Hence, it is the ideal place for hanging a shelving unit.
The units are strong enough to support multiple towels, both wet and dry towels. They also provide adequate room to keep other bathroom accessories, such as cleaning products or toiletries. In addition, you can also set up a small cabinet to keep your items more organized.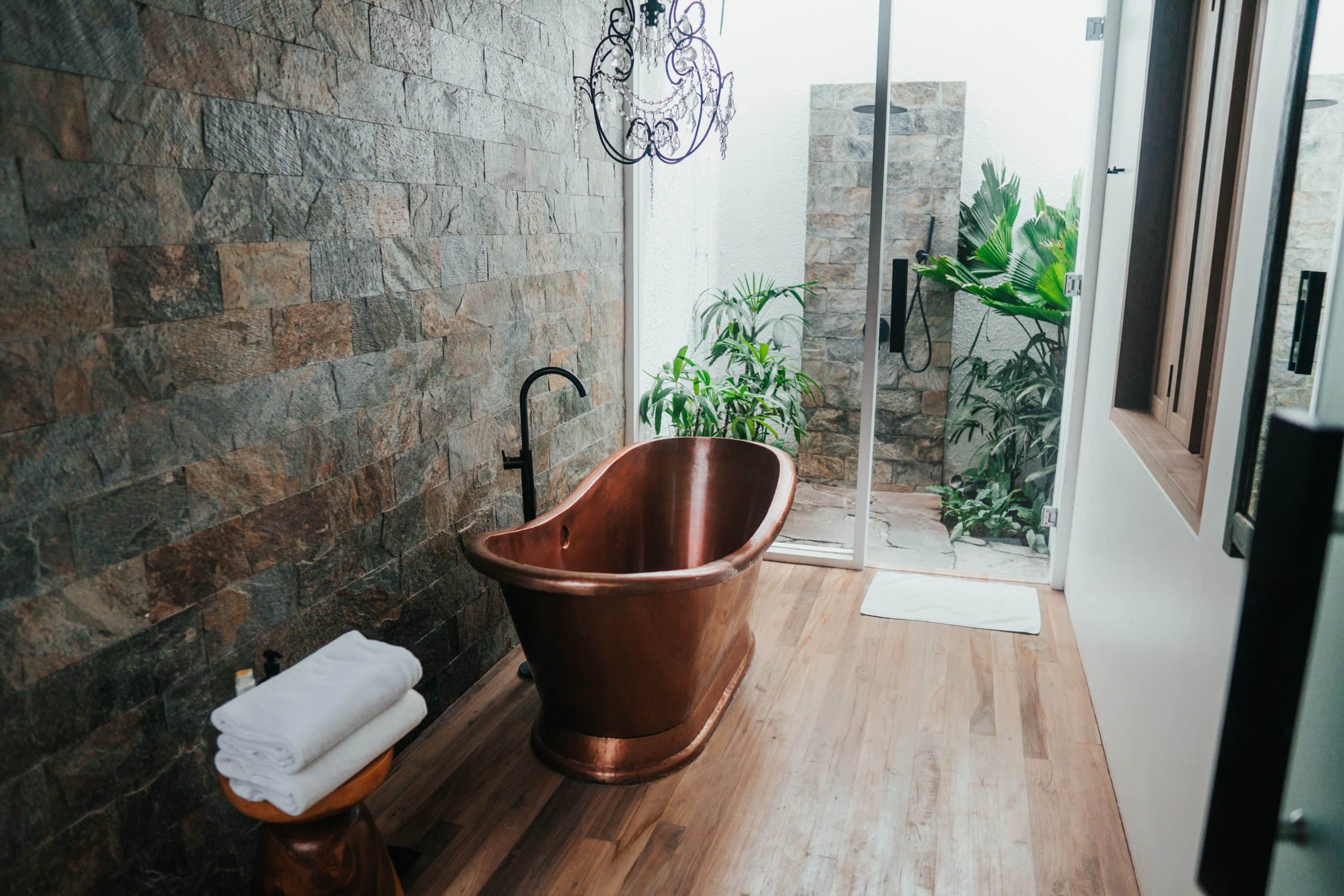 4. Towel Racks
You should consider a towel rack if you want something that offers more surface area. Though the contraption is large, it is convenient since it doesn't require a wall for hanging. Plus, you can mount them on your bathroom door to help save space.
However, there are other places to use besides a bathroom door. Your shower door can also easily fit a towel rack with the correct adjustments.
In addition, setting the rack there also ensures that your wet towels dry quicker and keeps them from getting damp again due to stray water droplets.
The only factor that may prevent you from opting for a heated towel rack is the dimensions of your shower doors. Most racks come with handlebars with lengths between 18 and 30 inches. If you have a narrow shower door, there are better options than using a towel rack.
5. Towel Rings and Bars
Most bathrooms have a set of towel bars and towel rings. However, if you don't have towel rings in your bathroom, you can simply buy them at the hardware store in your neighborhood.
A towel bar is a good choice for moderate to big bathrooms. They are strong enough to support the weight of many wet towels and offer enough surface area to ensure your used towel dries evenly.
However, they have a disadvantage – most good towel bars need more space, and you definitely don't have that if your bathroom is tiny.
So you're better off using a towel ring. They have the same strength as towel bars but occupy only a tiny part of the space!
6. Use the Area Under Your Sink
If you don't like your wet towels hanging too conspicuously, then you can keep them in a more discrete place. The small nook under your bathroom sink can be helpful in this situation.
If your sink has no pedestal, you can introduce a few hooks to occupy the space.
If you have the funds and time to spare, you can also install an under-sink shelf. It will provide free space to store towels, and the shelf will also provide room for your other items.
The only disadvantage of setting up a hook and shelf under your sink is that you'll still have limited space.
This space is really cramped, so it will be impossible to hang anything bigger than hand towels or a scrubbing towel. But if you want to use every bit of space you have at your disposal, you must use this little nook.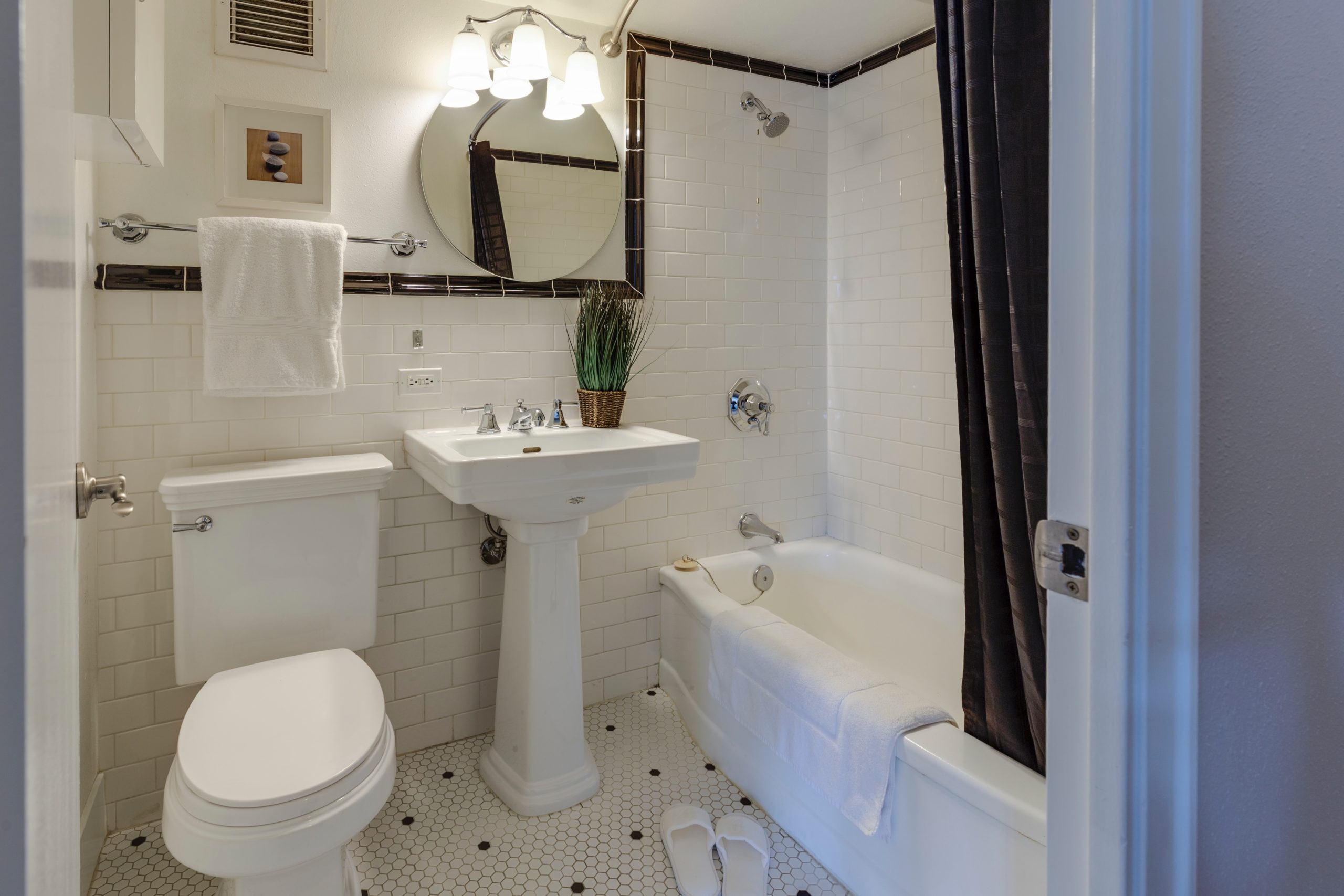 7. Fit Cabinets in Empty Spaces
Towel hooks, towel racks, and woven baskets are not everyday house items. Hence, you need to purchase them. If you're not on a budget, you will have no problem with this.
However, if you're hoping to save costs, you can store dry towels using what you have at home already, like the bathroom cabinets.
Most houses have bathroom cabinets where you can store your toiletries and medicine. Nevertheless, you can still create more space there for your fresh towels.
Just remove one or two shelves, install a few hooks there, and voila! You'll have something just like a personal locker right in your tiny bathroom.
You can always create room for more than one towel in your small cabinet as long as the extra space is available to do that.
You can also include some décor to the cabinet to make it look more stylish, and a cool wallpaper would be a brilliant idea to do this.
Another thing you could do is get an elegant glass panel as a replacement for the door, making it possible to see inside the cabinet.
8. Use a Towel Warmer
It's a cool option to install cabinets and fancy hooks for drying towels, but you could always go further than that. Getting a towel warmer is an excellent idea if you want to go that extra mile and have a taste of luxury.
There's a great feeling that usually comes with using a warm towel immediately after you get out of the shower. Towel warmers are made from stainless steel. That means you don't have to worry about maintenance because they are low-cost.
Also, you could explore using a towel warmer as a heater for a small bathroom. Cool, isn't it? Aside from making warm towels, you can use towel warmers to hang or dry other soft clothing.
9. Consider Towel Stands
Although towel stands are not rampant or a frequent sight, they can provide some fantastic convenience. Rather than use horizontal space as cabinets and shelves do, a towel stand uses vertical space.
The good thing about this is that your damp towel gets just enough room to get air-dried properly. What else? These stands come with a couple of bars that are useful for hanging wet towels and conveniently too.
Unfortunately, though, towel stands are not perfect and have their flaws. They're not exactly small in size. They come with a couple of clunky handlebars, and these would require ample space in your bathroom to fit in.
If you still want a vertical surface for your used towels, but your bathroom doesn't have enough vertical space to contain a towel stand, an excellent alternative would be wall hooks.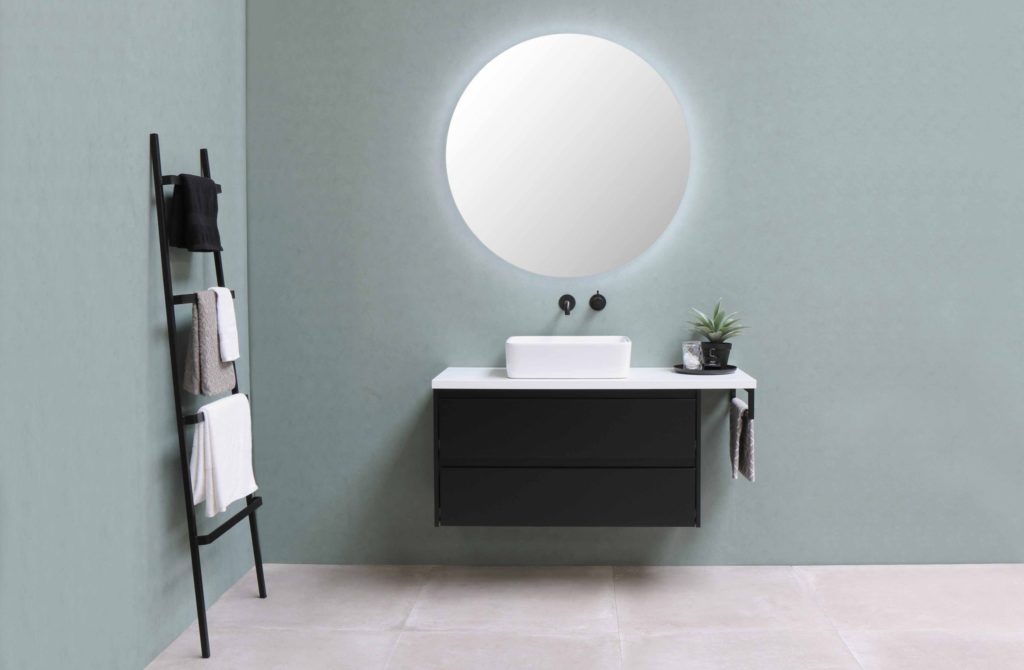 10. Use the Space Around the Vanity
Some level of creativity is usually a key ingredient when it comes to interior design. However, in some cases, the best solutions are the simplest ones that may not come as your first thought. In such a scenario, utilizing the wall space close to your vanity for hanging towels works perfectly.
If you're installing a vanity unit in your bathroom, you should be ready to create a lot of wall space on your bathroom wall. If the unit isn't too large, you still have room for about one or two hooks that can accommodate a small towel rack.
Be reminded that what this means is that you won't be able to hang several bath towels. However, this is undoubtedly your best option if you need an excellent place for wet hand towels.
11. The Shower Door
Shower doors are not a great place to leave your towels in a small bathroom, especially since stray water droplets won't be too far away from them. Also, it's somewhat hard to reach the towel, especially when leaving the shower.
However, what can work is if you leave the towel to air dry when you finish showering. You can spread it out to speed up the drying process. Otherwise, you can fold it nicely if you want to save minimal space.
An excellent alternative is to hang towels on a shower curtain rod if your shower has one. That will make it look tidy and keep it out of the way.
12. A Wooden Stool Can Be Brilliant
This advice may not sound brilliant initially, but with a small wooden stool, you can create a room where you can place dirty towels. The fact that it is portable is a huge plus. What's more, you can also set it where you need it without any drama.
13. Your Old Coat Rack Can Be Useful
This is another option you can utilize. Coat racks are great for hanging wet fabric. Not only can it serve as a handy storage space, but you can easily reach it from the shower.
So, if you want to give your bathroom a stylish look and make it a suitable storage unit, you can use the coat rack from the hallway.
14. Use a Hidden Towel Storage
Using benches, vanities, or window seats while keeping them hidden is also another option you can consider. A vital suggestion is to have the rolled towels sorted by size if you want to manage the small space properly. Use these new towel storage places close to the shower for easy access.
An alternative option you can adopt is to use furniture made explicitly for other rooms. You can use a glass display case for storage in your bathroom or display it as décor in the bathroom.
15. Use the Bathroom Radiator
The list of benefits you get from installing a radiator in your bathroom is endless. One of these benefits is that you get to be nice and toasty during the chilly autumn and winter days. Also, it is a very convenient option for hanging wet towels.
Radiators won't consume much space since they are usually fitted to walls. Additionally, you can hang multiple small towels off them since they have numerous metal rods.
Aside from that, your damp towels will dry quickly since they have warm water running through them. 
FAQs: Questions People Also Ask
1. What does a small bathroom look like?
A bathroom is usually considered small if it's 35-40 square feet.
While it may be spacious enough to contain a shower or a regular size tub, a sink, and a toilet, it may not have enough space for wet towels.
However, regardless of the size, you can always have it transformed into a pretty nice space for your convenience and comfort to relax after a long day.
2. Why are my bathroom towels not drying?
Towels usually require being hung correctly. If done otherwise, there won't be adequate airflow to go around.
Another reason is if the towels are 'double hung.' Instead of using a towel hook to hang wet towels, use a towel bar to give your towel enough space to dry.
3. How far from the shower should I hang my towel?
Your first towel hook should be around 8-10 inches from the edge of the shower curtain. As for the rest of the towel hooks, they should have about 12 inches of space between them.
Final Thoughts
Finding where to hang wet towels in a small bathroom can be quite tasking. People usually don't think about this problem much until they find themselves in it, and then it's usually too late.
You shouldn't have to worry about this, though. Utilize your bathroom space to its best ability as soon as you use the appropriate tools and some improvisation.
You can have towel warmers, hooks, towel racks, cabinets, and shelves installed in different discreet spots in your bathroom. Also, if you choose the appropriate storage unit type, you'd surely be able to keep your bathroom organized and easily accessible. Even though you may not have a lot of space to place towels in a small bathroom, that does not mean your options should be limited.
We hope that you found our suggestions helpful and that the tips we provided have been beneficial to you in determining the best places to hang wet towels in a small bathroom.