How to Mount Women's Bike on a Bike Rack?
**Articles may contain links that I earn compensation for if clicked and you make a purchase. As an Amazon Associate, I earn from qualifying purchases. These earnings do not actually impact the price of the product or service.
Have you ever been mountain biking only to find that your bike doesn't fit in your friend's car? That's frustrating.
It's common to have a women's bike in our garages that we don't use, but we hope to take it out one day. There are many reasons why this never happens, including time and space.
Every once in a while, you need to overcome these limitations to enjoy good exercise and new experiences simultaneously. Women's bikes are slightly different from other bikes; thus, assuming that every bike rack can hold this type of bike is a bit complicated.
Knowing how to mount a bike on a rack is not something you know by heart. The best thing you can do is first learn how to mount women's bikes on the bike rack. 
Even if you don't need an extra bike rack for your car or truck, it can still be convenient to know how to mount a women's bike in a regular (un-designed) place. 
Mount Female Bike on Bike Rack in 5 Steps
You can follow these five easy steps to mount a women's bike on a bike rack:
Fit a Top Tube Adapter or Crossbar Adapter
First, you will need to fit a crossbar adapter on your ladies' bike to form a top tube similar to a men's bike. The top tube will come in handy when you mount your bike on the rack. 
Check the Rack's Firmness
There will be a problem if your girls' bike moves sideways whenever your car takes a turn. That's even more important when accelerating, turning, or braking.
So, you should keep an eye on the bike's rack to see if it is shaky and if it is, you should fasten its bolts. Additionally, you must affirm the firmness of your bike's rack after fastening it.
Lock the Rack Arms Carefully in Place
Once you ensure that the bike frame is not shaky but firm, you should locate its arms and lock them in the rack. Just like natural arms, the arms of the hitch rack will hold your kids' bikes in place.
Generally, you need to pull your bike's arms to fasten them in place. You should note that you will need to lock some bikes' arms using screws that need tightening.
Moreover, when you lock the arms, fasten them in a slightly tilted upward position. This way, your bike will not touch the body of your car.
Place Your Bicycle on the Rack Arms
After locking the arms of your bike rack, you need to carefully place your women's bike on the rack arms. You should be cautious enough not to damage your car in any way. 
All you need to do is to position the top part of the bike's frame at an appropriate angle. While doing so, you should evaluate your bike's weight to ensure that it is equally distributed on the bike rack. 
Furthermore, placing a rag on any other soft material on the bike rack will keep you from damaging your car's paint. However, you need to put the soft barrier on the rack before you mount a women's bike on it.
After following all the steps, you need to clamp down your bike rack arms to secure your female bike on the rack. However, if you fear that the bike is not secure as it should be, you can use straps or locks to maximize the safety.
Tips to Mount a Female Bike on Hitch Bike Racks Without a Top Tube Adapter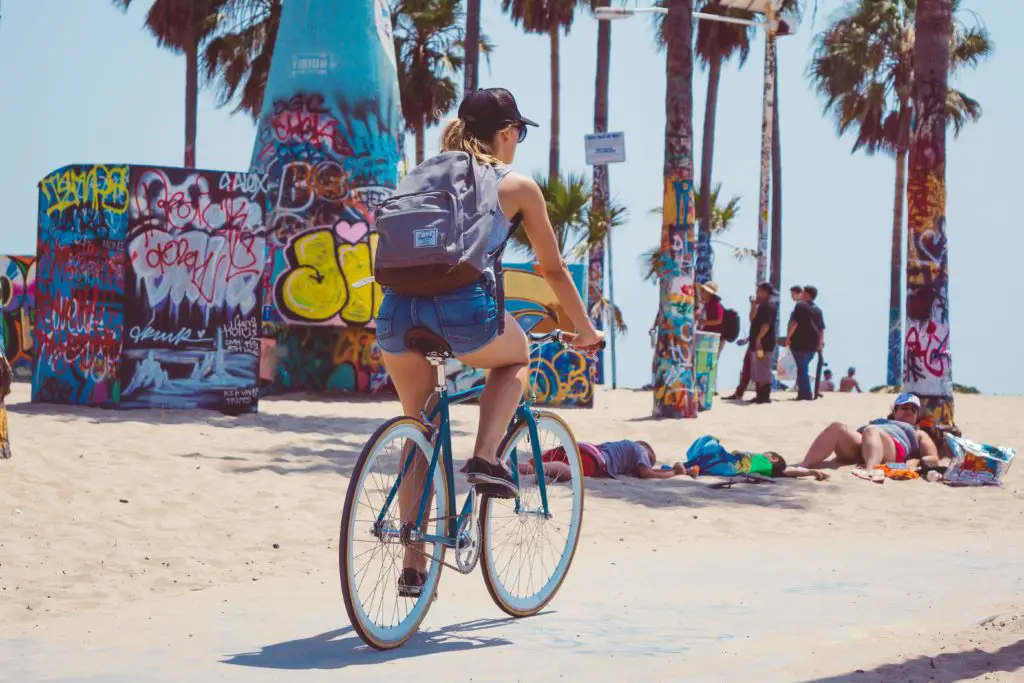 Uneasy it may seem, but you can still place your woman's bike's two wheels on the rack even if you have no top tube or rack bar adapter. Nevertheless, having right-wheel fasteners is necessary for putting your bike on the rack. 
Here are some points that you can follow for doing so. 
Before placing your bike on the rack, you need to ensure that the rack is sturdy enough to hold your bike.

You should lock the rack arms before securing your bike on the rack.

Most importantly, you should maintain your bike weight evenly on both sides of the rack while positioning it. 

When you are done, lock both bike wheels firmly, using straps to ensure a tight grip on the rack.

After doing so, check if any of your bike's wheels are swinging or hanging. If not, you have successfully mounted your bike on the rack without using a top tube. Now, you can drive away. 
What Is the Essential Gear Required to Mount Women's Bikes on Bike Racks?
Notably, two important things can help you mount your women's bike on the rack easily. Having one of them is essential to ensure your bike is mounted safely.
Car Bike Rack
Logically, you must be thinking that having a bike rack is a must if you want to mount a women's or kids' bicycle on a car. Yes, it is, and if you do not have one at the moment, you can always purchase it online.
When looking for bike racks on the internet, you will come across different types of them. There is a car's roof, spare tire, trunk, or hitch rack for you to choose from.
You can choose any form of bike rack as per your preference. We like hitch racks as they enable you to mount and dismount a bike without effort. 
Additionally, most hitch racks are sturdy enough to carry the weight of multiple bikes without any issue. These racks are also easy to set up and come with installation supplies.
Top Tube Adapter 
Purchasing a crossbar adapter or rack-bar adapter will not disappoint you when you have a woman's bike in your garage. Unlike men's bikes, women's bikes lack a top bar, making it difficult to mount them on the bike rack. 
A top tube adapter allows you to put a crossbar onto your female bike so you can mount it conveniently. While choosing a crossbar, you must ensure that the adapter is designed to fit your bike. Not only will the top tube adapters fit your women's bike, but you can also use them on kids' bikes.
How Should I Secure My Bike on a Bike Rack?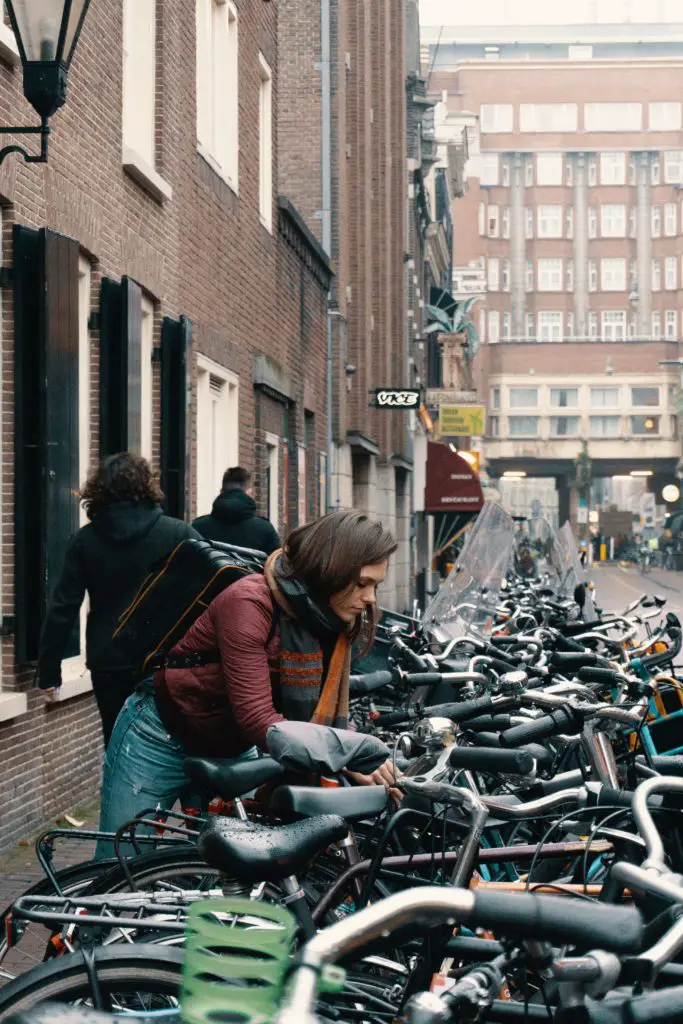 The frustration of having your bicycle stolen may make you want to give up cycling altogether. Not only that, but the thought of going to a bike shop and paying someone to fit it may have you somewhat bewildered at the prospect.
Here we have mentioned some accessories to help you understand what it takes to properly secure a bicycle on a bike rack.
Bike U-Lock
A U-lock for bicycles is an amazing accessory if you intend to lock a shaky bike on the rack. The sturdiness of the lock is incredible, and that's why you cannot cut or break it easily. 
Even if you use heavy-duty tools to cut the lock, you will require enough time. However, if you have its key or remember its lock combination, you can open and lock it painlessly. 
Bike Lock Cable
A bicycle lock cable is another tool that you can use to fasten your bike on the bike rack. A bike lock cable works similarly to the U-lock.
However, the difference lies in the bike lock cable being cuttable while the U-lock offers greater safety and protection. Therefore, the locking cable is not theft-proof; you can use it only to secure your bike on the rack.
Wheel Straps or Stabilizers Straps
The cheapest way of securing your bike is to use wheel straps. You can use stabilizer straps while mounting your bike on the rack. 
When using wheel straps, you need to tie down your bike's wheels on the rack to lock them. Straps made of different materials are available to bicycle enthusiasts, which you can buy in online stores.
Conclusion – How to Mount Women's Bike on Bike Rack?
If you're a woman with a bike or in the market for a women's bicycle, the issue of how to mount it on your car or bike rack will sooner or later come up. If you are stuck and looking for help mounting a women's bike, use our guide to answer all your issues with mounting a female bike on the rack.
By following some amazing and handy tips, you can mount your women's bike on the rack within minutes. Also, do not forget to use any of the bikes securing accessories to ensure your bike is completely theft-proof.