Can You Paint a Plastic Bathtub? All You Need to Know!
**Articles may contain links that I earn compensation for if clicked and you make a purchase. As an Amazon Associate, I earn from qualifying purchases. These earnings do not actually impact the price of the product or service.
Bathtubs are usually made of durable plastic to ensure they last a long time. However, no matter how good the material is, it will wear out with time. Due to discoloration and scuff marks, even the most refined quality showers and bathtubs start looking dirty, which ruins the entire appearance of washrooms. 
Most people feel pressured to replace their bathtubs when this happens, but this process can be costly and cost significant time and effort.
If you are aware of panting plastic tubs and showers, this can be a life saver. Painting can save both your money and your plastic bathtub. This way, you will also be able to uplift the bathroom's appearance and give it a completely new look. 
You might wonder, "Can you paint a plastic bathtub?" Well, yes, you can. Here's how.
Step 1: Getting What You'll Need to Paint a Plastic Bathtub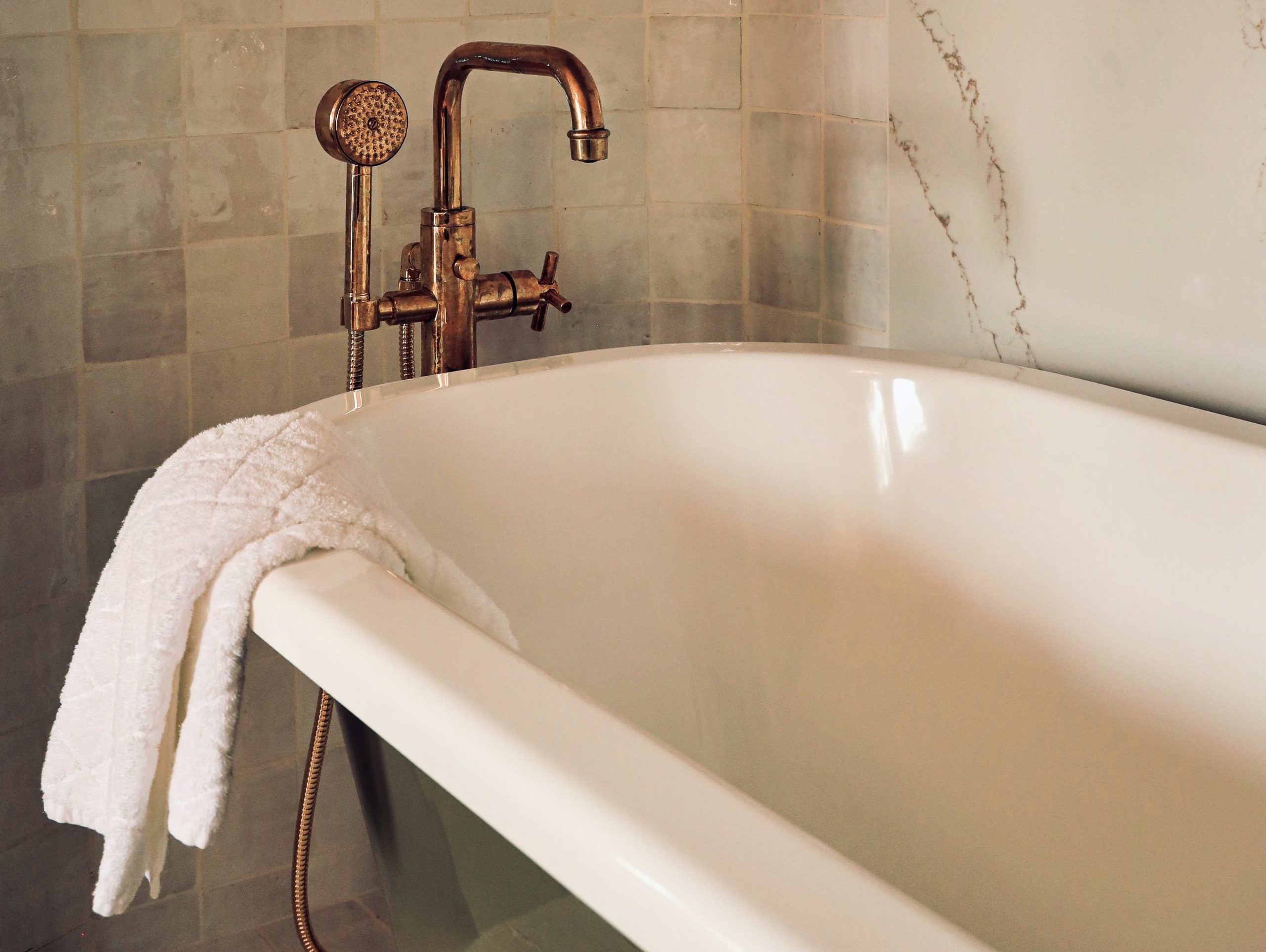 According to experts in the bath business, acrylic enamel is the best material to be used for this purpose. You can get your hands on acrylic paint in paint plastic tubs or a plastic spray bottle. 
A small roller makes the job easier for you if you use a plastic paint tray instead of plastic spray bottles. In addition to the color, a suitable bonding agent that works as a primer is also something you will need.
A primer helps to smooth out the surface of the plastic bathtub, thus allowing the paint to go on the plastic bathtub more easily. A good primer also provides your color with the necessary adherence needed to make it last for a more extended period.
Another thing that you will need during the whole process of refinishing plastic tubs is the proper safety gear. Before attempting to paint the plastic bathtub, wear a face mask and a pair of gloves as part of the bathtub refinishing kit. These precautions ensure that the paint doesn't harm your skin and respiratory system.
Covering your floor with a sheet or cloth will also help prevent the floor from getting dirty. Also, don't forget to cover all the taps and plug holes with masking tape to keep them away from paint spills. Ensure that you have your bathtub refinishing kit ready.
Step 2: Prepping Your Plastic Tubs or Showers for Paint
The first step in painting plastic tubs is thoroughly cleaning them to eliminate any dirt and dust particles. Using the usual bathroom cleaner or soap scum and sponge can do the job. 
After the cleaning, sand the entire tub with good-quality sandpaper. This will provide your acrylic enamel with a surface to grip on.
Dry the plastic tub as much as possible after cleaning with soap scum, as any moisture left on the bathtub can affect the painting process of the plastic surface. Covering the edges and metal parts of the tub with tape is also something to do before heading towards the painting process.

Step 3: Paint the Tub
Now comes the moment you've been excited for ever since the beginning of this process! It's finally time to paint the tub. 
Remember the paint roller we mentioned earlier? Start dipping that paint roller in your paint tub and spread the acrylic paint all over your plastic bathtubs. 
Ensure that the color is distributed evenly all across the shower. Let the first coat dry before going for the second coat.
Step 4: Seal the Paint on Plastic Bathtubs
You're done with the hard part, and only the fun part remains. It's time to seal the finish and give the bathtub a finished look. 
Once you are sure that the paint is completely dry and there are little to no chances of its spoilage, apply the sealant. Let the adhesive dry, and you have a bathtub that looks like new.
Is Quality of Paint Important?
When it comes to painting plastic bathtubs, the quality of paint plays a crucial role. It is not a quick process to paint a plastic tub. 
It also requires a lot of work, from cleaning the bathtub to tapping different parts of the bathtub and the bathroom to applying a primer. So you need to be extremely careful in choosing the paint.
Most experts recommend using enamel paints as they dry up quickly and are long-lasting. Enamels are also known to prevent surfaces from developing rust and can be easily cleaned off with water. All these make enamels a good choice.
How to Resurface a Plastic Bathtub?
There are multiple methods to adopt for resurfacing a plastic bathtub. Here is one of the simplest methods as an example for you:

First, wash the bathtub properly with soap and water. Scrape off any dust or caulk particles around the bottom of the tub.

Sand down any ridges on its surface using sandpaper. During the entire process, be careful not to damage the surface of the shower tub.

Clean away any dust from the tub surface using a damp cloth and let the surface dry for at least 24 hours.

Use an epoxy resin or primer as a bonding agent over the entire surface of the plastic tub. This will provide you with the plain ground to paint on.

Use a roller brush or paint pad to apply the primer properly over the tub.

Follow the manufacturer's instructions on the paint to save yourself from any mishaps in the future.
FAQs
1. How long does it take to paint a plastic bathtub?
The entire process of painting a plastic bathtub takes around 1 to 2 days. This also includes 4 hours needed for removing the previous paint. The more time you spend cleaning your bathtub's surface, the more long-lasting the paint will be.
2. How to tell if a bathtub is fiberglass or acrylic?
Look around its edges to determine if your bathtub is fiberglass or acrylic. If the edges of the plastic surfaces appear thinner, this could indicate that your bathtub is acrylic. 
As far as acrylic tubs are concerned, they are available in more colors than porcelain and fiberglass bathtubs. Also, acrylic tubs are warmer to touch compared to fiberglass and have a smoother finish.
3. Is it possible to whiten a yellowed bathtub?
To whiten a yellowed bathtub, coat its surface with cream peroxide and wrap the tub. While applying the coat, ensure that the cream doesn't touch your skin or eyes, as this can cause burns.
4. Is it okay to use bleach on the acrylic tub?
Cleaning the acrylic tubs with simple household cleaning items is always a better idea. You can either use hydrogen peroxide, dish soap, cream of tartar, or borax for cleaning the bathtub. Do not mix any vinegar or bleach cleaners with the tub cleaners, as this can create toxic fumes.
Conclusion
If you've made it this far, you should be aware of all that goes into painting a plastic bathtub. Now it is time for you to enjoy a clean and beautiful bathroom. 
All you need to do now is keep the do's and don'ts of painting a tub in mind; the rest will fail at its place. 
Painting the tub is an incredible thing to do on your own, especially if you are into arts and crafts. You have a brand new bathtub at your service with a bit of scrubbing, sanding, painting, and sealing.