How to Design and Construct Doorless Shower
**Articles may contain links that I earn compensation for if clicked and you make a purchase. As an Amazon Associate, I earn from qualifying purchases. These earnings do not actually impact the price of the product or service.
Doorless Showers – the idea of a shower without doors may seem strange to you, but it is an excellent option for those who want to create a spa-like feel in their bathroom.
A doorless shower is not only beautiful and appealing due to its open space, but it also provides more light than most showers would because no walls are blocking natural light from entering your room.
It's also easier to clean and maintain as water spills won't be absorbed by carpet on the floor or tiles, making them moldy over time.
However, there are some considerations when deciding whether to install this type of bathroom in your home, such as the design and construction methods discussed below.
Information About Doorless Shower
The doorless shower is a unique bathroom with no doors or door frames. It's also called a wet room, open-plan bath, and glass shower enclosure.
Doorless showers are becoming more popular in residential homes because they offer an aesthetically pleasing look while maintaining functionality with easy cleaning. Furthermore, it saves space by eliminating a separate dressing area after bathing.
Finally, you will never have any privacy problems as nothing at all obstructs your view of someone inside the shower. Since this type of design isn't typically found in homes, it's no wonder that many homeowners choose to add a doorless shower to their bathroom.
Steps On How to Design and Construct Doorless Shower
1. Calculate the Area Needed For a Doorless shower
The spray radius of the showerhead should be taken into account when choosing a doorless walk-in shower. For an entirely open shower, aim for 6 to 7 feet on all sides of the showerhead.
If you don't have walls, doors, or curbing to contain the water, the best method to prevent shower splashes from soaking your whole floor or other fixtures is through open space. If your shower room is limited, a curb, half-wall, or transparent partition wall provides the convenience of a doorless shower while keeping water within its limits.
2. Choose the Space
Once you've decided to add a doorless shower, the next step is to choose where it will be located in your bathroom.
There are two decisions to make when selecting a location for your doorless shower. The first is that you'll need plenty of areas since there's no door to contain the shower splash.
The second major concern is aesthetics. Many homeowners like to have their showers near a window to enjoy natural light. If seclusion is a worry, textured glass could be used in your window. On the other hand, consider putting your doorless shower beneath a skylight or adding one as part of the target location.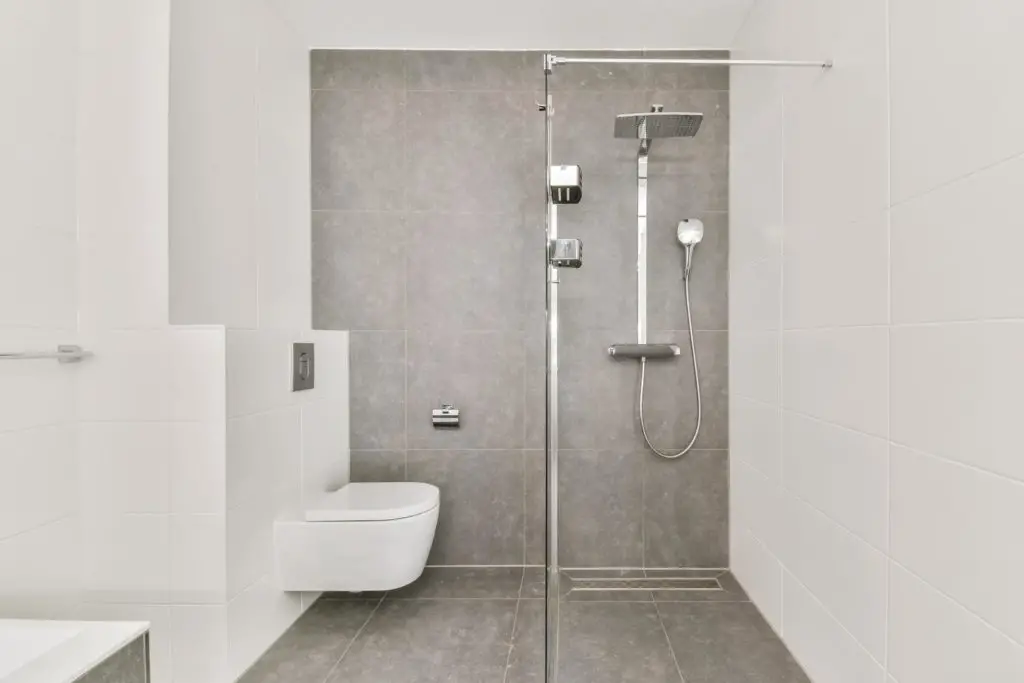 3. Design the Floor
The design of your doorless shower's floor is a crucial component of how it functions. Traditional showers have a standard construction, but this type of water flow is restricted by the lack of a door to block it. A low-lying shower pan with a raised threshold is one option for containing the flow.
4. Surround the Shower
You also want your doorless shower to look great with the rest of the bathroom. As a result, let your bathroom's décor influence your selection of surroundings for the shower.
Heavy-duty glass is a popular choice for surrounds, as it provides a smooth transition between the shower and the rest of the bathroom. Consider investing in high-definition glass instead, with no green undertone like regular shower glass. Textured or frosted glass can provide seclusion.
5. Finish the Shower Stall
The most frequent shower surround is transparent glass walls. So, if you're thinking about a glass wall, you'll want to check out the rest of your shower surround as well. In general, homeowners continue the same tile installation into the shower as they do in the rest of the bathroom. However, you may distinguish your shower with distinct tile patterns.
You can also try to contrast the floor tile work together. For example, you might utilize red tiles instead of the rest of the bathroom's cool colors.
Shower walls with glass tiles are always a good choice. Even when dry, they glisten and bring brightness to your bathroom restroom.
Doorless Shower Styling Tips
1. Simple & Significant
Add a shower skylight – A skylight will provide natural sunlight and ventilation with lighting effect to your doorless shower with no need for bigger windows.
Use lighting effects effectively – Lighting can turn your plain shower stall into an atmospheric room attractive in its character, mainly when you cannot paint the partitions with dark colors.
2. The Bathroom Design
Start by measuring the area of your chosen shower location and plan out the design and style you want. It is easier to create a functional bathroom shower space when you plan where everything will go.
3. The Bathroom Structure
Ensure that any structural changes you require are done before tile work or permanent fixtures. Framing a doorless shower stall in a location without a shower door or windows can be difficult, so it is important to have the appropriate structure in place before you proceed with the installation.
4. The Bathroom Flooring
Now that you have your plan know what materials you want to use and have installed any required structures. You can proceed with installing your bathroom flooring. This should be done before tiling since many tiles require that the subfloor be installed first.
5. Choose Materials For The Doorless Shower Stall
At this point, you will have decided on your bathtub or shower stall, the location, and any structures needed to support it. You can choose your materials for the permanent fixtures of your doorless shower stall. These are typically made out of ceramic or natural stone. You can choose from various finishes available in products appropriate for your location.
To choose the right material for you, it is helpful to consider how often the shower will be used, what kind of environment it will be used in, and what design or color scheme you have chosen. You can then focus on choosing a style that best suits your needs.
Benefits Of Having Doorless Shower
Multi-Functional Bath
A doorless shower creates a more spacious feel to your bathroom. They allow you to maximize the little space in the room, creating the illusion of an even bigger bathroom. And because of no doors involved, they require less effort for cleaning and maintenance.
Less Worry About Water Spilling Out From the Shower Area
With doorless showers, there are no swinging doors that can potentially let water spill out.
Unlock The Feeling Of Spacious Aroma
If you wish to enjoy the spa atmosphere in your bathroom, then having a doorless shower adds up. Doorless walk-in showers are particularly favored by those who love bathtubs for their multi-functional usage function. With no doors involved, it makes you feel like you are inside the tub instead of merely taking a quick shower.
Cons Of Doorless Shower
Limited Privacy
If you are the type of person who loves privacy, don't go for a doorless shower. The lack of doors means less room for personal space and less opportunity to have private moments by yourself.
It Doesn't Stop All Water From Splashing Into the Bathroom Area
Because there are no doors, water can still splash out of the shower area. This will require extra effort when it comes to cleaning the bathroom flooring. However, this problem can be solved by using a built-in tub or shower curtain close behind you.
Add More Moisture to Your Bathroom Walls
When you take a shower in your doorless shower stall, the humidity from the water will make the bathroom walls moist. The added moisture can cause plaster to crack and paint to peel off sooner. If this is an issue for you, it is best not to choose this type of structure.
Conclusion
With all details and information provided, you can now decide whether or not to take the plunge and get your very own doorless shower. By knowing both the pros and cons of having one, you will enjoy an array of benefits that this kind of bathroom structure offers.
With no doors, it makes cleaning more accessible while maintaining a spacious bathroom. You will be able to maximize what little space you have, create the illusion of enough space, and enjoy being in your very own spa-like atmosphere.