How to Decorate a Bathroom That Has Pink Tile
**Articles may contain links that I earn compensation for if clicked and you make a purchase. As an Amazon Associate, I earn from qualifying purchases. These earnings do not actually impact the price of the product or service.
When you are redecorating at home, you might want to create a new look that goes with your lovely pink bathroom tile. Doing this could more or less mean creating a pink bathroom. Thankfully, there are many ways to decorate pink bathrooms that do not require expensive methods, such as removing the floor tile.
To offer a bit of context, pink bathrooms were all the rage in the 1940s and 1950s. So much so that a house with a pink bathroom is now considered a vintage bathroom. 
Interestingly, despite the early origins of this decor style, pink bathrooms still exist with some people actively redecorating their bathrooms to add the ink aesthetic and achieve a more vintage look. The creator of Save the Pink Bathroom, Pam Kueber, said that pink tiles and wallpaper are easy to decorate and accessorize, giving an aesthetic visual sense.
A pink bathroom does not simply mean a bathroom with a pink colored tile system. Instead, the pink theme goes everywhere from the bathroom door to the sink and practically any other parts of the room. 
There are many ways you can redecorate it, so you keep the classic color pink and spruce it up at the same time. Many bathrooms adopt the vintage look with pink tile and are decorated to preserve that vintage feel.
This article will help you get some inspiration for redecorating your pink-tile bathroom, whether it is a solo project or you work on it with your family.
What Colors Work Well With Pink Bathroom Tiles?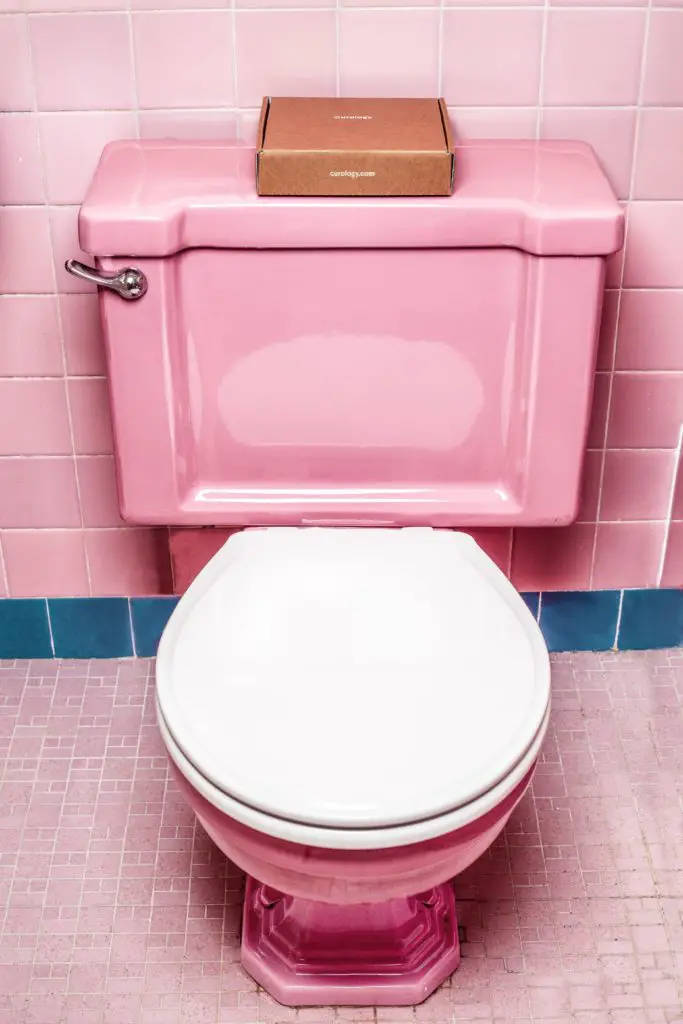 Many colors work well with pink tiles. They are best paired with neutral shades such as white, beige, and gray. 
On the other hand, you can choose bright colors instead to make it look more lively, vibrant, retro, and fun. Several paler colors work well, too, such as yellow, mint, and teal.
You can take these color schemes and mix them up if you feel creative. Neutrals are perfect for places with ample space and bathroom surfaces, such as the walls and cabinets. 
The brighter colors are suitable for accessorizing your bathroom and taking the edge off the pink tiles. You can buy colored towels instead of white towels. Or buy colored soap dishes, shower curtains, and more.
It's important to note which shade of color pink has been used in your bathroom because that will affect your choice of other colors for decorating. If the tiles are bright pink, they are best paired with navy blue and white. But these tones might not look good if the tiles are light pink. 
There are variations in each color you choose for your bathroom, so there are plenty of selecting options. You can opt for gray undertones if it is a dusty blush.
If you have a tiny space or a small bathroom with a pink floor, you can still decorate it and give it a good look. The trick for redecorating a small space is to be careful what you place in the room and what colors you paint the walls. You don't want it to look cluttered.
Pink Bathrooms Décor Motifs
The average house interior designer would likely suggest adding motifs to your pink tiled bathroom space to give it a good look. White, neutrals and blue shades may remind you of the beach, but they also work great with pink tile. If you want to embrace the beach-themed concept, you can even add shells in your decoration and light aqua colors.
You can unleash your creativity and transform your pink bathroom into a vintage space. Add yellow, turquoise, and mint green colors to give it a retro look. 
Conversely, you can use a pink bathroom and make it look modern. Paint the wall white, and add minimalist decor, using vibrant colors only where necessary.
You can add fun wallpaper, pink wallpaper, textured wallpaper, floral wallpaper, or any printed wallpaper on the walls. Or you can add patterns yourself, such as polka dots and stripes. 
Contrasting stripes in neutral tones pair nicely with pink. For example, alternating colors of gray and white is an experiment that has worked well for some home decor enthusiasts. 
You can add unique decorative mirrors on the bathroom walls also. When it comes to adding decor motifs, the sky – and your creativity – is the limit.

Pink Bathroom Accessories
Pink tile in a bathroom becomes the center stage, and many people like decorating it by accessorizing it. Buying an all-pink bathroom set may not look aesthetically pleasing. Instead, you can complement the pink color of the tile with neutral colors.
An exciting way of decorating your bathroom is by getting natural inspiration and adding small live plants. Add small, wooden shelves for placing the plants, which will complete the nature-inspired look. Choose plants that do not need constant sunlight, such as succulents.
White and gray tones complement the color pink and are great for accessorizing your bathroom space. You can also add a rug in this shade if you have a more oversized bathroom. Ensure that this rug is a fair distance from any water source in your bathroom. 
These colors work great even if you painted the wall or ceiling in neutral colors like brown. Add items like soap dishes, cabinets, a tub, shower curtain, etc., to make the space more pleasing.
Be mindful when adding a rug on top of a pink tiled bathroom. Its edges will be adjacent to the pink tiles throughout the length of the wall. So the color of the rug is essential. 
It should not clash with the pink color itself. Interior designers recommend that rugs in a neutral tone are better if the floor tiles have a vibrant color. You don't need a rug with many designs since the floor is already brightly colored.
How to Compliment a Pink Bathroom Tile?
Many experts think that pink tile is very retro and gives a vintage feel that never goes out of fashion. There are plenty of ways to decorate such a bathroom that will last for many years. Some tips are mentioned below:
1. Use Contrasting Colors
The best way to play up a bathroom with pink tile is to use contrasting colors that complement the pink. You can add black colors to create a bold contrast of black and pink. Or you can use white similarly to give it a more modern touch. 
You can consult with a design expert if you are unsure and take their suggestion on which color pairs well with your bathroom.
2. Painted Walls
Adding various colors to your bathroom will work well with pink. You can start by painting a vibrant wall to give the retro bathroom a fun look, or you can even paint the door a bright coat of color. 
Add wallpaper, plants, and the rest of the decorative items to complete the look. Some people match the color of their bathroom wall paint with their tub. 
Gray works well with a dusty blush color. A lifestyle blog, "Apartment Therapy," shared that tones of aqua also go well with pink.
3. Add Burgundy or Maroon
Another retro combo is pairing pink with maroon or burgundy. It is one of the top combos that gives a unique vintage feel to the bathroom as the colors go well with each other. Peachy pink tiles go well with marble and brass.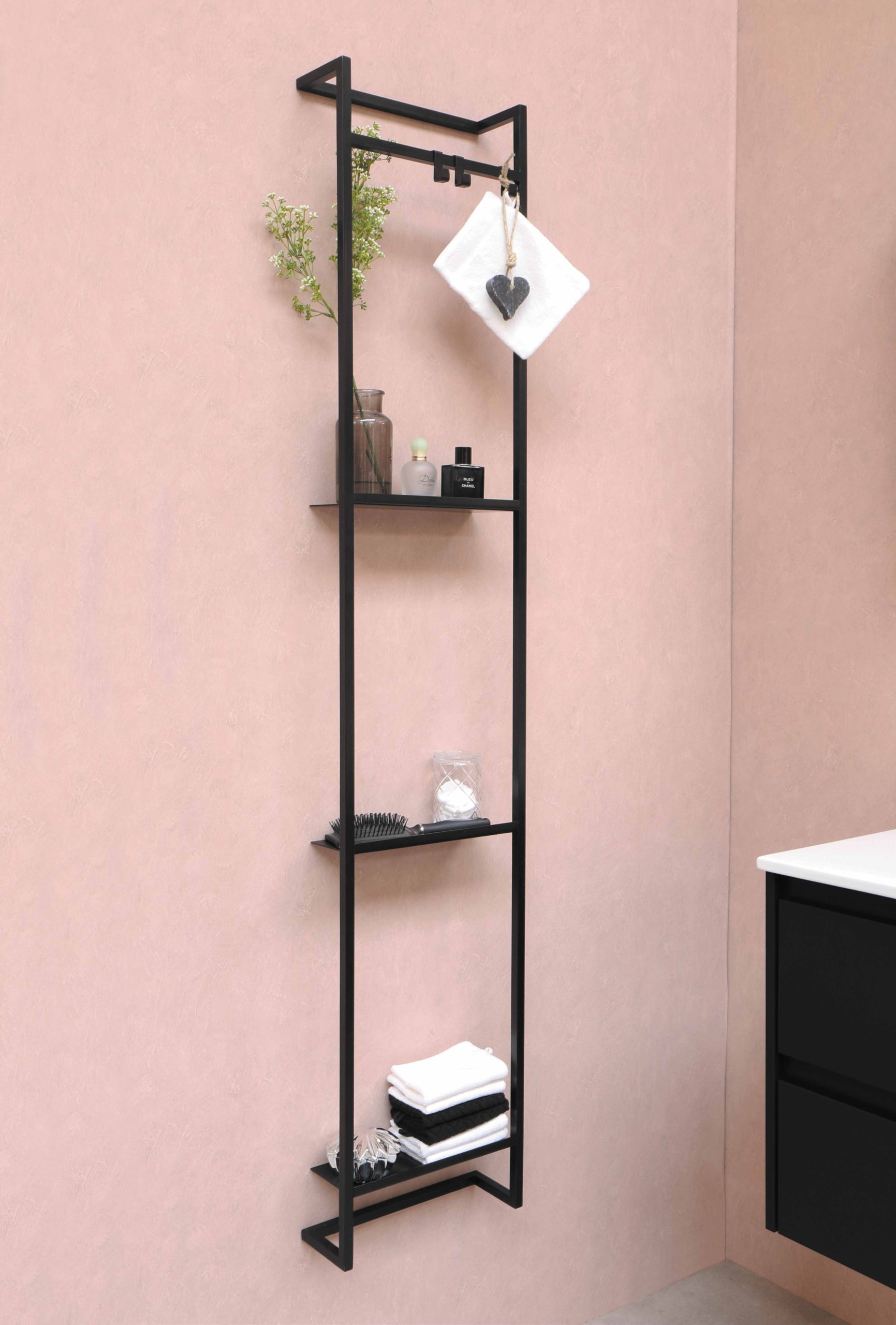 4. Add Attractive Features
If you don't want to play around with colors, you can add architectural features that will instantly change the look of your bathroom. Glass shower screens, texture walls, marble sinks, new shower heads, designed faucets, among others, all add to the appeal of your bathroom.
5. Geometric Patterns
When used correctly, geometric patterns or motifs add a certain elegance to the bathroom. You can add them in any color that goes with pink, so your pink tiled bathroom looks classic.
Add a beautiful wallpaper with geometric patterns such as polka dots or stripes. You can also add a plain white shower curtain and other items. You will see how your pink bathroom is instantly transformed from a retro look into a completely new look, uniquely designed by you.
6. Add Some Warmth
There are many tones of pink that are so light that they are close to white. These are not bright pinks that instantly catch your eye. They are softer shades that are lovely and allow you to transform the room more subtly. 
You don't need to add lots of vibrant colors to complement it. For example, you can add warm white trimmings to add a hint of warmth to your room.
7. Add Floral Prints
Floral wallpapers add texture to your bathrooms. Solid colors are one way of decorating a pink bathroom, but floral wallpapers complement the pink tile wonderfully. Even pink wallpaper with beautiful patterns works with a bathroom with pink tile.
Conclusion
Pink bathroom tiles are vintage, dating back to the 1950s. There are plenty of ways to decorate such a bathroom with pink tiles. 
First, you need to see which tone of pink you have so it is easier to choose other decorations that pair with it. 
Earthier shades of pink work great with the classic combination of black accents. Light-colored tiles give you a cleaner look, so you can use subtle colors to decorate the room. Or you can use a bright color accentuating the pink tiles in your bathroom, such as adding a colorful shower curtain. 
Redecorating is a fun project you can work on on your own or get help from family members.