Predator 2000 Inverter Generator Review
**Articles may contain links that I earn compensation for if clicked and you make a purchase. As an Amazon Associate, I earn from qualifying purchases. These earnings do not actually impact the price of the product or service.
Inverter generators offer several advantages over the conventional open-frame generators. Besides, these generators are quieter, safer, and more compact for enhanced portability and can also be used together with an additional generator unit to double the power output. If you are a camping lover, you definitely know the importance of a portable generator at a camping site. The Predator 2000W Inverter Generator is designed with advanced inverter technology, making it one of the most popular compact design generators in the market. 
It is also a very quiet generator and produces an excellent wave power curve that makes it safe to use even with sensitive electronics. Moreover, the Predator generator features an efficient design that allows it to provide more power with relatively lower fuel consumption. With the lightweight design, the Predator 2000 can come in handy in multiple scenarios, including recharging flashlights and cell phone batteries. 
Here is an outline of what we'll cover in this Predator 2000W Inverter Generator review: 
First, we'll highlight the key features and benefits of this Predator generator model 

Next, we'll share the drawbacks that you might need to know about this generator

Then, we'll take a look at the Predator company

In conclusion, we'll offer samples of independent and actual customer reviews to give you an unbiased perception of the Predator 2000 product. 
Let's get started!
Prices pulled from the Amazon Product Advertising API on:
Product prices and availability are accurate as of the date/time indicated and are subject to change. Any price and availability information displayed on [relevant Amazon Site(s), as applicable] at the time of purchase will apply to the purchase of this product.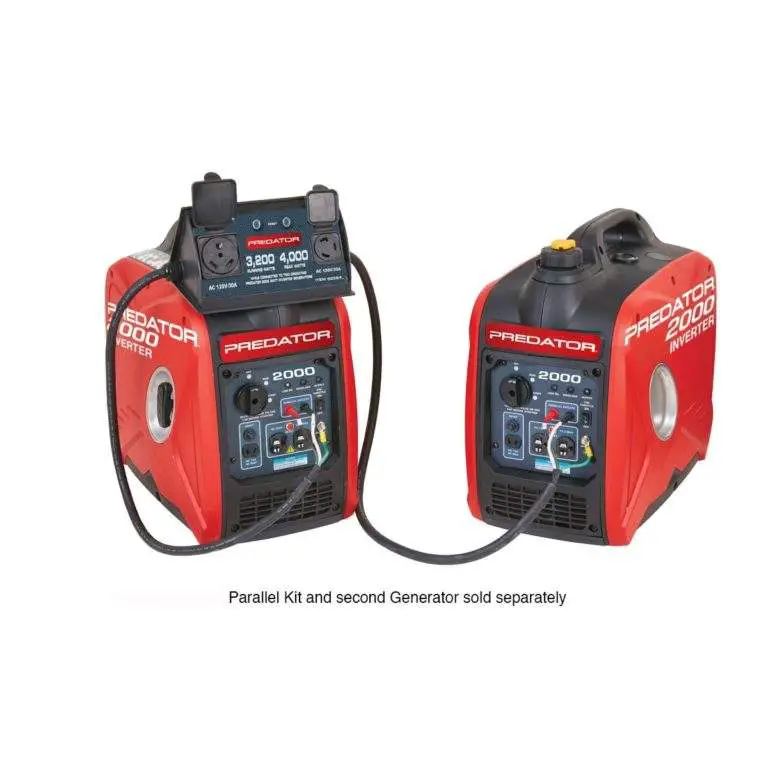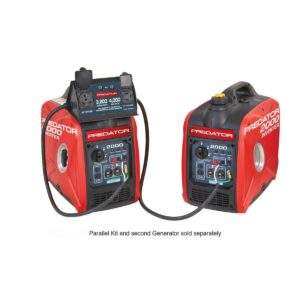 Features and Benefits of Predator 2000W Inverter Generator
Lightweight and compact portable design

Fully enclosed high-impact housing

Advanced inverter technology for stable wattage

Recoil start and low oil indicator

Great energy and fuel efficiency

6 hours run-time at 50% capacity

Electronic Overload protection

Excellent power with lower fuel consumption

Allows you to double your power with parallel capability by adding a second 2000W generator unit with RV ready Predator kit for up to 4,000 watts power 

79.7cc air-cooled OHV gas engine

Super quiet engine producing just 65 dB

1600 running watts, 2000 startup watts

Great specs with a low maintenance requirement

One DC-12V two-pin Outlets and two 120VAC grounded outlets

Weight 47 pounds

Compact dimensions 22.6 x 12.61 x 18.5 inches
Special Features (Pros) of Predator 2000W Inverter Generator
Built-in parallel hookups. Nothing is more frustrating than taking your portable generator to the site and then realize that the machine can't provide enough electricity to power all the tools, and there is nothing you can do about it. The Predator generator comes with a built-in parallel hook that allows you to use its parallel capability to double your power by adding a second generator unit.
Advanced inverter technology. The technology makes the generator fuel-efficient and ideal for sensitive electronics as it helps reduce power surges that can lead to damage. Consequently, the Predator 2000 generator can power various appliances and electronics, including electronic keyboards, computers, televisions, refrigerators, and DJ booths by providing stable wattage. It also offers electronic overload protection, which prevents any losses during runtime. 
Super quiet and clean energy. The Predator 2000 model is super quiet and also produces good clean energy. Its decibel output is about 56 decibels, which means that it is one of the market's quietest machines that run with very little noise. This makes it a perfect machine to power sensitive appliances and tools like computers and televisions. 
Lightweight and compact design. With the portable design, the generator model unit is suitable for outdoor activities like camping and powering tools in construction sites. 
Drawbacks (Cons) for Predator 2000W Inverter Generator 
The fuel gauge is not integrated. The Predator 2000 model does not come with a fuel gauge to monitor fuel consumption. A fuel gauge comes in handy when planning your tasks and your activities at a camping site. 
Lack of repair parts. Harbor Freight has not availed many of the replacement parts for this generator in the market. This makes it hard for customers to find genuine parts like the recoil starter. 
Not able to use 120VAC outlets while using a 12VDC outlet. The other drawback of the Predator 2000 generator is that you can use any of the 120VAC outlets while using the 12VDC outlet. 
90-Days Warranty. The company offers a warranty of up to 90 days, which is a shorter duration than generators that come with a 3-year warranty like Honda.
Poor set up. The Predator 2000 generator features a relatively poor set-up that makes it hard for you to add oil without taking it apart. Besides, it will also require you to use a gas supplement. 
About the Harbor Freight Company 
Harbor Freight is a reputable company with over 40 years of great history in manufacturing power tools. The company started in 1977 as a family-owned business with the aim of providing excellent quality tools for working people at affordable prices. The Predator 2000 generator is one of the popular tools in the company's Predator generator series. Apart from the Predator generators, the company also specializes in hand tools, automotive tools, shop equipment, and other power tools. Harbor Freight provides over 7,000 accessories and tools at premium quality levels that make them stand out from their competition, but at considerably lower prices. The company is still family-owned, which means that the name brand carries the same weight as when it ventured into the market. It also owns state-of-the-art labs, which they use to put their products through punishing tests that ensure their tools meet professional standards. 
Predator 2000W Generator Reviews
It is important to look at the features and the benefits, but it is also advisable to consider the reviews from actual customers to get a real insight into the product's performance and functionality. Here we've researched and prepared a list of curated reviews on the Predator 2000 Generator that provide feedback from product users and reviewers from Amazon and other independent review sites. 
Independent Reviews and Recommendations for Predator 2000W Generator
Image
Title
Price
Prime
Buy

Top

Top

WEN 56200i 2000-Watt Gas Powered Portable Inverter Generator, CARB Compliant

Prime

Eligible

Check Current Price

Top

Top

PowerSmart PS5020Super Quiet 2000 watt Portable Inverter Generator,Fuel Shut Off, CARB Compliant Red/Black

Prime

Check Current Price

Top

Top

Westinghouse iGen2200 Portable Inverter Generator 1800 Rated & 2200 Peak Watts, Gas Powered, CARB Compliant

Prime

Eligible

Check Current Price

Top

Top

Champion Power Equipment 100692 2000-Watt Ultralight Portable Inverter Generator

Prime

Eligible

Check Current Price

Top

Top

Generac 7117 Gp2200I W 50St Inverter, Orange

Prime

Eligible

Check Current Price
Prices pulled from the Amazon Product Advertising API on:
Be Up Review
According to Be Up electric generators review website, the Predator 2000 generator is a lightweight, compact, and portable generator unit that is suitable for multi-use needs, including powering sensitive electronics. The website's review states that the Predator generator features an advanced inverter technology that makes them fuel-efficient and produces clean power with reduced electricity flow surges. Additionally, the review mentions that the machine comes with great safety precautions that include a spark-arrestor to offer protection against accidental fires and a built-in grounding peg. It also notes that the Predator generator comes with "overload protection and low oil indicator" to protect the engine from damage during runtime. Read more
Small Need Review
This review website refers to the Predator 2000 generator as "the most popular portable generators in the market." Small Need mentions that the Predator generator is ideal for outdoor adventures as it offers solutions to charging rechargeable flashlights and cell phone batteries. The site also notes that the Predator 2000 watt generator inherited premium traits from its predecessor like high durability, but revolutionized the line as it came with additional features like "convenient portability and energy efficiency." It is also notable that the generator unit is easy to carry around, operates, and provides the right amount of power to meet RV trips and short camping needs. However, the site discourages choosing this generator by Predator if you intend to stay on camping or RV trips for extended periods as it features a limited power generation capacity and wattage. Read more
What Amazon Customers Have to Say About the Predator 2000W Generator
With relatively few reviews on Amazon, the Predator generator has received good reviews from customers who highly recommend this Predator model. 
One of the verified product users mentions that he purchased the Predator 2000 generator for his small travel trailer, and he has "nothing bad to say about it." He also notes that the machine starts easily and is also surprised by how quiet the generator is. This reviewer also mentions that the Predator 2000 generator is able to run all night when put on the economy mode, which enables him to move around when necessary. 
Another reviewer refers to the machine as a "great generator at a great price." He also notes that this Predator model is quiet and easy on startup. This reviewer also mentions the off switch/ valve as the area that he fills needs improvement to ensure that the generator is easy to operate. According to this reviewer, the off switch kills the ignition by shutting off the fuel when you move it to the stop position. He notes that the generator would have been better if it featured a design with a separate fuel shut off to allow you to run it out of gas for storage. This reviewer adds that he starts this machine every month even if he doesn't want to use it, and so far, it has been a great portable generator. 
A different Amazon reviewer confesses to having used this Predator generator for two years, and it works very well. The reviewer mentions that he is a technician that requires the generator for his chargers and drills and that he has already enjoyed about 200 hours on the machine, and it runs well. However, the reviewer notes that it requires 15 to 30 cracks before startup on cold days since he is in Michigan. Lastly, he adds that he changes oil every "25 to 50 hours," which is more often than recommended by Predator, but this depends on the load that he has put on it. 
Buy Now
Bottom Line
If you are looking for a lightweight, compact, energy-efficient, and powerful generator that produces good, clean energy and wattage and offers reduced surges in electric flows, then Predator 2000 is a great option. The Predator 2000W Generator provides a convenient and affordable way to power electric tools during camping, RV trips, and also sensitive electronics in our homes. It also comes with great safety features that include a spark-arrestor to reduce the risks of accidental fires and a built-in grounding peg. 
Moreover, the Predator 2000 generator also includes overload protection that shuts it down to prevent damage and a low oil indicator to allow you to monitor the levels for timely refilling. The generator unit also comes from a renowned brand, Predator, which has a great history of making electric tools. Many reviewers from different places recommend this unit for various uses, and from the features, it is now clear why they do it. Predator 2000W portable inverter generator may not be the most powerful tool in the brand's series of generators, but it is a great investment that is worth your consideration if you are looking for a good product at a competitive price.