Honda EU2000i Portable Generator Review : Why You Should Consider EU2200i
**Articles may contain links that I earn compensation for if clicked and you make a purchase. As an Amazon Associate, I earn from qualifying purchases. These earnings do not actually impact the price of the product or service.
Honda Motor Corporation has always maintained a worldwide dominance in the manufacturing and production of power generators.
It begs the question of whether its recent flagship, the Honda EU2000i lives to that expectation.
Since your ultimate aim for purchasing a new generator is quality and performance.
The Honda EU2000i might be a good fit thanks to its unquestionable reliability and great design. Let's look at its features in detail:
Why Did the Company Switch to EU2200i
The generator allows you to perform lots of tasks-from camping expedition to field trips. In other words, this is a machine you can count on to power most of your gadgets both at home and during camping.
What's more, the generator guarantees you excellent performance thanks to its unique engine, GXI  98.9 5cc.
At its peak, you can expect this generator to throw out 2,000 watts while super quiet and fuel-efficient.
Speaking of silence operation, the inverter generator engine is whisper producing 57dBa when high and 48 dBa when low.
That means the generator is super quiet compared to other portable inverter generators in its category.
But the big question is: Why did they decide to change to EU2200i since EU2000i had consistent sales and was excellent for customers.
The short answer:
Well, the company didn't want customers to rely on one product when they could exceed their expectations and come up with a new generator. And that's how the Honda EU2200i came into the market.
Check Price On Amazon
3 Things (And More) That Make New Honda EU2200i Better than Honda EU2000i
Let's start with the engine.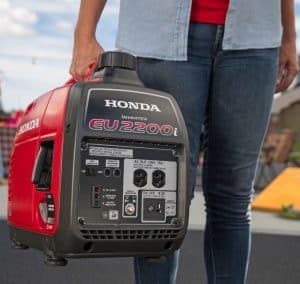 Its engine can run for 3.2 hours to 8.1 hours, depending on the load while on a single tank. If you are wondering why it lasts this long, it's because it has the coil.
The purpose of the coil is to rebuff damage to the body. Second, there's improved ventilation space.
Proper ventilation promotes cooling and reduces overheating. The generator is power-packed and comes at a low cost.
And because of that, you have 10% more power to operate all your large appliances that are power-hungry. That said, you can only rely on EU 2200i to produce any power you need for any operation.
With its 121 cc capacity in GXR 120 package, this is the best portable inverter generator for you. Speaking of portability, you have to understand that the engine is feather-light.
That means you can move with the generator from one place to another.
One great feature it has is the invaluable fuel option. What this means is, the engine can run until most of the fuel is low before it goes off.
In other words, this is a generator that will not make you experience stale fuel. And this makes it easy to store the generator after use.
How Much Power Does It Emit?
Something that we can agree is, the generator has a remarkable engine rated for 2000w. If you can operate on a quarter load, the portable generator can run non-stop for 9 hours.
What's more, it's reliable and flexible because it comes with a dual 2 AC and 1 DC outlet that you can use.
Admittedly, the fuel tank is smaller than other generators, but you can add on an extra tank to boost the fuel capacity.
Before you buy the Honda EU2200i, you need to know the total power wattage of the equipment you will use at home or during camping.
That way, you'll know if Honda EU2200i is worth it or you need a better option. That said, expect Honda EU2200i to light your home in the event of emergency and power lots of your household accessories.
Is it Easy to Maintain
The short answer is yes. Here's a brief explanation. Changing oil is hassle-free because the engine switches off when it senses low oil levels.
It's essential for this to happen because it eases friction and protects the engine. Second, the generator doesn't breakdown.
The only maintenance you'll do is to take care of the plugs, filters, and components.
The reason we say this is because most of those parts can be cleaned and replaced without the need to hire a mechanic.
Does it Have A Warranty?
You get a warranty when you purchase the EU2000i. Even from authorized dealers, the generator comes with a 3-year warranty.
The thing is, there's no manufacturer worth his salt will offer you a long-term guarantee if they were not selling a quality product.
That's why so many users have given this portable inverter generator a positive feedbacks on various online stores.
What Cover or Accessories Does the Generator Come With
We have bad news. Most of the cover and accessories that come with this generator are sold separately. For instance, you can order the generator and its water-resistant, custom-fitted cover.
The covers are in different colors, and your choice will depend on you. Other accessories you can include in the purchase are DC charging cables and EU series-parallel.
Honda EU2000i Features
Weighs only less than 46 pounds, making it easier to carry from one place to another.
Powerful Honda GX100 fuel-efficient engine that has a four-stroke overhead valve
Stable and reliable power to work well with sensitive electronic devices
The generator lasts for 3.4 hours when you are operating it at full load. It comes with 2000w as starting watts and 1600 as running watts.
You will enjoy clean power thanks to its pure sine wave inverter features
Its oil protector automatically switches off when the oil level is low
The generator is EPA and CARB compliant: It meets the US and California regulation
What Challenges/Problems Will You Experience
There's no perfect generator, so Honda EU2000i is not an exception. These problems are there despite it being a durable generator. Here are two areas of concern we found on this generator:
Worn out seals- It is caused by the wear and tear of the fuel hose. The other issue is unexpected smoke emitting out of the engine.
If you want to deal with this, make sure you are using the right kind of fuel and oil. Most importantly, always double-check it.
Broken recoil and engine seizure- It comes from using the wrong kind of fuel types.
Conclusion: Why You Should Purchase Eu2200i
and it is a better choice than Eu2000i
The generator has excellent features that make it rival the competition in the market. A key feature worth mentioning is the Eco-throttle system.
It allows the engine to run at its best while meeting the demands of the current load. The generator's engine is at the right size for its superior fuel usage coupled with whisper-quiet operation.
Thanks to its inverter technology, the generator powers all the electrical gadgets, even the sensitive ones.
From this Honda Eu2000i review, it is clear that the upgraded version of it, Honda Eu2200i  is the perfect choice to meet all your domestic and general needs.