Top 5 Best Portable Generators: Buying Guide and Reviews
**Articles may contain links that I earn compensation for if clicked and you make a purchase. As an Amazon Associate, I earn from qualifying purchases. These earnings do not actually impact the price of the product or service.
Whether you are getting ready for an impending hurricane or wish to make your home comfortable in the event of a blackout.
One thing remains crystal clear:
You need the best portable generator to power all your devices and tools. But there's one problem:
Most people think it is easy picking a portable generator. They do read a couple of reviews online and decide to settle one.
What most fail to do is, running the math on the total wattage and then deciding what portable generator to buy.
That explains why most people have generators running beyond their expected wattage and wonder why the generator they bought didn't last.
So the right place for us to start is understanding and doing the math first before we even start looking for the portable generators to buy
Top Recommended Portable Generators
Image
Product
Highlighting Feature
Prime
Price

Top

Champion 4000-Watt
With 4000 and 3500 running watts, you will comfortably power large appliances

Prime

Eligible

Check Price
DuroStar DS4000S
Offer optimal performance at a decent price

Prime

Eligible

Check Price
Honda EU2200i
Comes with Eco throttle toggle to conserve fuel

Click to Edit

Check Price
Briggs & Stratton 30651
Works well with TV, smartphone, and gaming system

Prime

Check Price
Westinghouse iGen2200
Optimal performance for home use

Prime

Eligible

Check Price
Prices and images pulled from the Amazon Product Advertising API on:
How to Calculate What Size of Portable Generator I Need
Customers who buy a portable generator will tell you size is the biggest worry.
It's not something you can assume. We have customers who went for a small size only to find out it doesn't power some appliances at home or work.
Picture it this way:
If you have a refrigerator at home, you will need at least 800 watts for it to run. Since some fridge comes with a compressor, you may need surge watts, which is 1200 watts.
The one mistake customers make:
They forget to factor in surge operation in their calculation. Then they wonder why the generator is tripping.
That said, you need to do the math to determine the number of watts, your portable generator will need.
Before we get into the actual math, let understand the difference between running and surge watts.
A Breakdown of Running Watt Vs. Surge Watt
Here's the difference
All the electrical devices will need watts for smooth running. Some electrical devices will still NEED extra watts to start or cycle.
The watts or extra watts an electrical device will need to start running is the Surge watts. Likewise, the watts required for an electrical to operate is the running watts.
That explains why most portable generators come with running and surge watts. An excellent portable generator won't run above their expected running watts.
Specific power tools or electrical devices will need more power to function. And a portable generator may power the operation load but not the start-up load.
If you have a device or tool that has a motor in them, they have both running and surge watts. That means, if you are doing a calculation, you need factor both.
Calculating the Exact Size of A Portable Generator.
Create a list of all the appliances you are using at home, or you will use in case of power outages.
Determine the surge and running watts for each equipment. Here's a complete worksheet you can use.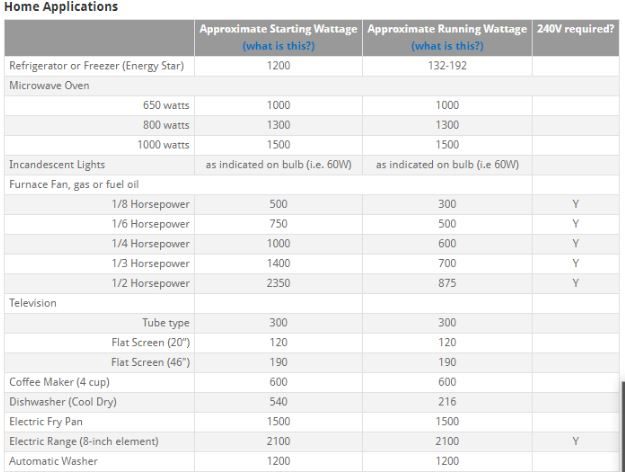 3. Add the total wattage and choose a portable generator based on the size.
Note: A surge is the amount of electricity an appliance needs to start running.
In other words:
The best portable generator you will depend on the number of watts and the kind of appliances you have. Let's look at a typical example at home:
| | |
| --- | --- |
| Appliances | Starting wattage/Running |
| Coffee maker | 600/600 |
| Electric frypan | 1500/1500 |
| Dishwasher | 540/160 |
| Freezer | 1600/800 |
Total wattage=4,240/3060
Starting watt=4,240
Running watt=3060
The best generator for this homeowner must have 4500 watts and above. That's the best range.
What Power Outlets Will You Need?
The power supply is something that varies from one portable generator to another.
Some will have 12volts DC, 120 Volts AC, or 240 Volts. Some models are capable of supplying all the three.
You'll find a duplex outlet on most generators with each supplying 120 volts. If you want to get the full 240 volts, you have to use all the terminals.
Most portable generator trip or shut off the power, and this is frustrating. One way to avoid this is to have GFCI outlets to protect you from electric shock.
Note: If you use all the outlets in a portable generator, you will spread the lord. While this is great, it may also cause strains on the performance. And this may affect the lifespan of the portable generator. Only use all the outlets if you have an emergency.
Portable Generator: Power Requirement for Different Use.
Not all portable generators are the same. Most of them are for a different use, and this depends on you and your situations.
Note: Those are not the standard requirement. Always run the maths to be sure.
Let's look at how much power you need at:
Home
Depends on the different appliances you have at home. Then you will also have to make a choice on which device will use a generator in case of power outages.
That way, you will determine the actual size of a generator. Appliances that draws much power at home include the following:
An electric heater
An electric clothing dryer
A pressure washing machine
A small furnace
A water pump
A portable home generator will have power ranges from 3000 to 5000 watts. That range is enough for you to power several appliances like AC, television, and Kitchen.
Camping
A portable generator is a must-have during camping. That's the only way to keep in touch with families and friends. Most importantly prepare meals on the go.
Items that will benefit from a portable generator include:
Coffee maker
Blender
Laptop
Light bulbs
Digital Camera.
The most power you can consume during the camping range from 1000 to 2000 watts.
For those who will into Rving, you will need a portable generator that throws out 2000w to 3000w or even more.
But that's not all.
It will depend on the kind of appliances you have when RVing. If you want to find an exact figure of what you need, the best answer is to run the math of the total wattage.
Job Site
A lot goes on at the construction site. In case of power outages, a lot of inconveniences do happen. The best way is to prepare yourself with a portable generator.
For example, a 10-inch power saw uses 4500w surge power and 1800 running power.
If you have such kind of tools (drilling, grinders, and saw). Any portable generator in the range of 7500 watts and above will get you through the work.
Long Vs. Short Run Time
Let's face it.
A portable generator won't run for a whole week or continuous. That's just their nature. Most generators will need a fuel that's unleaded gasoline to run.
The power rating of a generator will only work with a few appliances because they can't power the whole house.
On average, a portable generator can run for 100 hours, but that depends on the model you are buying.
Most generators made for prime power work for long hours. For example, the diesel engine operates for long hours provided the oil does not degrade.
People living in blackout areas or weather-related disasters like hurricane, need to carry out interval maintenance after every 200 hours of use.
How long will a generator run on one gallon of gas?
A portable generator will run out of gas often without any problem. If you have a 5000-watt generator consuming 18 gallons of gas, it will take 24 hours to run out of gas.
That said, expect a 1 to 2 gallon of gas on the fuel tank to last you 8 to 10 hours. In other words, you won't go beyond 5 hours with a gallon of fuel.
Depending on what portable generator you settle for, make sure it has a long run time to get you through the blackout without any issue.
Do You Need Power for Sensitive Electronics?
A regular generator creates a power surge that fries sensitive electronics such as computers and TVs.
In this case, you will need to have an inverter generator to provide to power these delicate parts.
Portable Generator: What Engine Capabilities Should You Go for?
The most overlooked consideration when choosing a portable generator is the engine capabilities. Most buyers think the engine is the same thing.
The reality is, it is not. The engine you choose will determine how often you conserve fuel and save more. Most buyers go for a 2-stroke engine because it is cheaper.
Well, here is what they don't know about the 2-stroke engine in a portable generator. A 2-stroke engine is expensive.
Let me explain.
Because a 2-stroke engine burns lots of fuel, you will have to go through the hassles of mixing up gases every time. That means you will consume lots of fuel than a 4-stroke engine.
When it comes to noise level, a 2-stroke engine will produce lots of noise. Last and most important, because they run on a high RPM, wearing and tearing will happen fast.
That said, go with a 4-stroke engine because it is quiet, durable, and more powerful than a 2-stroke engine.
How much Should it Weigh
Weight is something we didn't want to leave out when choosing a portable generator.
A lot of manufacturers are making super-light portable generator despite power performance.
In most cases,  a generator with a big engine will always weigh more. But that's not the case nowadays with advancement in technology and manufacturing.
Reviews of the Top 5 Best Portable Generator
1. Champion 4000 Watt: Best Overall
If you are looking for a workhorse, then champion 4000 watt is the generator to top your list preferences. Let's look at what you are getting when you buy it:
The generator has 4000 starting watts and 3500 running watts. That makes it an excellent generator for someone who is into RVing.
With these watts, rest assure the generator works well with power-hungry devices at home such as refrigerators.
Unlike most generators on the market, Champion has a different design. You will see the open built frame design which houses the big engine.
The only downside which most people may not like is the noise level. If you can sacrifice the noise, then this generator is yours.
With its quick recoil start pull cord, you will start the portable generator with ease. The single knob allows for easy changes to the engine choke and aids starting.
Thanks to the LED indicator on the generator. You will be in a position to see the "OK" status, overload warning, and low oil warning.
Unlike most generators, the Champion allows you to power anything because of the different outlets it has.
On the generator, you will see the 12v cigarette lighter, a 120RV outlet, and two 120v DC outlet enough to emit 3500 running watts.
But that's not all.
In case you need lots of power, the generator has a parallel connection that allows you to hook up a parallel kit to the connection you want.
The generator does not come with wheels, and you will need someone to help you carry. Or, you can also buy separate wheels and hands to move it around.
The champion generator has a 2.9 gallon of the fuel tank to supply you with  17hrs of runtime at 25% load during a blackout.
Check Price On Amazon
2. Durostar DS4000S Gas Powered Portable Generator: Runner Up
Duro is the second on our list for many reasons. The Durostar DS4000s and the Champion 4000 watts are close competitors.
The Durostar DS4000s is a powerful portable generator that offers excellent value for your money. On power performance, it goes head to head with the Campion 4000.
Thanks to its large size, the portable generator picks up lots of power for different situations.
That said, expect this high-powered generator to keep all your electrical devices at home running.
With its EZ-pull recoil starter, you will start the generator with much ease. Its LED indicator lights show you low oil warning.
In other words, this automatic shut-off feature protects your portable generator any time the oil is low.
And if that's not enough, you will notice the fuel gauge that alerts you when the 4-gallon fuel tank is less on oil.
You can expect this portable generator to work for 8hrs on a half-load.
The only difference the Durostar DS4000s have with Champion is, it comes with an optical easy-to-install wheel kit.
The purpose of this wheel kit is to aid transportation of the portable generator from one place to another.
On the noise side, the Durostar DS4000 makes noise. It's not too much, and because of its muffler system, the noise level is at 69 decibels. The loudest it can be is when you power heavier loads.
Check Price On Amazon
3. Honda EU2200i Portable Inverter Generator
If you didn't like the first two portable generators because of the noise level, then Honda EU2200i is for you.
The good news is, the Honda EU2000i is the one you are looking for. At 48 to 57 decibels, is quiet and you won't hear its noise when you are having a conversation.
The Honda EU2200i runs on 2,200 watts, which is the power you will need for a campsite, job site, or event at home.
Like most portable generators using the Honda EU2200i is easy. All you need is to use a single control knob and recoil to pull the cable on the generator.
Its control panel is bundled on the generator for easier access. The front part of the generator has all in one user-friendly control panel that has different features.
When it comes to the number of outlets, it has two 120V AC and 15 amp receptacles which allows corded tool, charger,  and other small appliances.
Besides that, it also allows for two parallel operation thanks to its two connections. The one thing we love the most is the Eco-throttle toggle switch which conserves the fuel.
The Honda generator has a small fuel tank under a gallon. If you are using 100% power, it can last you for 3 hours before you have to fuel the tank again. Suppose you are using it at 25% load, you will run it for 8 hours.
Check Price On Amazon
4. Briggs and Stratton 30651: Best Portable Generator for Sensitive Devices
Do you have delicate or sensitive electrical devices like TV, laptop, or gaming system? Then you need Briggs and Stratton 30651.
This excellent portable generator features a one-gallon tank that lasts you up to 8 to 10 hours when running on 25% of the power.
Unlike the Honda EU2200i, this one has a USB port you can use to charge your phone or laptop.
You will realize the generator operates at 59 decibels, which means, noise tolerance is low.
Besides that, Briggs and Stratton have 4 household outlets. We have one 12v, 20 amp locking outlet, RV adapter  DCA charging outlets and USB port.
Thanks to its wheel on the backside, you can move it from one place to another. The instant power the Briggs and Stratton 30651 provides ensures all appliances have power during a blackout.
Briggs and Stratton may not provide you all the power you need, but it does come with a parallel connection in case you want to run power-hungry devices on it.
Overall, the Briggs and Stratton portable generator is cheap compared to other portable generators of the same power range.
You can use it as a camping generator, tailgating generator, or for charging power-sensitive devices at home.
Check Price On Amazon
5. Westinghouse iGen2200 Super Quiet Portable Inverter Generator: Best Budget
At 52 dB noise and 25% power output, expect iGen2200 to be the quietest portable generator. It's quiet yet powerful to emit power to many appliances.
When it comes to operation, the iGen2200 has a pull of a cord and a single knob to start the generator.  The iGen has a control panel that allows you to use and find different power functions.
The power control deserves mention because it has three settings: Off, Run, and Choke to allow you to get to the right setting.
A series of LED lights feature on the left like alerts on low oil, overload, and output readiness. Besides that, a portable generator has an efficiency mode switch which allows the generator to run for maximum fuel efficiency.
If you are looking for a portable inverter generator for your smartphone. You will be happy to realize that the iG2200 has two 5V DC USB ports to charge phones and other small appliances.
Check Price On Amazon
Portable Generator Comparison Table
| | | | | |
| --- | --- | --- | --- | --- |
| Portable Generator | Starting Watt | Running Watt | Weight in pounds | Noise in dB |
| Champion 4000 Watt | 4000 | 3500 | 81.6 | 64.0 |
| Duro DS4000s | 4000 | 3300 | 105 | 69 |
| Honda EU2200i | 2200 | 1800 | 34 | 49 |
| Briggs and Stratton 30651 | 2200 | 1700 | 54 | 59 |
| Westinghouse iGen2200 | 2500 | 2200 | 46 | 52 |
Our Top Choice for the Best Portable Generator
Turns out that buying a portable generator is not an easy job. In fact, most people would rather skip the math and buy anything they feel is best for them.
For,
If you want an excellent portable generator on the market, the first thing you will have to do is do the math of the total wattage you need. The good news is, we did that for you in the article.
Then, once you have the exact figure in mind, the next step is to check the manufacturer's specification, including the type of engine the portable generator runs on. If you follow every instruction outlined in this article, you will have what you want.
The biggest mistake people make is buying the wrong portable generator only for it to cost them in the long run. And getting back to the market looking for a new one. Don't be that guy.